story and photos by Boris Marberg
photo editing by Katie Piper
Lala Berlin, opened the Michalsky StyleNite event in Berlin's Theatre Fridrichstadtpalast as one of three homegrown Berlin avant garde brands showing there that night during Berlin Fashion Week, together perhaps the first viable spin-off from Mercedes-Benz Fashionweek in the tents at Bebelplatz. The popular historic facility literally offered a huge stage, one of the largest in the world still today, to present an amazing evening of energy and talent.
The Lala Berlin collection was described by brand representatives as a call for spiritual renewal, an attempt to strengthen solidarity with the only possible leverage of the working class: creative energy. Considering the setting and audience, the opulent but decidedly stagnant high art shrine and Berlin's high-society and low range B-Movie and soap opera stars, it sounds a bit incongruous. Solidarity and equality in  Berlin is mostly found in the darkness of the clubs. I would have loved to see this very interesting collection deep down in Berlin's underground in the dirty but more vivacious clubs, which attract creatives from all over the world as well as young rich people who want to associate with all that charisma.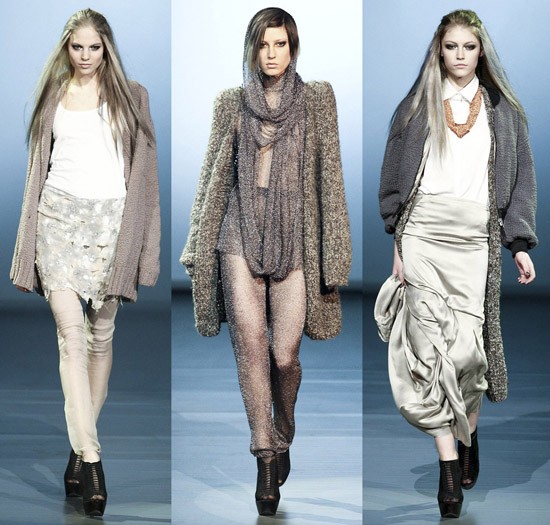 Designer Leya Piedayesh showed many deliberately misaligned seams, along with asymmetrical hemlines and necklines. The collection included several knitwear pieces, as well as velvety trousers, well tailored and comfortable-looking jumpsuits, tops, and parka jackets, as well as some striking bomber jackets. Most colors are warm, and like many shows for Fall 2010 around the world included metallic touches of copper and gold, with some things a bit like rosewood and also dark blue – silk, wool, refined cotton and velvet, sometimes with great patterns which appeared to pull from 1970s influences.