reportage by Boris Marberg and Peter Becher
photos by Boris Marberg, Wolfgang Wöhrle, and Peter Becher
edited by Alexandra Dawes
The design team behind Mongrels in Common, Livia Ximenez-Carillo and Christine Pluess, created a bold and determinedly cohesive Fall 2010 collection for Berlin Fashion Week.  The duo concentrated on particular shapes, which were presented on both hard and soft-looking fabrics, in a diminished palette of mint green, grey, black and salmon pink.
The collection's most successful silhouettes included dresses with waterfall-draped bodices, graceful flowing blouses, city shorts, tight-fitting slouchy pants, and casual structured coats and jackets.  The attention to detail was cunning, yet vital to the success of the line, ranging from shoulder smocking, pleats, and folded details, to more tightly controlled bows on the backs and cuffs.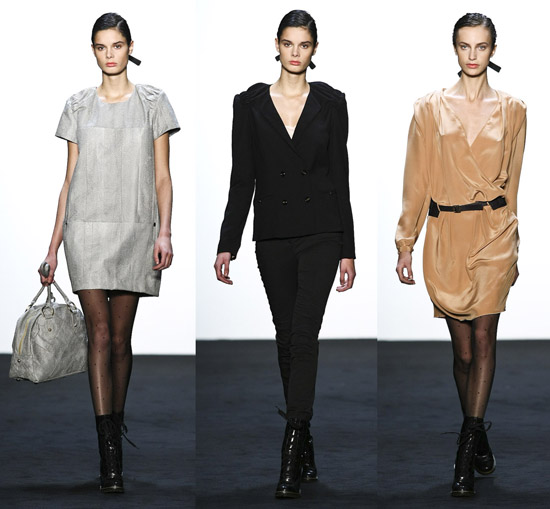 Mongrels in Common effectively neglected racial, national, and gender barriers, as they joined pieces of a cultural kaleidoscope, resulting in a unique style all their own.  They ingenuously merged masculine severity and straightness with female delicacy, all combined with high-quality materials.  The outcome: a look that is elegant and exclusive, as well as sexy and cool.