story by Seth Friedermann
interview by Sandy Ramirez
portraits by Sandy Ramirez
product photos provided by the designer
George Esquivel embraces the Fratelli Rossetti Legacy
George Esquivel may be the hottest American shoe designer working today. His couture pieces have graced the feet of dozens of some of the most famous men and women around. Fratelli Rossetti has been around since 1953 and has a reputation for producing footwear and other goods using the highest quality of materials and workmanship in the world (with a generous helping of Italian flair, of course). How have these two cobblers from different shores combined? Effortlessly.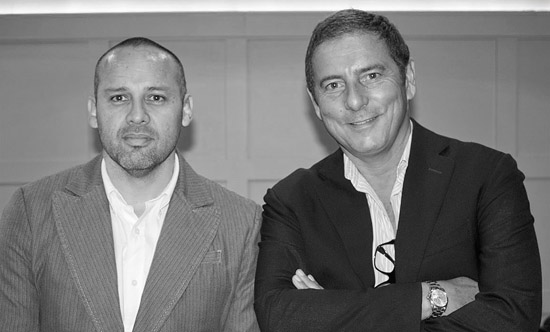 George Esquivel with CEO Diego Rossetti
"The last thing we wanted to do was develop something that isn't Fratelli Rossetti. So, in order for that to work you have to create something that works within the parameters of who they are. You don't want to take the D.N.A out of the brand. But it wasn't difficult at all. They have so many beautiful pieces to chose from, the heritage is there, the leathers." The collaborative collection covers both mens and womens footwear and is a fascinating fusion of the Rossetti family's hallmark of just the right amount of daring with Mr. Esquivel's boldness.
"Lot's of fun colors that's what I wanted to do, I wanted to bring Spring into it, it's a Spring collection so it's meant to be vibrant and full of color." The hues of violet, blue, greens, and whites compliment the more traditional browns, tans, and burgundies to great effect, perfectly communicating that these shoes are full of life and joy. The most impressive thing however is the balance that each shoe and the collection as a whole possesses. No element is too large or garish, no treatment or technique was too heavy handed. It is an impressive collaboration between these two first time partners.