story by Seth Friedermann
photos by Sandy Ramirez
Context is an overwhelmingly powerful experience. The human mind organizes things constantly of its own accord and when something triggers a preexisting context all further thoughts will be informed and shaped by the context without the owner of said mind even knowing that it's happening. Want an example? Wedding dress. See, you already have a picture in your head. To read the words is to have an instant expectation as well as dozens of other associated thoughts. The reaction of a fashion designer to bridal wear is another matter entirely. The challenge of that wheelbarrow full of expectations is in large part the biggest obstacle in designing bridal gowns. Imagine that you're going to create 10 to 20 white or off white dresses two times a year for the next two decades and they all have to feel fresh and different but still be sellable. Does that sound enjoyable, feel like making that you life's work? It's no wonder that many designers will running screaming at the thought of doing bridal, yet for others it is a life's passion. Angel Sanchez splits his heart between beautiful bridal couture and stunning evening wear and his been sending his creations for the betrothed down the runway since 1999. He is a master at meeting the expectations of bridal wear while still experimenting and growing his art in each new collection.
For his Fall 2011 Bridal collection, Mr. Sanchez used a touch of technology and his structural skills to create a dozen white and off white gowns, (and one incredible cocktail dress), which all possessed a beautiful fit from the waist up and lovely body to the floor. It is Mr. Sanchez's understanding of how to create fit and fabric control that allows him to do much of the magnificent design that he does. "When I do a wedding collection I try to avoid the typical solutions." His background in architecture serves him well in creating an under-structure for his gowns that allows the fabric to form and flow as he wants it to while still creating feelings of comfort and security for the bride. Each of the 12 looks in his Fall 2011 bridal collection was distinctive from the others. Mr. Sanchez accomplished this through innovative fabric treatments such as screen printing and cut outs.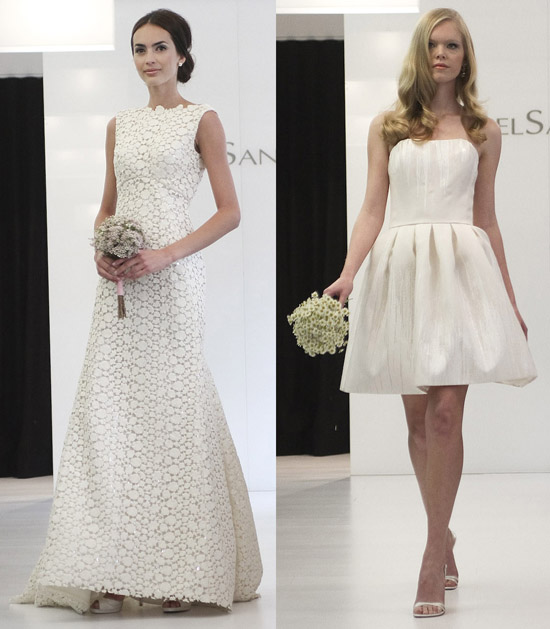 The skills and techniques required for bridal gowns are a perfect fit for Angel Sanchez; "bridal is totally different for me because I don't feel any stress. It is totally natural for me to design a bridal collection." It's not just the technical that makes it a joy for Mr. Sanchez to create his collections, he is also deeply romantic. The sparkle that came into his eyes as we were discussing a gown from his Fall 2011 Bridal Collection with a beautiful one sided draping was a dead give away. Ultimately that love of romance and the recognition of how special the opportunity is to dress a woman on her wedding day is a must for bridal designers. It is the tap root that they will return to over and over that keeps their passion alive season after season. Angel Sanchez's passion burns as bright today as it did 11 years ago when he first walked his creations for the aisle, down the aisle hoping for a marriage with both buyers and brides.