story by Seth Friedermann
photos by Sandy Ramirez
Can joy be an element of design? There was a special feel from the moment John Forte and his band began their cool funk jazz set which accompanied the Nanette Lepore Spring 2011 runway show. The premiere of a Nanette Lepore collection is always a vibrant and lively affair, but it's usually her bright palette, fun prints, and comfortable and imaginative clothes that carry the tune. As the models swayed in the wings to the music and sashayed down the runway, the consistent upbeat spirit of Nanette Lepore was easily confirmed. There is always a spark in a Nanette Lepore design, a relaxed and fresh feel that has enough structure and enough construction to not become too simple or seem homespun. In the end it's the level of thoughtfulness that has carried Nanette Lepore's label to its increasingly secure position in the marketplace. Whether it's swimwear or separates, dresses, or blouses there are always distinctive details and the creation of visual appeal that is balanced with comfort and ease of wear.
For Ms. Lepore's Spring 2011 collection she produced a wide variety of looks and styles. It is as if she wants to provide her client with a piece that allows her to express herself in any circumstance. From her bright one piece and bikini swimwear to her full length dresses it was very easy to conceive of all 35 pieces being in one women's closet. The collection, although varied in cuts and shapes, retained a cohesive melody throughout. This is perhaps attributable to the consistency of vision that Ms. Lepore has. Her clothes seem much like herself, lively and joyful but serious enough to be a successful fashion designer. Make no mistake for all her exuberance and color Nanette Lepore is a fashion force. In the hands of a lesser designer her particular approach to clothing would result in very unimaginative cookie cutter clothing. But because of that essential dynamic duality of imagination and the ability to execute her vision Ms. Lepore's line has enjoyed great success.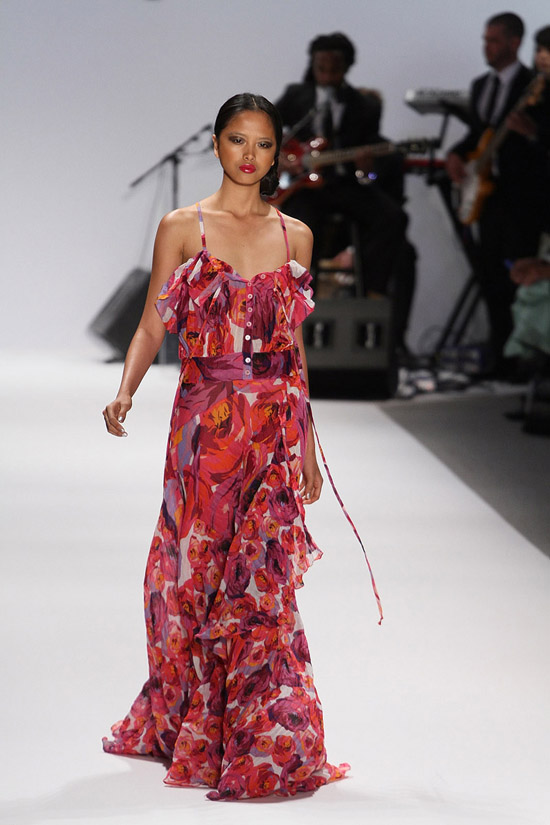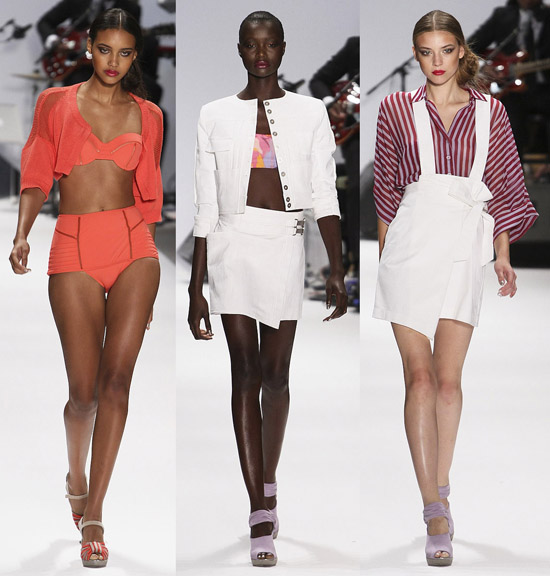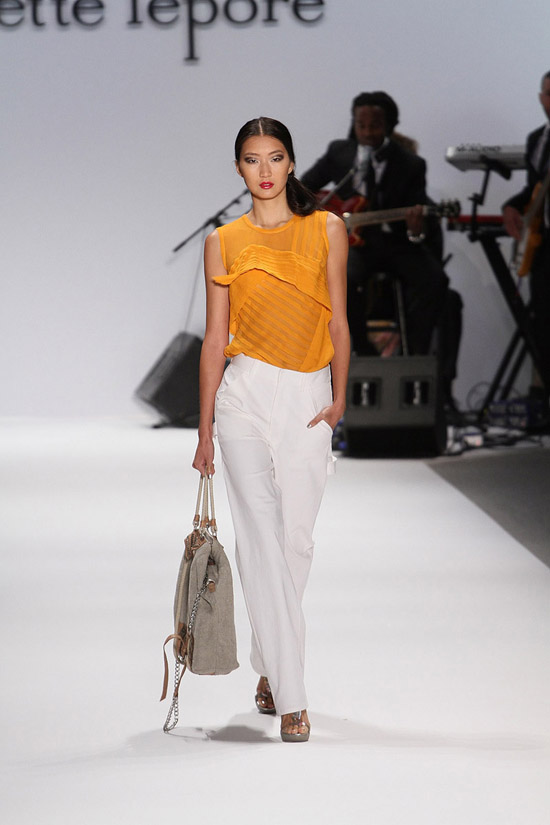 If there was an additional signature in the Spring 2011 Nanette Lepore collection to add to her blend of upbeat prints colors and lightly structured cuts, it would have to be cleverness. With Ms. Lepore's designs there is always a smartness to her choices. Not only with which particular design elements to apply to her garments but in how, and often how much she applies them. For this collection there was a liberal dash of stripes, a touch of metallic accents, and some lovely lace like cutouts. It was how they were used and the impact they had on the garment that made them important. Nanette Lepore displays restraint and a keen eye on when to stop with a detail or curtail the volume of a particular fabric. It's that sense that ultimately elevates her to the position that she has, well that and the fact that her clothes are so darn fun. I still maintain that somewhere in her workroom there simply must be a spool of thread or a swatch of fabric marked, "Joy."