story by Seth Friedermann
photos by Freda Henry
Every garden has it's own character, as does every plant and every flower. No two alike, always, as nature creates things. As it is in the natural world, so it is in the collections of a great designer. Even when the impetus is the same, the collections of two designers will often be dramatically different. Fashion designers often dip their brushes in the palettes of petals and blooms. But, just like flowers, no designer's floral inspirations arrive on the runway in quite the same way. Tadashi Shoji's Fall 2011 collection was inspired by the gardens of his native Japan, and his artist's eye fell mainly on the harmonies that a skilled gardener can create. His dresses on this runway were filled with paths crossing and winding their way around a woman's frame.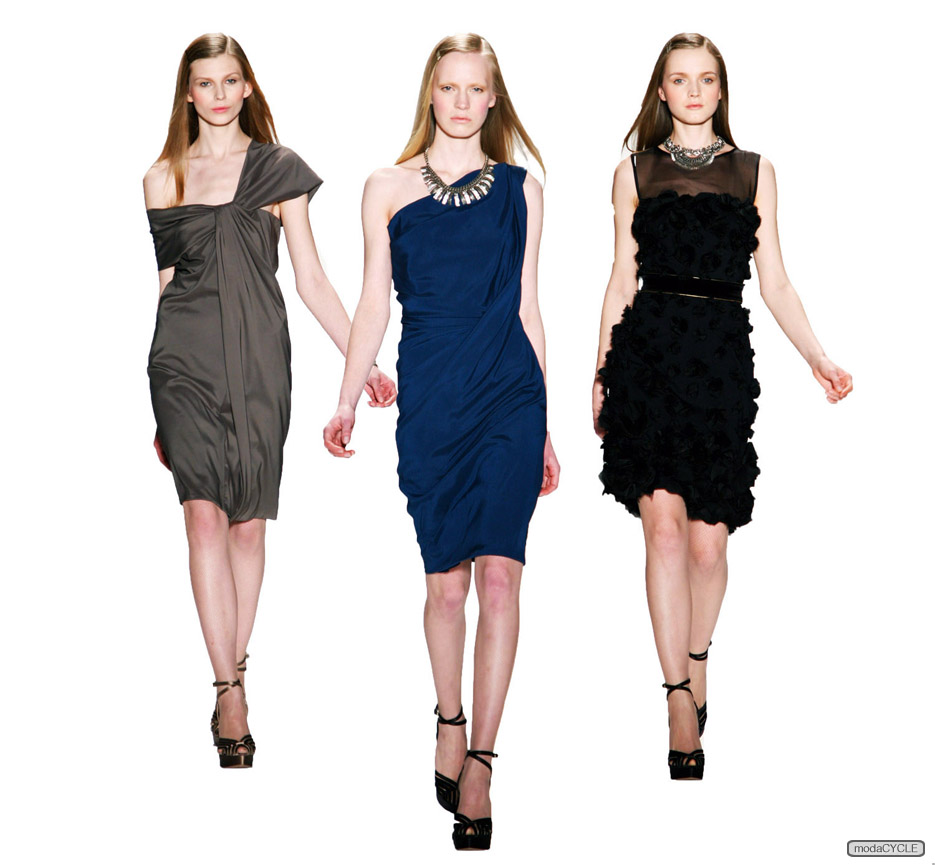 Silk petals flowed asymmetrically along the length and breadth of his pieces. Mr Shoji is a veteran designer and has a practiced hand at both his process and his art. He understands why his client chooses his pieces, and he gives them what they want, but never at the cost of his inventiveness or expression. For Fall 2011 he offered a wide spectrum of colors, from whites and nudes through evening blacks, but the standouts were undoubtedly his jewel tones. Two multi-hued dessess shone out in particular. They were slashed with rough strips of silk and imbued with blue and violet refracting hues in the one piece and red and blue in the second. They were masterful examples of Mr. Shoji's art. He has a marvelous ability to create forceful impressions while still maintaining delicacy. That is his balancing act and it is always enjoyable to take a stroll amongst the flora of a Tadashi Shoji show.