story by Kerry Kong
photos by Stephen Bodi
I always knew that I wanted to be in the fashion ever since I was little. At school, I spent most of my time complaining about having to take all these history, math, science classes when I could spend all that time, analyzing fashion trends and making beautiful clothing. That was, until I came to Daniel Vosovic's Fall 2011 show, I finally recognized some value in the study all these other irrelevant subjects… inspiration. This former Project Runway star probably did pay good attention in history classes, as he was imaging what he wanted to see on his women, and an image of strong frontier life women in 1850s suddenly hit his head. Ding, that's it.
As much as history is involved, his collection looked ironically very fashion-forwarded and chic. A white and green plaid vest on top of a black chiffon long-sleeved top and feet-length skirt was completed with a black frontier hat, with the result being sexy and sophisticated. To add a little sex appeal and fun elements to his collection, he added accessories like sex masks, stripper heels and handcuffs to add more dimension to the story. "We tried to manipulate it in a way that it wasn't like sex in your face. It wasn't so vulgar," said the designer. Vulgar certainly would be the last word I use to describe this collection. There were a lot of fine details in this collection, e.g. the piercing on the sleeves, which made the looks more playful and flavorful. One of Mr. Vosovic's favorite looks was his third look, which was a big-collar black jacket with black pants.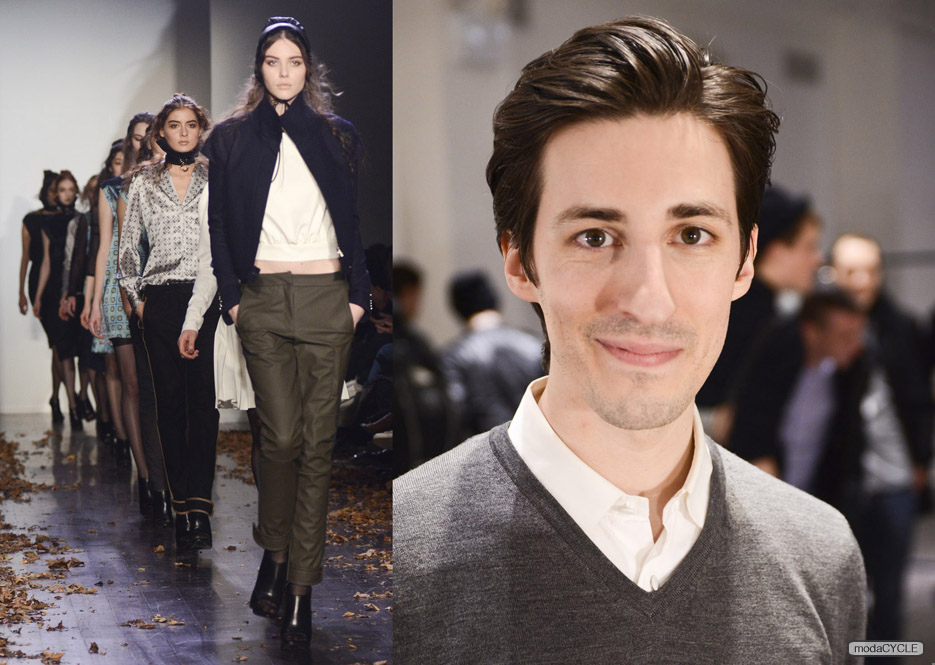 "I really love tailored pieces, so I wanted to start the collection with really great jackets, really great coats, and tell a story through them."
The collection continually revealed his brilliant tailoring skills in this season, and he went on with his love for designing original digital print silks for this collection. He used a variety of materials including (faux) fur, cotton, cashmere, chiffon, fine woolen, and leather. Mr. Vosovic showed us a very diverse collection that would fit any strong but polished modern woman.