story and photos by Charles Beckwith
Liz Claiborne, Inc. hired veteran menswear designer John Bartlett to create a new menswear line for them, which is premiering this season in New York as Claiborne by John Bartlett.
Barrett was the creative director at Byblos in Italy for a while, and also had a very strong namesake line that showed as Spring and Fall 2009 collections. WWD described "beefy silhouettes" in the shows, and from watching the runway videos of those shows, I tend to agree. The models seem to fill-out the clothes, they had merged with the outfits rather than wearing them as a burden, which is something I think a majority of designers aspire toward. Here we see it again. A little less high end in terms of fabrics and attention to detail, but the Claiborne by John Bartlett line is designed for high volume manufacture and sales, so this is to be expected.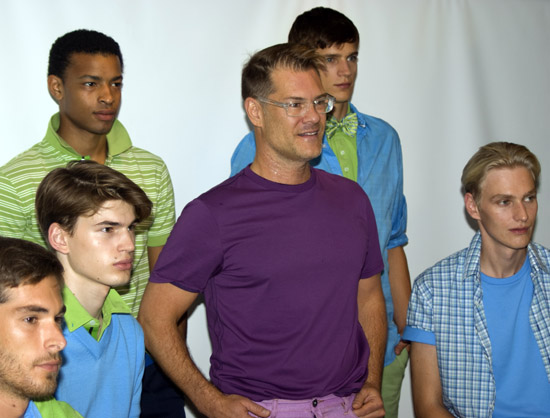 I had the opportunity to ask Mr. Bartlett a few quetions during his presentation. . .
modaCYCLE: What was your goal with this collection?
JB: Well, we have two goals. I mean one of the big goals financially is to really address the new markets. So, we dropped our prices 25%, everything in the room is under $100. So the real goal was to inject a lot of style and newness into a brand, but really address what's going on in the world and give guys clothes that they don't have to think about the prices.
modaCYCLE: Has there been a problem for you to be taking over part of such a long-standing brand?
JB: Not really, I mean there is such incredible, um– it's such an incredible machine here, so it's been a real pleasure. I get to develop all of my own fabrics. It's interesting. The learning curve has been interesting for me because I've learned about margins and, you know, how things work in a big corporation. It's been wonderful. They've given me total freedom to develop what I wanted.
modaCYCLE: What is your basic theory on editing garments and looks?
JB: I always try to make sure there's a color story. I keep the design simple. When I'm introducing a new silhouette I keep it in very understandable colors, or I take very simple shapes but do them in bright colors.
modaCYCLE: Have you enjoyed working with Tim Gunn?
JB: I love him. Yeah. I get to have my own Project Runway moment every week. He comes down, looks at everything, he's traveled with me, and he's the best. Very very encouraging inspiring guy.
modaCYCLE: Who is your favorite womenswear designer?
JB: Wow, good question. I'm totally blanking. I would say Rei Kawakubo, Comme des Garçons.