interview and photos by Sandy Ramirez
Steven Cox and Daniel Silver showed their Spring-Summer 2010 Duckie Brown menswear collection at Mercedes-Benz Fashion Week in New York. Sandy had a few minutes with them back stage before the show.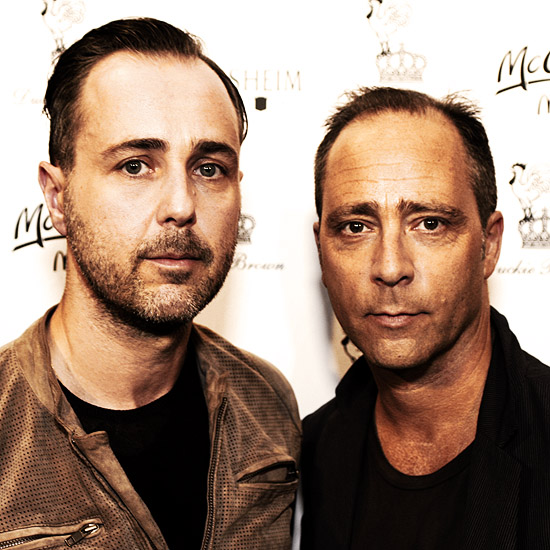 5 Minutes – What is the Duckie Brown statement for this season?
Steven Cox – Skin. Shorts, swimwear…
Daniel Silver – Easy, Effortless… I think it's about having a relaxed attitude, and being optimistic.
Steven Cox – We've covered up, for a lot of seasons and now we are opening up. There is a lot of of structure in it, it's not like we've gone completely loose. We still got beautifully tailored jackets with very strong shoulders, and some of the shorts are asymmetrical with very straight lines on each side, so we have opened up, but kept a really strict tailoring as well.
We have a lot of color. The shoes are turquoise and yellow suede, and there are a lot of stripes in the collection, and a lot of swimwear.
5 Minutes – What were your major inspirations for this season?
Steven Cox – There's never one. We are inspired by everything that is around us, so it's everything. It's us, it's you, it's my Mum, my friends, it's anything we can capture and put within the collection. We are not so strict with ourselves.
Daniel Silver – It's never one thing.
5 Minutes – What do you want people to remember about Duckie Brown in a hundred years?
Steven Cox – Humor
Daniel Silver – Humor, incredible tailoring, and our own unique sense of style.