story and photo by Sandy Ramirez
While hanging around Saks on Fashion's Night Out, I noticed a woman dressed exactly like the mannequin next to her. She turned out to be designer Yoana Baraschi, standing outside her in-store mini-boutique (one floor above Chanel's, right at the elevator), wearing a piece from her Fall 2009 collection.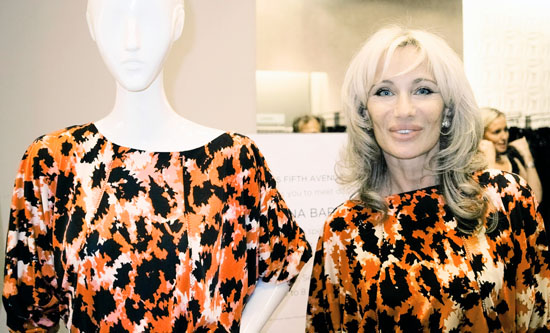 5 Minutes – Tell me about your design philosophy.
Yoana Baraschi – I like to design for a woman who is always very powerful, who is always very beautiful and especially ageless. I think we are in a time where women should not be defined by age anymore, because we all live a full life and work our butts off, and we have to be incredibly powerful and beautiful when we do that.
5 Minutes – Tell me a little about the collection we see here at Saks?
Yoana Baraschi –  You are seeing my fall collection. What you see here on the mannequin is an 80's-inspired red leopard dress in a silk jersey that can be worn as a mini dress, with a dolman sleeve, or you can also wear it without the belt so you can also have a dress you can go to work with. It's multi-use, you can go to a party or you can go to work. We pride ourselves on these kinds of practical, yet glamorous dresses that are multipurpose.
5 Minutes – Are you based out of New York?
Yoana Baraschi – Yes.
5 Minutes – And where are you from?
Yoana Baraschi – I was born in Romania, raised in Paris, and I'm a true New Yorker by now I think.