story by Cameron Carpenter
photos by Adrianna Favero
There was a bit of a wait for the start of the General Idea show, but it was actually nice to get cooled off and have a few minutes to scan the crowd and wave hellos. There were a lot of buyers in the audience and the international press came out in force. The wait and heat were no bother once the show started and the brilliant thread of thought designer Bum Suk Choi began expressing wit the Fall 2009 show was continued for Spring 2010 in lighter fabrications.
There was a wider range of garments here, with the great kaleidoscopic prints featured last season in colors and some muted tones.
Along with safari-esque looks in POP colors, the big shoulders, drapery shirts, drop-crotched & megging'd men; I witnessed cool pieces that definitely stand apart.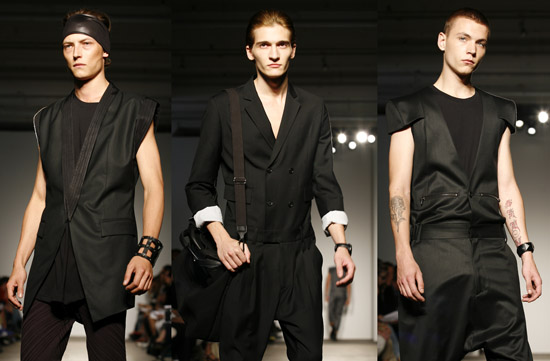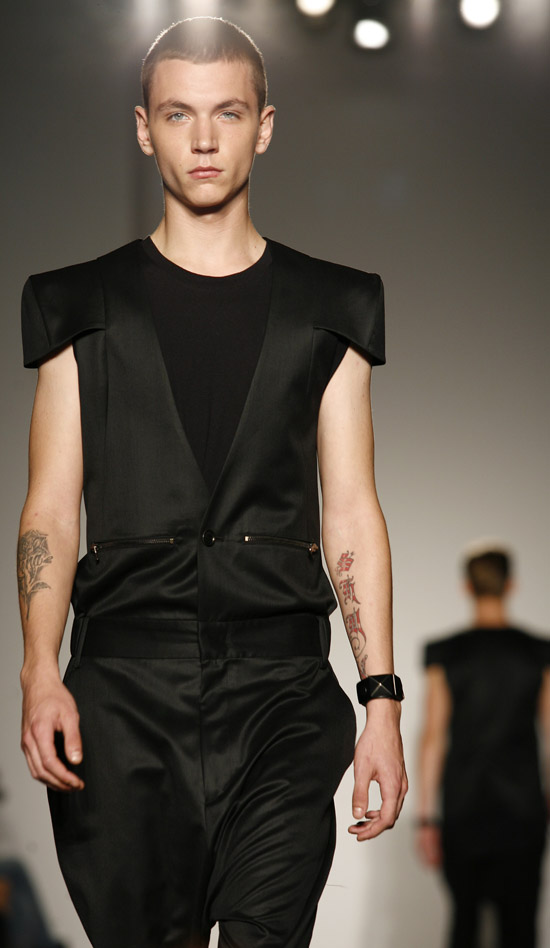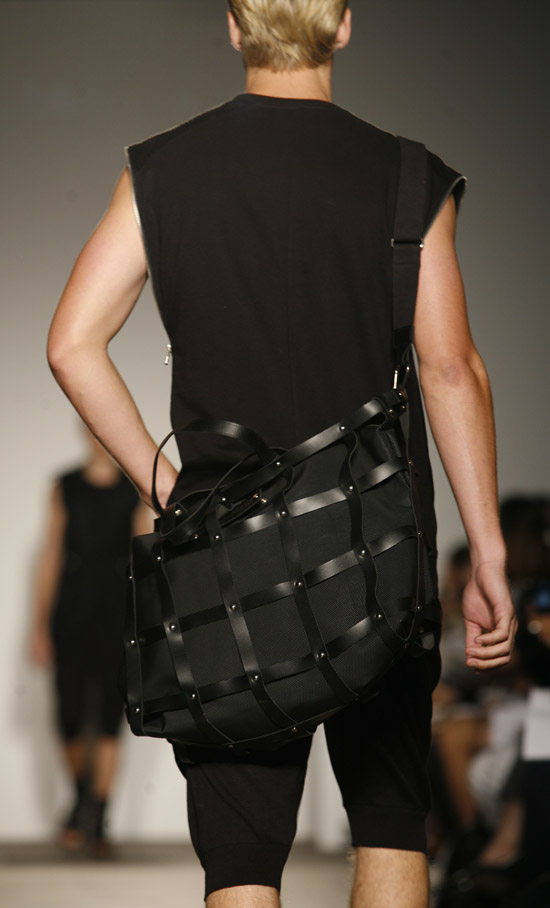 I was surprised by the high number of blond, slim, "blue-eyed soul" models, which was also noticed by my show neighbor. Is it an artistic statement or market focus?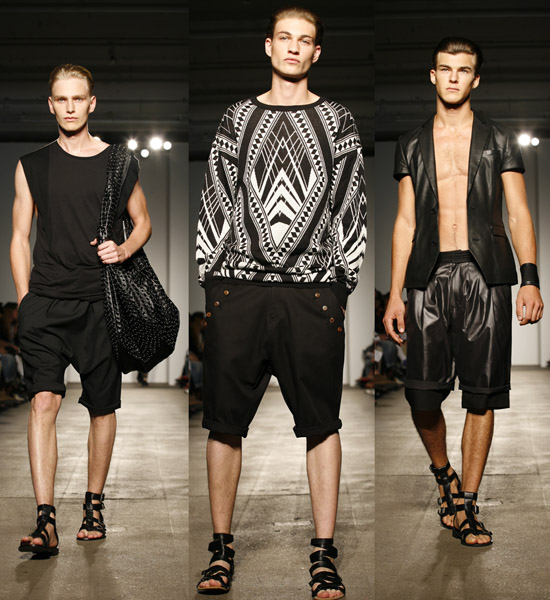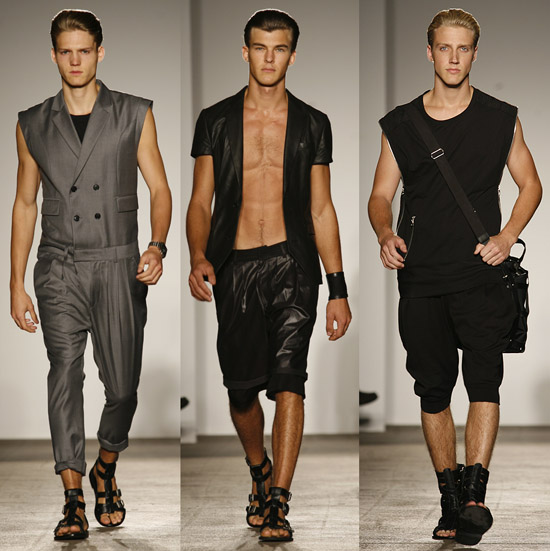 Regardless, Choi  is on a roll with another great collection, varied with a lot of different pieces for different sorts of customers.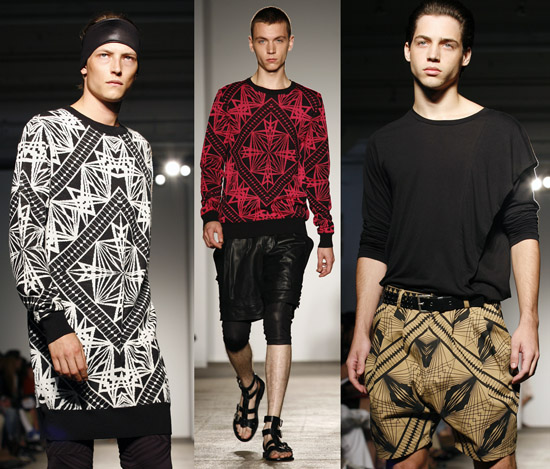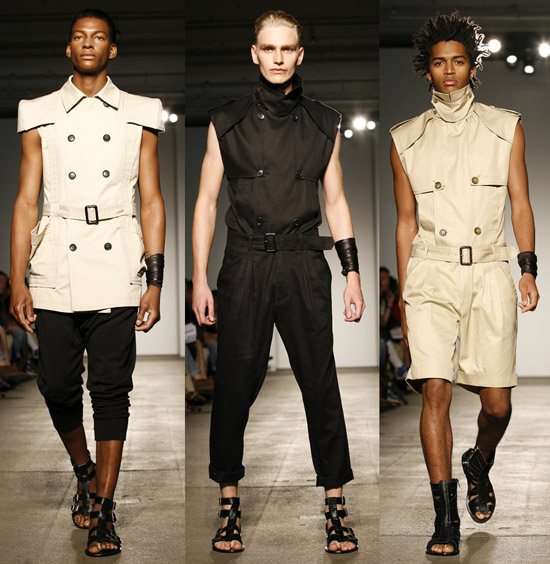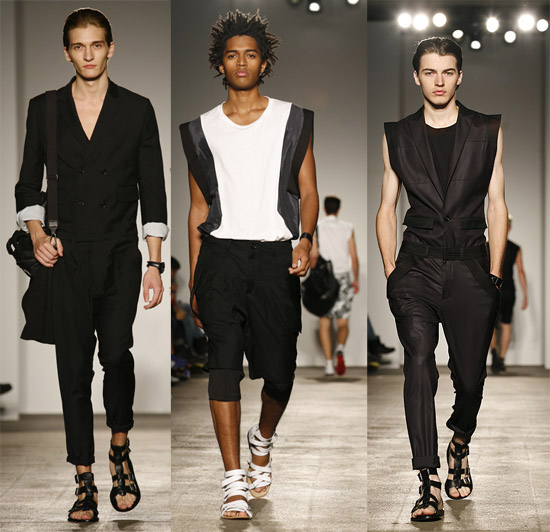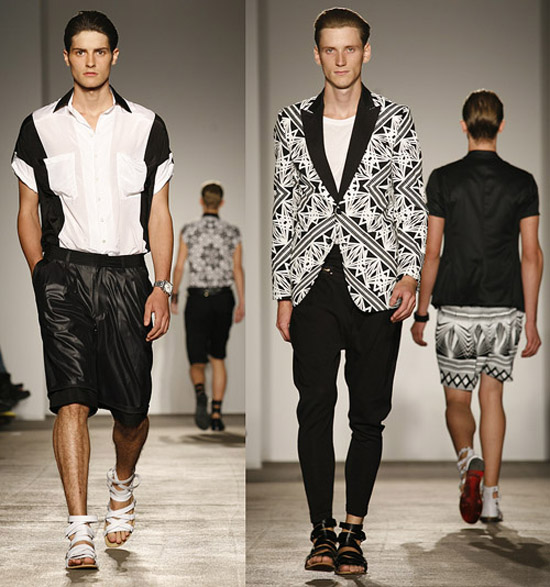 We had a precious few moments to speak with him in the rush after the show, although it appears he was able to fit in a nice wardrobe change of his own between the rehearsal and the finale.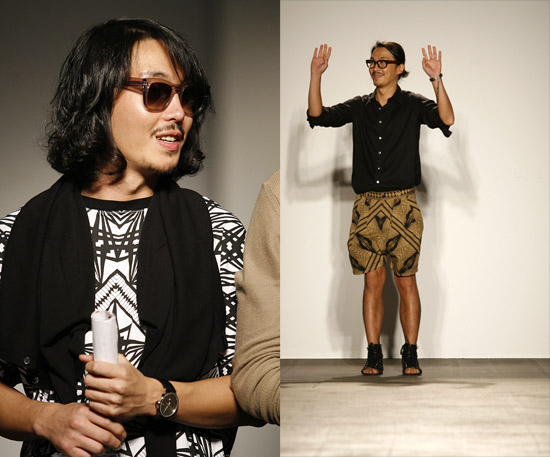 His Director of Communications (literally), Dino Ho, helped us along through the translation, as Mr Choi mostly speaks Korean. Choi was very warm and friendly despite the time crunch.
modaCYCLE – I loved the show. What were you looking to show us with this seasons collection?
Bum Suk Choi – We were interested in spartan warriors, but with a Now, and Future feeling.
modaCYCLE – Have you ever wanted to do / had another career pursuit?
Bum Suk Choi -No. its always been fashion and menswear.
modaCYCLE – Overall do you see your work as a thread of thought or sepearte communications or entities?
Bum Suk Choi -We see it as 10 beautiful collections.
modaCYCLE – This is your second showing in fashion week correct?
Bum Suk Choi -Yes in nyc, yes, our second in MBFW.
modaCYCLE – What is the next step for General idea?
Bum Suk Choi -We're just looking at the north american market–especially the states now. That is our new focus.
modaCYCLE – Thank you!