photos by Sandy Ramirez
styling by Seth Friedermann
hair styling by Naoko
makeup by Yuriko Sushido
model is Szietka from Fenton Moon
Here is the second entry in our Designer Dossier series. New York designer Angelo Lambrou has provided answers to some of our favorite questions, and Sandy visited Angelo's atelier so we could share some images of the current looks.
Designer: Angelo Lambrou
Astrological Sign: Aries
Label: Angelo Lambrou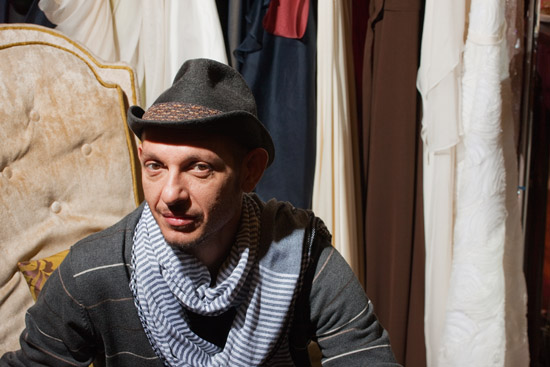 Where is your home town?
My home town is Selebi Phikwe in Botswana, where my parents live. I've lived all over the world: Johannesburg, Cyprus and for the last 10 years here in New York, my new home.
How many years have you been in the business?
Altogether I've been in business 14 years. I opened my store in New York in 2000, and September marks my ninth year exactly to having the store. Prior to coming to New York, I developed my label in Botswana designing bridal and evening gowns for five years. We sold to boutiques in Johannesburg, and I opened three of my own boutiques.
What has been your fashion education?
First, I need to credit Archie Leggats at Leggats Fashion Academy in Johannesburg. It's where Marc Bouwer went as well – he had finished 10 years before me. When he was making it in New York, it was big for us, because he had studied at our school in South Africa.

Leggats was very competitive, where 140 students were whittled down to 40 graduates, much like on Project Runway. It was at Leggats that I learned patternmaking, draping, sewing and construction. And fashion illustration, and about all the other international designers – old and new. Leggats was hard core, old school fashion education. We were there to learn all aspects of design, including the technical aspects.

Archie used to say, "Angelo, just do it! I don't care how. If you have an idea, just do it!" And that remains in my head today. What he meant was, "Don't think about too much, just do it." He was a character.

After Leggats, I went to the Central Saint Martins College of Art & Design, in London. London was so fresh for me, it was in the heart of the fashion industry. Saint Martins was more about the creative aspects and more 'establishment." It explored the creative side, how you take the imagination to its furthest possible, to its best degree. And that's what I loved about Saint Martins. It was irrelevant if you could get in the dress or not. If it looked good on the 'doll,' it was a good thing.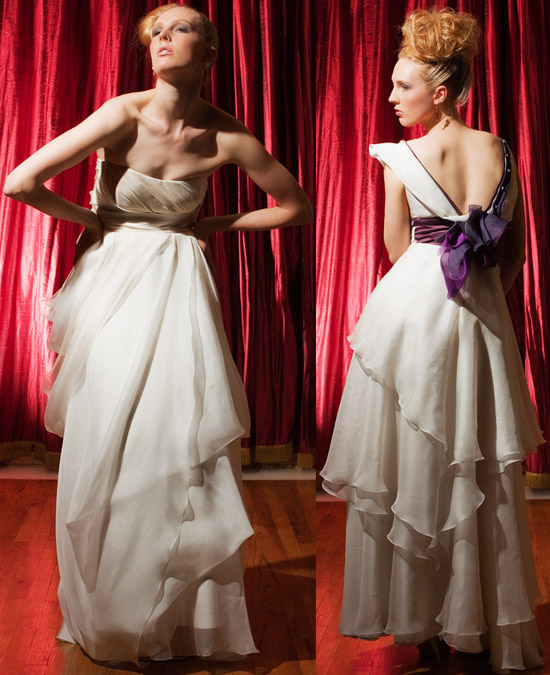 Did you work for major designers before starting your own line?
No. But I had a push of a different sort. Because I had my own boutiques in Botswana, my name got out there and I was asked by several prominent women to design their clothes.

Then in 1999, the Miss Botswana beauty pageant approached me to design gowns for that year's winner, Mpule Kwelagobe, now a prominent anti-AIDS activist. She became a contestant for Miss Universe 1999, and won wearing a gown I designed for her. Mpule was first black African to win the crown.

After that, the Miss Universe organization asked if I would design the clothes for the opening number of Miss Universe 2000. This was a spectacular event, held in Cyprus, where my family is from. So I dressed about 80 contestants from all over the world in a sleek white mini-dress with a chiffon layer so they looked like the most modern versions of Aphrodite ever seen. You can still see this on YouTube.

So, while I didn't apprentice to another designer, you could say I was thrown into the pool and came up swimming, through working with Miss Universe. That's how I got my visa and moved to New York.
Where have you traveled?
I've traveled to several European and African countries including Mauritius and the Seychelles, as well as the Caribbean and Japan.

I've been to Israel, Cyprus, Greece, Italy, France, Portugal, the U.K., Trinidad and Tobago, Jamaica, the Bahamas. And I left out my African countries – South Africa, Botswana, Zimbabwe, and Zambia. And to the Netherlands, Switzerland, and Slovenia.
What are your major influences?
People! All the people I meet daily on the street, my clients, I get inspired by them and their characters. And nature. I love everything that has to do with nature – trees, sky clouds, deserts, animals.

And different eras in time. Mostly, I like to use my own imagination. I like my creativity to come from within. I might research origami for a collection, but I take a look at it and then make it my own.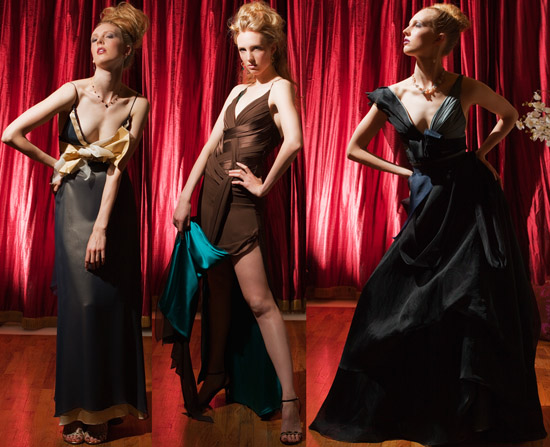 What are your favorite materials?
I don't have a favorite of anything. I always have a problem when people ask me what's my favorite color because I love all colors. It's hard for me to appreciate blue more than green. I love them all.

I prefer to work with fabrics that are natural, like silks, cottons and linens, and textured fabrics. I gravitate towards texture. All our gowns are of pure silk, and I like to make a range of textures from soft to hard, such as soft flowing silhouettes in silk chiffons and charmeuse, to the structure in taffeta and Dupioni silk.
What are your favorite guilty pleasures?
(Smoking!)

Because I'm such a workaholic, I'm afraid to break away. Now I'm forcing my self to take some time away. I went to Montauk recently, and I loved it. I sat on the beach and was out at 3:00 a.m. with friends just looking at stars and listening to the sea. It was so pleasurable, even though my feet froze in the sand.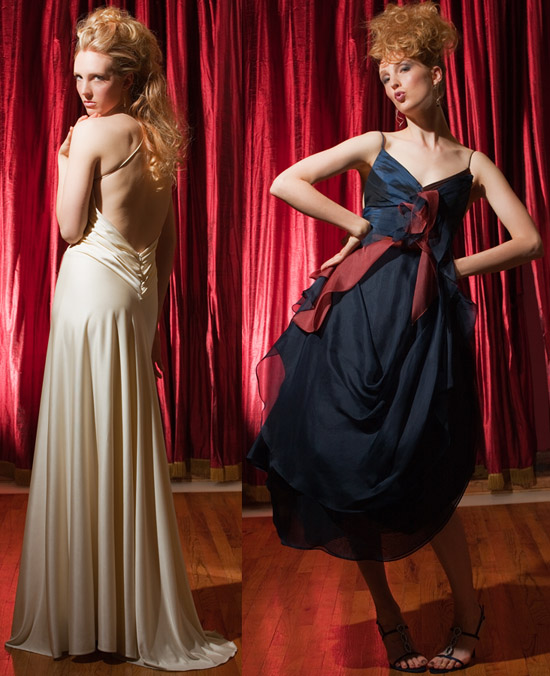 When did you start sewing?
I was 20 when I first touched a sewing machine. As soon as Archie Leggats told me, "Well listen, you have to sew, so get your machine. Otherwise you've come to the wrong school," I had no idea! I was like, oh fashion! Oh design! And he said you need to learn how to sew first.

I got a portable machine, as we had to take them back and forth from school and home. Learning to sew was very frustrating and I was so determined to learn. I ended up getting an A when I finished.

I taught all my staff in Africa how to sew in my first couture business in Botswana. To sew an intricate detail on a dress or a piped pocket, takes skill. So I taught them. The best part of knowing how to sew is you can be so much more creative, you know how to manipulate the pattern to make it work.

You need to know how to do a fitting, when a bride loses weight and comes down three dress sizes. A seamstress will know how to do it, but with the way we work, because there is so much detail on the gowns, it helps a lot to have my knowledge of sewing and patternmaking. We do couture. It's not just a simple top or dress.
What is the best way to start the day off right?
I always come out of bed, and go to the window, and thank god or the universe or whatever is out there. I take the day and accept it for what it is. Then I can go off and have my coffee and my cigarette and prepare.

I don't like to take anything for granted. I want to find pleasure in everything. I want to look at the sky, no matter how gray it is, and say thank you, give me strength, and give me courage to take on this day. It's like a little prayer.
What do you look for in a model?
A dress just hangs on a hanger and does nothing. But once you put it on a model that knows how to move and has connection to what she's wearing, she brings it alive. She needs to have some rhythm, sex appeal and confidence.
Do (or did) you practice other arts?
Of course! I paint. I love watercolor painting, pastels. I love to do fashion illustration. I haven't done landscapes in a long time, but I love to paint. And now we're going to introduce that aspect into my designs. I love the garden – anything to do with plants.
What is the best way to relax in the city?
After a hard day's work, the nicest thing is just to have your space and sink into your couch and think of nothing for a moment.
What is your favorite fashion era?
Definitely the 20s, 30s and 40s. I love the glamour. It was so sexy and feminine. They clothes were just crafted so well. Whatever they made, they made so beautifully. Women looked so feminine then. Their hair, the makeup, even the dancing, was more interesting then. Everyone knew how to dance.

The buildings of those times – Art Nouveau and Art Deco – had so much character, which influenced fashion. Like the Chrysler Building, so elegant in the skyline.

I like all eras through time. Baroque definitely inspires me, it's so decadent. And I love the ancient Greeks and Romans. How classic is that look from thousands of years ago and that still inspires so many designers.
Do you have any pets? What kind?
No. Allergies. Never home. We had a lot of pets in Africa, but they had a garden and were not confined in one space.
What is the best way to impress a NYC police officer?
Convincing a policeman that you're not rolling a joint, that you're really just rolling tobacco. I once had a cop approach me because I was rolling a cigarette and he said, what are you rolling there? And I said, oh, this is a cigarette. He had to try it to believe it.
Are you impressed by the work of any other specific new designers?
There have been a lot of new designers who've come out recently. Zac Posen, Christian Siriano from Project Runway. He really has something going for him. He's so young, but he has an imagination.
Which famous designer's career would they most like to have?
Valentino. I love Valentino. What he does is always flattering to women. Valentino is one of those designers who leaves his mark. He just understands how to flatter a woman. He did it so well for so long.