photos by Sandy Ramirez
story by Seth Friedermann
styling by Loris Diran, Seth Friederman, and Anna Lisa
models are Creing Wittingham from Major's mens division, and Elen Capri from Elite
Loris Diran is a formidable rising force in fashion. Diran possess the spirit of a chess master; he is considered and thoughtful with an obviously tactical mind, but just under the surface is an aggression that is waiting to pounce. He has married a strong and very honed artistic aesthetic with a muscular business sense, he both thinks and feels his way forward.
His thoughtfulness and keen senses were on full display as we discussed both his Fall Winter '09 and Spring Summer 2010 collections. "Fashion is best when it is relevant to the time it's in." said Diran. "The Fall collection reflected a protective layer, that's what people felt they needed during the beginning of this horrible, horrible economic crunch, so my reaction to Summer was that I wanted to relax and feel free again, I wanted clothes that made you feel free and beautiful." As the discussion moved deeper into his artistic process Diran's sharp understanding of textiles was apparent as we turned to reflecting upon the individual pieces in his Bowery store. "Fabric follows function", he stated emphatically, "I try to stay very seasonally appropriate, I would never create something that I wouldn't wear." "I try to stay very organic with my fabrics, what's forever are natural fibers."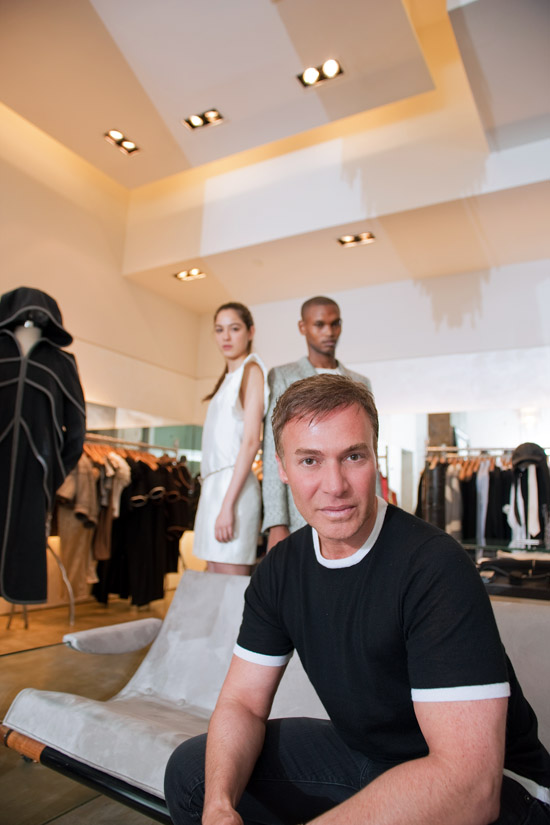 If there is a cornerstone that customers can expect from Diran it is luxury. "There will always be a very luxurious twist on what I am doing."  He creates pieces that "people will want, that they'll treasure, that they will understand why it's that price. You look and you get it, you get why you should want that, the customer perceives it the way one perceives a gold watch." Rarely have I heard someone speak so articulately about the concept of value as Diran did during the interview. He provides a viewpoint which expresses the concept of luxury so concisely that it would make sense to anyone. This position is rooted in his take on fashion as an art form. He is first and foremost a fashion artist but one who is interested in providing unique and extraordinarily well made pieces for his clients.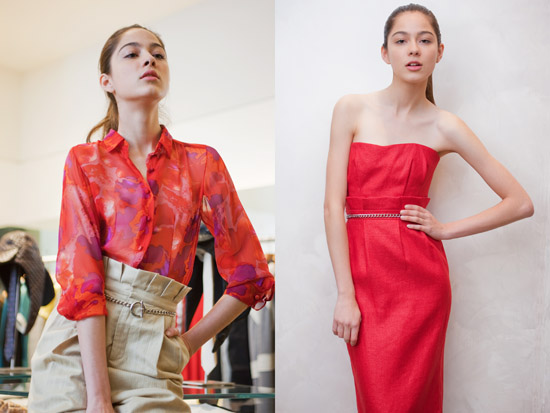 One of the most impressive things about Loris Diran is his keen business sense. I came away from our time together with an understanding that there is no separation for him between the art of fashion design and the science of running a business. The place and moment where these two worlds combine is when he is with his clients, "I listen to what bothers the client, if you are not in touch with the client you have nothing." he stressed that, "A designer has to stay in touch with his market or he's going to lose control of his own line."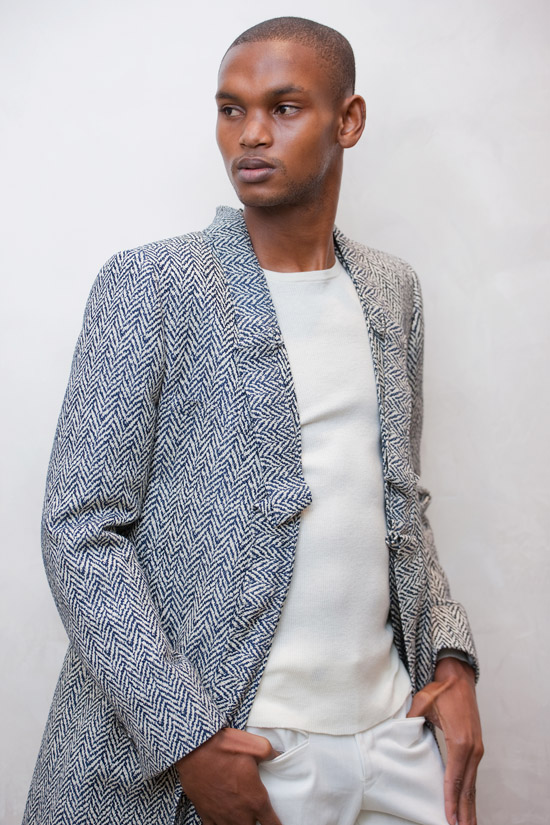 Yet at the same time Diran understands that he can't simply blindly follow trends by copying. He provided me with a marvelously concrete example; "for instance big shoulders are in, I didn't just want to stick a shoulder pad in, I think a lot of designers are doing that now." "I'll do it my own way, what I did was used a fabric that was very stiff, folded it back on to itself and darted it to create the shoulder, you're creating the volume the way your sewing the fabric, so I've created something that I feel is new."  In what could be a mantra for all emerging designers to follow he then said, "You have to be unique, if for nothing else for your own integrity as an artist and fashion design is an art."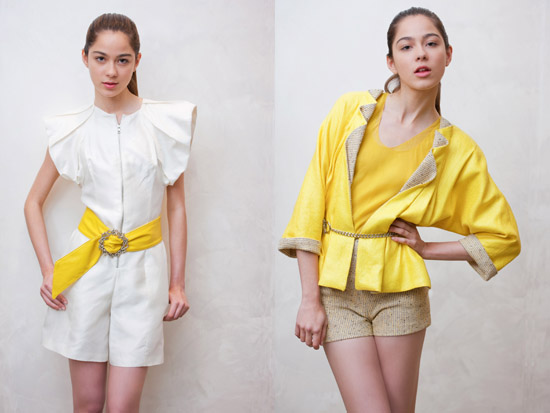 Diran seems to have thought his game through to account for all possibilities but I was still curious to know what inside of the design process might bedevil him… "Inside of a collection continuity is probably my biggest challenge." " For instance I have a drape dress in satin and I have a very stiff shoulder dress, how do you make them look like they belong together? That's always a challenge, that's what keeps you up late at night, how do you make the design aesthetic relate, there is where the challenge is and when you nail it, it's an amazing feeling."
I closed my interview by asking Loris Diran what was the next risk he was considering taking?  In his answer he hinted at developments in Europe. "Which is very risky, you're playing with the big boys. I'm always accused of being a very European, New York designer so I think it's a natural progression at this point." Loris Diran need not worry, he has the talent, the tools and the work ethic. He already is one of the big boys, they just don't know it yet.
–
Runway images from Diran's show at Brooklyn Fashion Weekend…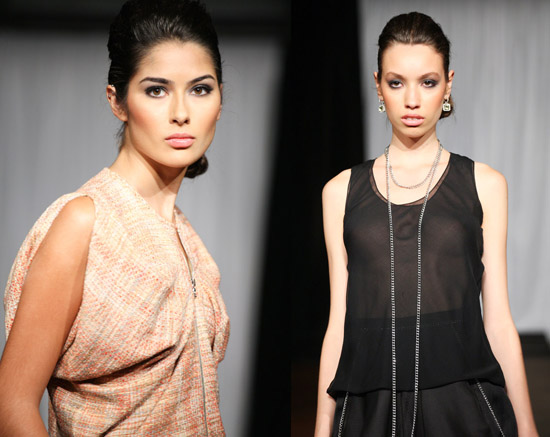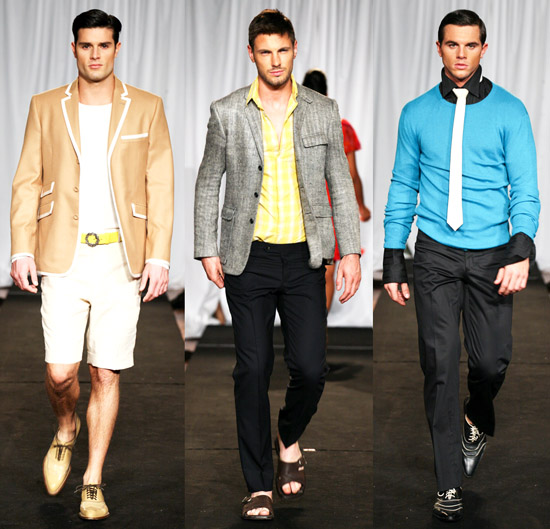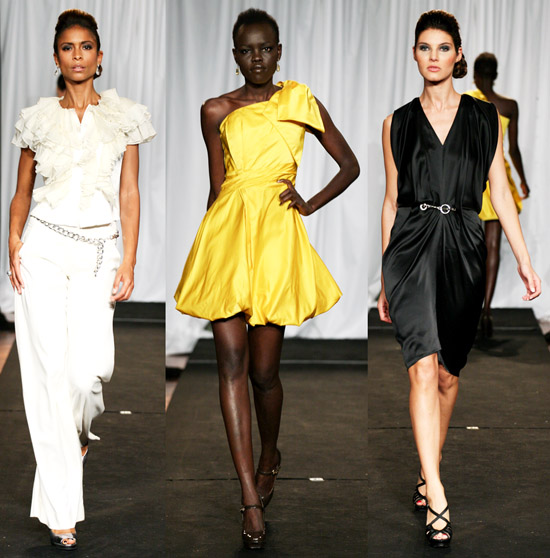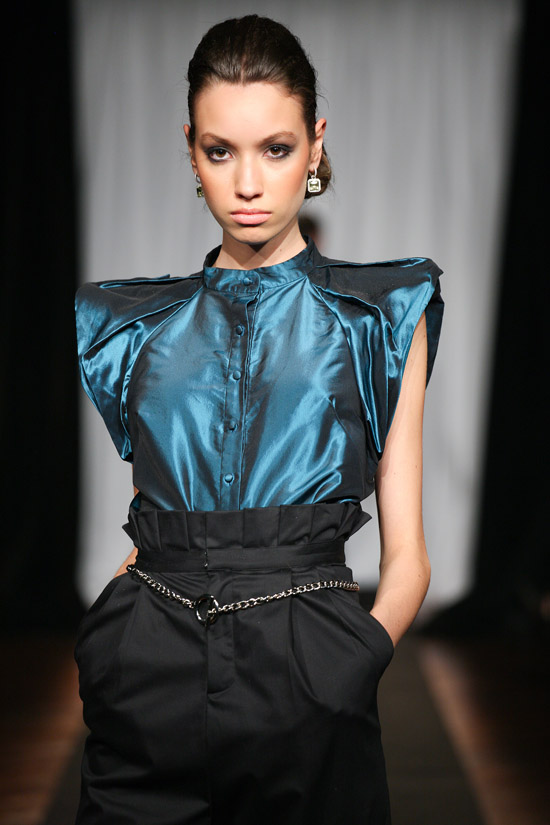 below: Loris Diran with (left to right) Alex McCord, Kelly Killoren Bensimon, Jill Zarin