photos by Boris Marberg
Designers: Alexa Adams and Flora Gill
Astrological Sign (Alexa): Libra
Astrological Sign (Flora): Aquarius
Hometown (Alexa): Washington, D.C.
Hometown: (Flora): Alfred, NY
Label: OHNE TITEL
Web Site: www.ohnetitel.com
The Ohne Titel (translation: "untitled") designers were recently nominated for the Swiss Textile Federation's prestigious Stella Contemporary Fashion Award. They graciously responded to our correspondence interview prior to the awards show.
How many years have you been in the business?
Alexa Adams: We have been in business 3 years.
What is your fashion education?
Flora Gill: Alexa and I both went to Parsons School of Design as fashion majors and met during our sophomore year.
Did you work for major designers before starting your own line?
Alexa Adams: After school I went to work for Helmut Lang for 3 years until he closed the company. Afterwards I worked for Karl Lagerfeld with Flora. Working together for Lagerfeld was the impetus to start our own line.

Flora: I actually worked for several designers specializing in knitwear before joining Alexa at Karl Lagerfeld.
Where have you traveled?
Flora Gill: I have travelled to Italy, France,Denmark, Germany, Belgium, England, and Hong Kong. Paris and Florence almost feel like home since I've often spent weeks there for work and vacations.

Alexa Adams: I have been to most countries in Europe as well as Mexico and Hong Kong. However my favorite travel experiences were throughout the Middle East when I went to Turkey, Israel, and Lebanon.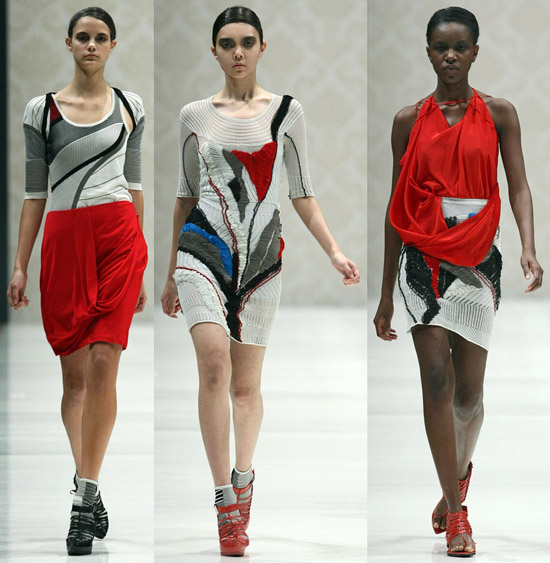 What are your major influences?
Alexa Adams: I've often been influenced by outsider art, ethnographic dress, and travel photography.

Flora Gill: My major influences are ancient craft techniques and new technologies. Their was an amazing exhibit at the Cooper Hewitt years ago that actually combined these influences, for example: showing how Venice lace techniques are used to make tendon replacements.
What are your favorite materials?
Flora Gill: I love working with yarn because you can create the fabric. One yarn can make so many completely different textures  and volumes depending on the stitch and technique.

Alexa Adams: I am interested in contrasts between really high tech materials like sheer nylon tricot with something more textured and luxurious like heavy washed silk.
When did you start sewing?
Alexa Adams: I was taught to sew when I saw around 5 by my grandmother,who comes from a tailoring family background. My great grandfather made the suits for Al Capone in the 1920's.

Flora Gill: I started sewing when I was 4, knitting and crocheting when I was 6, and patternmaking at 10.
Tell us about your first show or presentation, and how you got here from there.
Flora Gill: For our first collection we showed in a gallery space, working with a video artist on moving projections of the clothes on one wall with the collection organized as an installation so people could touch and get close to the pieces in another room. We had a positive reception with stories in Vogue and ID  and were recommended to stores like Ikram. After the presentation we were approached by Bumble and Bumble who asked to sponsor our next show and gave us the platform for deepen and grow the collection. From that point on we have been showing and evolving the collection each season.
What do you look for in a model?
Alexa Adams: I like diversity with a range of ages and looks as I think it adds a more personal relationship between.

Flora Gill: We look for strength and a distinctive personality.
What is your favorite fashion era?
Flora Gill: Victorian fashion is fascinating to me. The intricate structures inside the garments are just as interesting as the delicate embellishments on the outside.

Alexa Adams: I've always been interested in the freedom that 1920's styles brought to woman although I don't think our look references past eras so much as ideas of tailoring and craft.
Do you have any pets? What kind?
Alexa Adams: I don't have any pets.

Flora Gill: I love dogs, but it wouldn't be fair to have a pet when we are so busy.
Are you truly impressed by the work of any other specific designers?
Flora Gill: Issey Miyake is such an amazing innovator of fabric and form. He combined new technology with patternwork and decoration to create unusual volumes and multifunctional garments.

Alexa Adams: I am fascinated by the work of Madeline Vionnet, whose exhibit at the Musee des Arts Decoratifs we just saw while we were in Paris. She turned flat, geometric shapes referencing classical traditions into modern and liberating clothes.
Which famous designer's career would you most like to have?
Flora Gill: I admire Rei Kawakubo's unique fashion vision and the way she has built the Comme des Garcons brand.

Alexa Adams: I am impressed with the way Raf Simons has grown his own business while creating a separate but strong aesthetic for Jil Sander.
What is the best way to start the day off right?
Alexa Adams: I like to read the NY Times front section at home before heading to work.

Flora Gill: Every morning I like to have a leisurely, home-cooked breakfast.
What are your favorite guilty pleasures?
Flora Gill: People watching is my guilty pleasure. I could stare at people's faces, outfits indefinitely if they didn't see me.

Alexa Adams: I have an expensive habit of buying designer shoes.
What is the best way to relax in the city?
Alexa Adams: I walk along the Highline on my way home from work, looking out over the city from a different perspective.

Flora Gill: I love to ride my bike to Rockaway beach.  It's about 45 minutes each way and when you arrive you can just jump in the ocean.
Who were your idols as a child?
Alexa Adams: I was always interested in certain artists when I was younger like Lee Bontecou, Louis Nevelson, and Anselm Keifer.

Flora Gill: As a child I was fascinated by the designs of Yves Saint Laurent and Comme des Garcons.
Do or did you practice other arts?
Alexa Adams: I grew up drawing, painting, and sculpting. Now I focus on fashion design but have recently started working with video as well.

Flora Gill: As a child I was surrounded by the arts since my parents are artists.  I experimented and took classes in figure drawing, photography, painting, and color theory. Now, outside of fashion, I spend a lot of my spare time experimenting in the kitchen.
What is your favorite New York neighborhood?
Flora Gill: I really enjoy going to Chelsea and visiting the galleries or walking along the West Side Piers.

Alexa Adams: I still love certain places in the Lower East Side like Economy Candy that are throwbacks to the old New York I first experienced.
What is your favorite New York restaurant?
Alexa Adams: I'm addicted to Meskel, this tiny Ethiopian restaurant in the Lower East side where the owner cooks and personally serves you the food.

Flora Gill: My favorite NY restaurant is Blue Hill. The food is all raised on their farm upstate, and each meal is personalized.  If you order something from the menu, they will always bring you a few other interesting hors d'oeuvres or small soups that you were not expecting.
Which is your favorite museum in the city, and why?
Alexa Adams: I don't have a particular favorite but always like the variety of exhibits in NYC. Lately I've gone to see Tauba Auerbach's silkscreens at Deitch Projects, the Egyptian collection at the Met, and a surrealist sculpture exhibit at MOMA.

Flora Gill: The International Center of Photography always inspires me.  Ecotopia was the name of one of my favorite exhibits focusing on the photographies ability to see hidden or ephemeral worlds. They showed an ant's-eye view of the world on video, and a photo of a dried stream by Noriko Furunishi.
What kind of movies do you like?
Flora Gill: I like documentary films because they offer such an intimate point of view.

Alexa Adams: I've always loved highly visual movies like The Color of Pomegranate, The Holy Mountain, and Death in Venice.
What was your goal with the current collection?
Flora Gill: For this collection we wanted to focus on our signature knits with a combination of hand technique, technical development, and jacquards in graphic patterns.
What was your technical inspiration for achieving that goal, and what obstacles did you face and attempt to overcome?
Alexa Adams: We worked with mills and factories to create unique fabrics and knit stitches that mirrored the textures of feathers in Egyptian art. Translating feathers into more abstracted and mechanized knits was challenging but the result I think evoked the light surface of a feather while being abstracted.
What were your visual inspirations for the current collection?
Alexa Adams: We were inspired by the bold color, wrapped shape, and intricate textures in New Kingdom Egyptian bas relief and sculpture.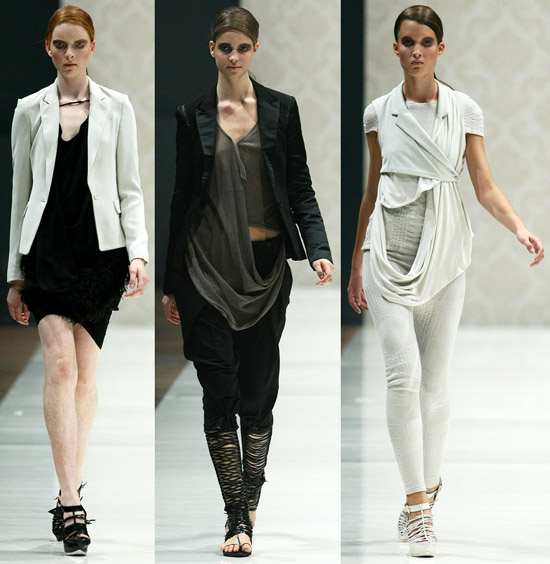 What world and local events most affected your creative process in preparing for this season?
Flora Gill: I feel everyone has had the recession on their minds. We made sure to focus on value for our entire collection. We designed some signature knit pieces in opening price points and kept the more hand intensive styles to below $2,000 in store.

Alexa Adams: Also in a more subtle way I think the news that surrounds us will initially push us in a certain direction whether it be going to gallery shows or reading about world politics.
What is your favorite piece in the current collection?
Flora Gill: My favorite piece is the chalk, red, and french grey patterned knit dress with shaping along one hip.

Alexa Adams: I also love the twilled cotton wrap jacket with a silk drape under the bust.
What sets that piece apart from the rest of the collection?
Flora Gill: I think it expresses the look of flat drapery being created by pattern and knit shaping.

Alexa Adams: With the jacket I like the contrast of the Egyptian influenced wrapped top section in a more structured fabric against the flow of the silk drape coming from under its hemline like a twisted lining.
Do you feel you challenged yourself enough in creating this new work?
Flora Gill: Yes, I think we went more deeply into personalized stitch and fabric development while making a very concise visual statement.
Do you feel like you fully achieved your goal for the season?
Alexa Adams: We had a very strong response this season from both the press and sales and are now mainly looking forward for our next season as we are already starting to design and further refine the signature look of OHNE TITEL.
Fashion being reflective of society and ever-changing culture, what outside influences are affecting your approach to creating your next collection?
Alexa Adams: We always feel certain currents in the air, especially dealing with women in politics or culture that are expressed in very abstracted way in our work. I think being informed in politics, art, and travel all influence the way we develop our collection.
How do you feel about being nominated for the prestigious Stella Contemporary Fashion Award?
Flora Gill: It has been a great honor for us. We are in great company with the other nominees, past winners, and judges.
Where can people buy your creations right now?
Alexa Adams: Some of the places people can buy the collection are at Printemps and Maria Luisa in Paris, in Liberty in London, and at Ikram in Chicago.