photos by Boris Marberg
Designer: Thakoon Panichgul
Astrological Sign: Libra
Hometown: Omaha, Nebraska
Labels: Thakoon and Thakoon Addition; designer for Hogan through fall 2009; guest-designed for both Target and Gap; Thakoon shoes are Giuseppe Zantotti for Thakoon
Web Site: www.thakoon.com
Thakoon Panichgul was recently nominated for the Swiss Textile Federation's prestigious Stella Contemporary Fashion Award. He graciously responded to our correspondence interview prior to the awards show.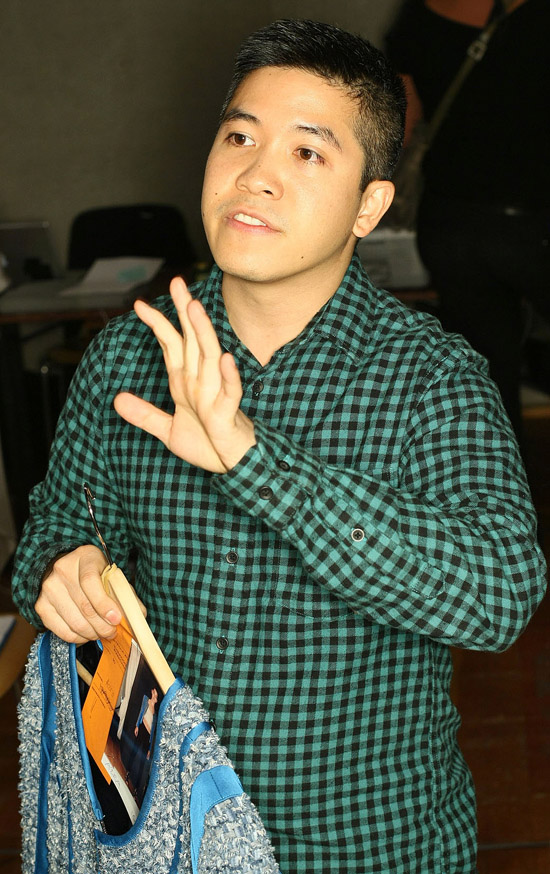 How many years have you been in the business?
5  years
What is your fashion education?
I studied at Parsons in New York.
Did you work for major designers before starting your own line?
No.
Where have you traveled?
Across America, North America, Mexico, Europe, Japan, China, Thailand
What are your major influences?
Artists, Street Culture, New York
What are your favorite materials?
I don't have favorite materials, but I'm inclined to fabrics that are classic but twisted.
When did you start sewing?
My mother and grandmother were both seamstresses so I was exposed to sewing at a very young age.  I started sewing myself around the age of seven.
Tell us about your first show or presentation, and how you got here from there.
It was for the Spring 2005 season–a tiny 10 look presentation, sandwiched between two big shows.  We got here by taking baby steps…
What do you look for in a model?
It's about the mood of the collection, but usually I gravitate towards models that have more than one persona.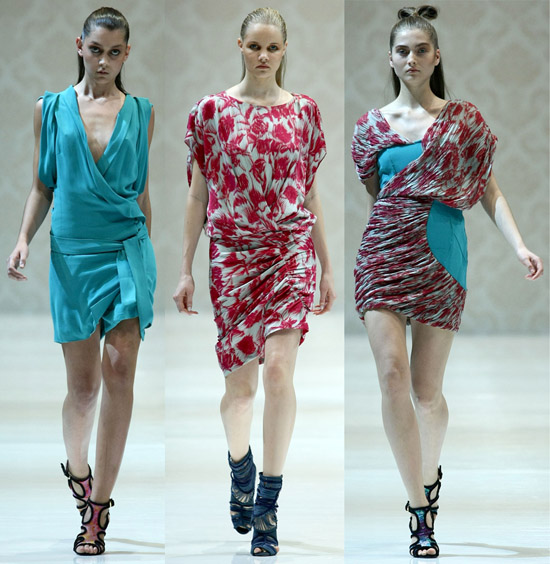 What is your favorite fashion era?
I love the 1940's and the 1970's.
Do you have any pets? What kind?
My dog, Stevie, a Yorkie Chi Hua Hua mix
Are you truly impressed by the work of any other specific designers?
Schiaparelli, Chanel
Which famous designer's career would you most like to have?
One that sticks to his guns.
What is the best way to start the day off right?
A good cup of coffee.
What are your favorite guilty pleasures?
Potato chips.
What is the best way to relax in the city?
Roam around aimlessly.
Who were your idols as a child?
Bruce Webber.
Do or did you practice other arts?
Photography, Drawing, Ceramics
What is your favorite New York neighborhood?
The West Village
What is your favorite New York restaurant?
Il Buco
Which is your favorite museum in the city, and why?
Neue Gallery because I love German art.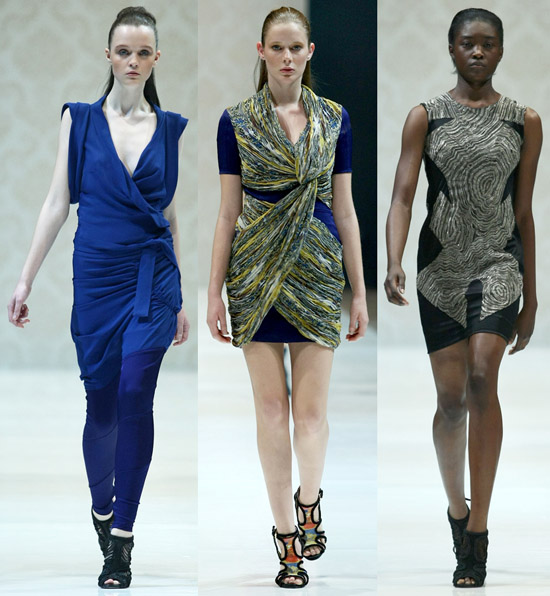 What kind of movies do you like?
I watch everything; I like sad movies.
What was your goal with the current collection?
I wanted to create shapes that follow the body form but still have motion.  It's about movement and restriction.
What was your technical inspiration for achieving that goal, and what obstacles did you face and attempt to overcome?
I'm really into draping and construction and ways of twisting the classic construction of clothes.
What were your visual inspirations for the current collection?
Samuri Warriors and Surfers
What world and local events most affected your creative process in preparing for this season?
I just wanted fluidity in fabrics.
What is your favorite piece in the current collection?
Look 1
What sets that piece apart from the rest of the collection?
It is the heart of the show.
Do you feel you challenged yourself enough in creating this new work?
I am always trying to find ways to push myself even further.
Do you feel like you fully achieved your goal for the season?
Yes
Fashion being reflective of society and ever-changing culture, what outside influences are affecting your approach to creating your next collection?
The way that people wear clothes.
How do you feel about being nominated for the prestigious Stella Contemporary Fashion Award?
I am honored to be recognized.
Where can people buy your creations right now?
Harvey Nichols London, Lane Crawford, Barneys New York, Colette, Dover Street Market, Santa Eualia Barcelona, Sterngasse Austria, Apropos Germany