story by Michael Fragoso
photos by Sandy Ramirez
Every season Timo Weiland manages to edit towards a more and more refined look. Their chic easy wearing pieces are the epitome of that which is all the rage with the young in the city set.  The scene backstage at their presentation was one of the most calm and serene of any I've wandered through, and everyone seemed to have a friendly vibe, which easily translated to the way his clothes look on the models.
Timo's mother, best friends, and industry fans chitchated their way around the space gasping at "librarian chic" looks for men and women.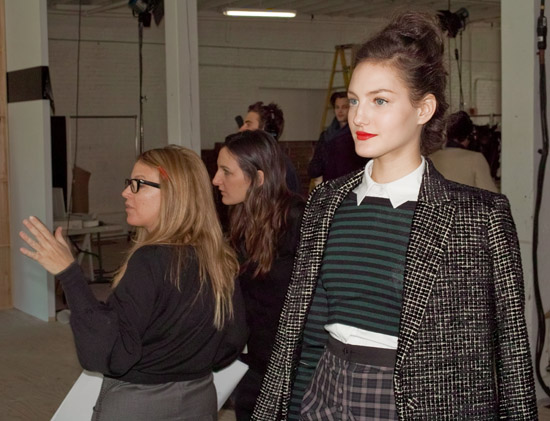 Tweed coats, beautiful silky red dressed, tan camel hair jackets with pleated accents, and flirty feminine coats were featured on the girls, and in particular, one stand out look included a full out red ensemble that looked as though it could go from Christmas dinner to the dance floor with only a quick change of shoes and lipstick.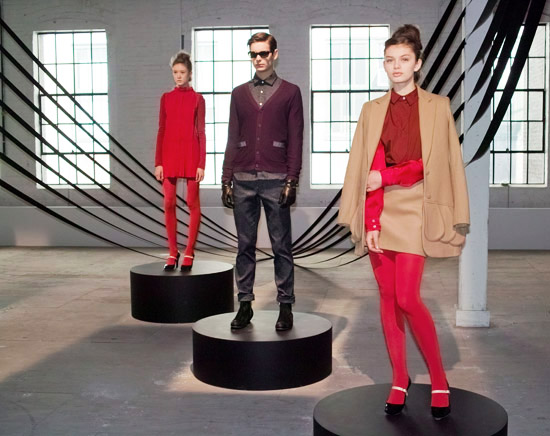 Menswear was safe and wearable, all easy, comfortable looks of jackets and separates, dress shirts and funky sweaters with knitted detail.  Though not as funky as the past, Edwardian themed season, fall with Timo Weiland is a demure, casual occasion, with a rich color palette and tailored luxury, free of gimmicks.