story by Brandon Ruckdashel
photos by Tal Shpantzer
Entering into the presentation space, it is clear that Marlon Gobel, for his first solo collection, has designed a high concept line. Standing out from the white seamless walls is a homemade geodesic dome which serves as the centerpiece and framing device for his models. He has seamlessly integrated allusions to strands of DNA, blood vessels, and internal organs into the collection. Highlights of these expressions included the Blood Vessel Braided Tie and a Cashmere Heart and Blood Vessel Sweater.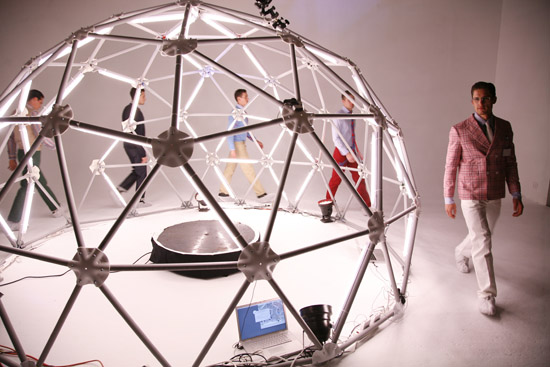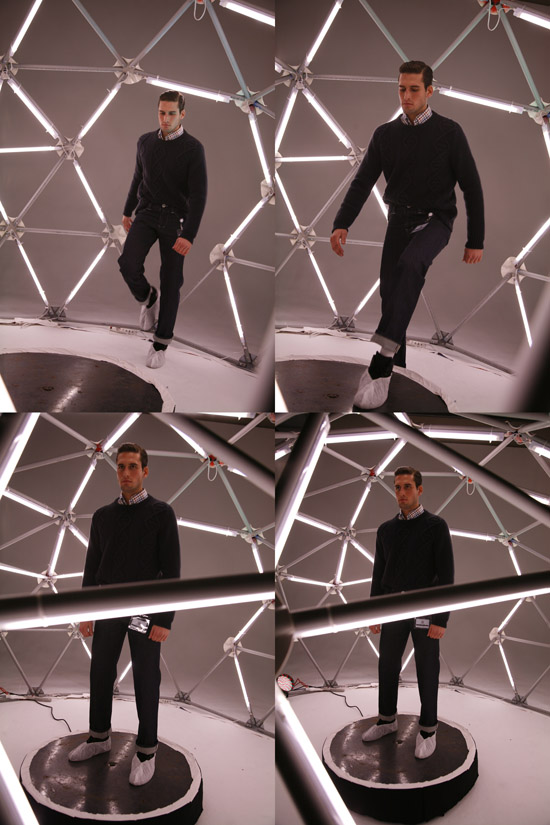 Gobel, a Thom Browne protege, brings his years of tailoring experience into expression with coats and trousers fitting the models precisely. Stand out pieces include the avant garde Blood Vessel Tie, Blood Vessel Tweed – Shaw Collar Shearling Coat, and the use of Carbon Fiber & Kevlar lining in all of his suits.
Citing the protection of life as integral to the creation of life, Gobel's suits are constructed with bullet proof lining. A real standout in this category is the Black Formal Worker Jumpsuit with carbon fiber lining, which is smartly tailored with both range of movement and comfort in mind. The bow tie and Black Rose Broach, included in this fit for Mr. Bond ensemble, are also constructed from bullet proof material, adding another level of protection. With this collection, Marlon joins the likes of Colombian designer Miguel Caballero, in designing fashionable concealed body armor. Although Marlon has yet to issue a directive requiring each of his employees to be shot at point blank range wearing his clothing.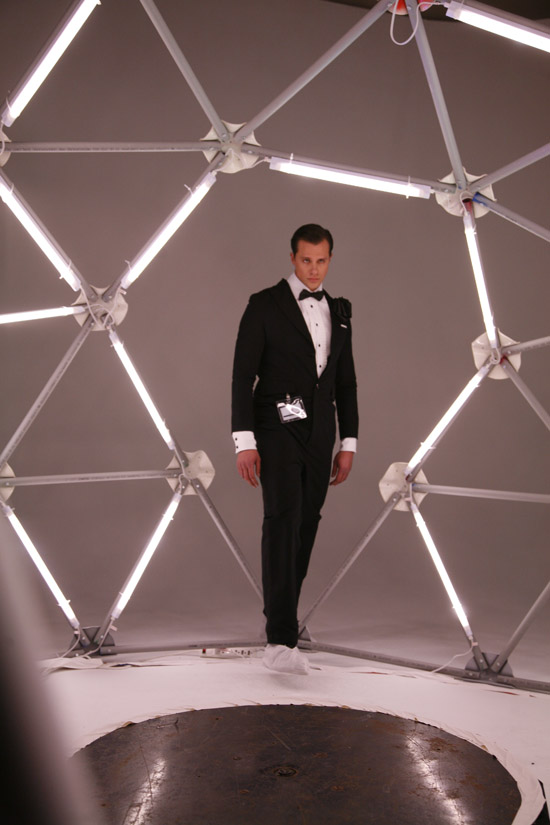 We were able to speak with Marlon during a break in the presentation.
.
modaCYCLE – How did you get started in menswear?
Marlon Gobel – I've been the number two at a lot of really influential houses. houses I feel changed menswear — Thom Browne. I went about it as an apprenticeship. The way a good watchmaker makes watches. I learned all the beautiful detailing and aspects of the craft before I felt like I was really ready to go out there and be a fashion designer. I feel like you really need to take your time and learn the whole thing.
modaCYCLE – What was the concept behind this, your first solo collection?
Marlon Gobel – Science the whole collection is based on the beginning and science. Everything starts with your DNA and with your heart and a brand starts with it's DNA and so if you noticed the cable knit sweaters the cables spread a little bit and it becomes a beautiful DNA helix. The heart sweater, like the heart is what keeps you alive. These are all things that at the beginning and the beginning of a brand or company, these are all things that are in the beginning of a life. So that's why it had that meaning to me. I know, it's a little heart warming and special, but thats why I think clothes should mean something, I was also inspired by what the future was going to be and from a 1960s 1970s perspective. The clothes all have a double meaning. It's a wool cashmere suit, but it has a kevlar lining. So not only is it a beautiful suit but it's also stab and bullet resistant. The kevlar drapes beautifully. I feel like clothes in the future are supposed to do more than just keep you warm. Unfortunately things don't change that fast, but tailoring never changes. Beautiful tailoring is beautiful tailoring.
modaCYCLE – Your color palette is alive and vibrant. What was the inspiration behind that?
Marlon Gobel – Well why does fall have to be always grey and maroon and you know those dark… I love color, all year long. Everyone in New York wears black all the time and I think you shouldn't be afraid of color. Especially if you can mix it in a really easy way. There's that beautiful purple sweater with the — I call it the "Blood Vessel Tweed" but from far away it looks purple — it's really just blue and red with a pair of brown pants. It works, it really works. I think you can have color and it can be masculine and minimal too.