story by Michael Fragoso
photos by John Lamparski
Looking at Petrou\Man is like looking at a recent contemporary art exhibition. You're not quite sure exactly what it is you may be seeing, but you defiantly want to continue to look at it. Hailing from the legendary design school of Central St Martins, Nicolas Petrou's avant-grunge designs have intricate stylingís that defy explanation.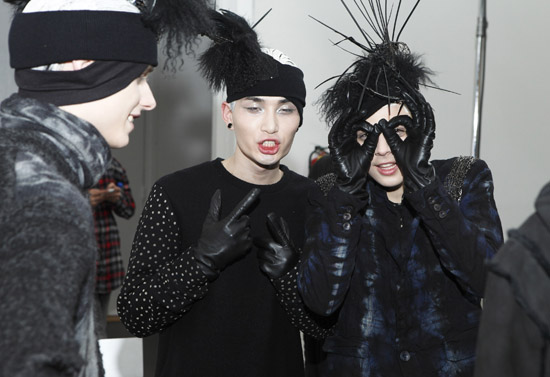 Suede and leather combos with jersey wools, nylon and synthetic materials synthesized with the tailored looks of modern men's suiting make for an intriguing mix. Treated and printed suits combine with feathers and wire head pieces, loose fitting pants, and texturized prints ran amok on a collection befitted with structural head gear and industrial boots. The Petrou man may be hiding out with Bladerunner, but with Nicolas Petrou at his helm, he is definitely well dressed.