story by Seth Friedermann
photos by Freda Henry
The fashion media has a perverse sense of time. They will label a designer or label as "emerging" or a "bright young star" when they've been visible on a national or international level for many seasons. Doii Lee has been a known commodity in many circles since she left Kenzo in 2005 to pursue her own label. The reason her designs will catch your eye is a simple but scarce ingredient; her clothes don't look like anybody else's.
Doii's love is obviously for prints and patterns, but it's her romantic and fantastical color palette, and her ability to use great amounts of softly contrasting colors without making her work look busy or garish, that takes those prints and patterns to the level of art. Many fashion artists whose aesthetic is composed of florals, pastels, and cute prints tend not to be terribly innovative with their cuts and treatments. Not so in the case of Doii Lee, who starts with traditional shapes but has always shown intriguing details and treatments which add to the overall uniqueness of her collections.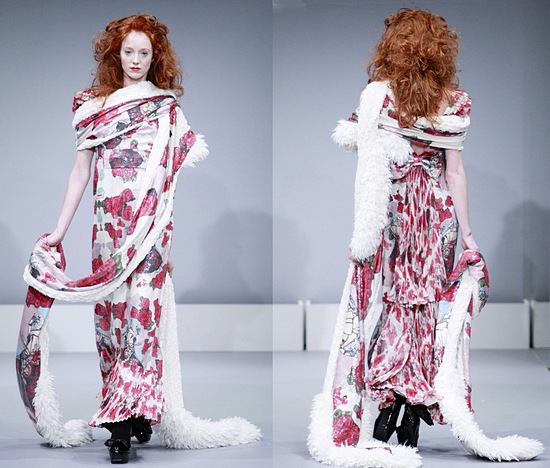 In this Fall 2010 collection her star shone most brightly through her coats and jackets. Her longer coats were particularly brilliant from a stunning pink and patterned trench to a gorgeous grey lapeled and belted coat which was perfectly executed right down to the fabric for the button covers. Doii Lee is one to watch in the coming seasons, which should be easy enough as her designs will turn heads wherever they are worn.