story by Seth Friedermann
photos by Adrianna Favero
You had me at "Bond, James Bond." Not to give away my secret weaknesses but when I read the show notes for Anne Bowen's Spring Summer 2011 collection and saw the words Aston Martin and Casino Royale I knew I'd like at least some of what I would see.
The mythical world of Sir Ian Fleming's super spy has held me in its grip since I was a boy. As it turned out there was quite a bit to like about the transformation of models in to mysterious luxurious alluring sirens. In every Bond film there is a moment when 007 sees the leading lady for the first time. It was that moment that Mrs. Bowen seemed to be trying to capture in this collection. She is justly renowned for her work as wedding designer, which by default means she has a vast reservoir of design skills to draw upon. But the show notes also mentioned deconstruction, which can be tricky to pull off if it's not part of your core aesthetic. Cleverly enough it was a deconstruction of concept and broader shapes, as opposed to design elements, which suited Ms. Bowen's style quite nicely.
The collection was less formal and featured tailoring which created aggressive revealing shapes and cuts. Mrs. Bowen's fabric choices were largely luminescent, which added to the allure and sexiness. Some of my favorite pieces were the masculine costume-inspired numbers. A wool chalk striped sleeveless vest paired with a lovely loose and fluttering chiffon skirt to great effect. Similarly a redingote jacket (read, riding coat), with the same stripping was paired with well-cut shorts.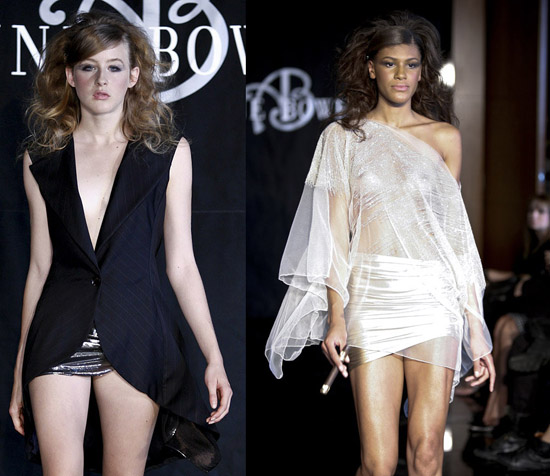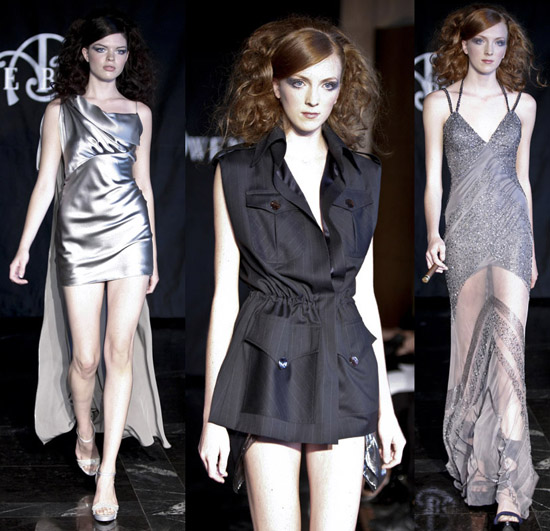 Of course, what Bond girl feels well dressed without stunning body conscious dresses? Not to fear, there were plenty of show stoppers from that category as well. A particular jaw dropper was a shimmering chiffon gown which flowed and clung rivetingly in all the right places.
There were a few pieces that seemed a bit simple, but overall the collection was enjoyable and a nice change of pace from the very formal and traditional work of Mrs. Bowen's past. The designer and her styling team added in cigars as a prop, which communicated the intent and feel of the collection perfectly. These are dangerous women at a dangerous party and they are nothing but the worst kind of trouble. But like a great chocolate, despite what you are saying now, you already know that you will…