story by Seth Friedermann
photos by Freda Henry
Michael Angel is a smart man who does things smartly. A designer who has a known signature in his play with multi-hued prints, he constantly challenges himself to retain that calling card while staying fresh season after season. It is a tribute to Angel's imagination and his talent that he succeeds.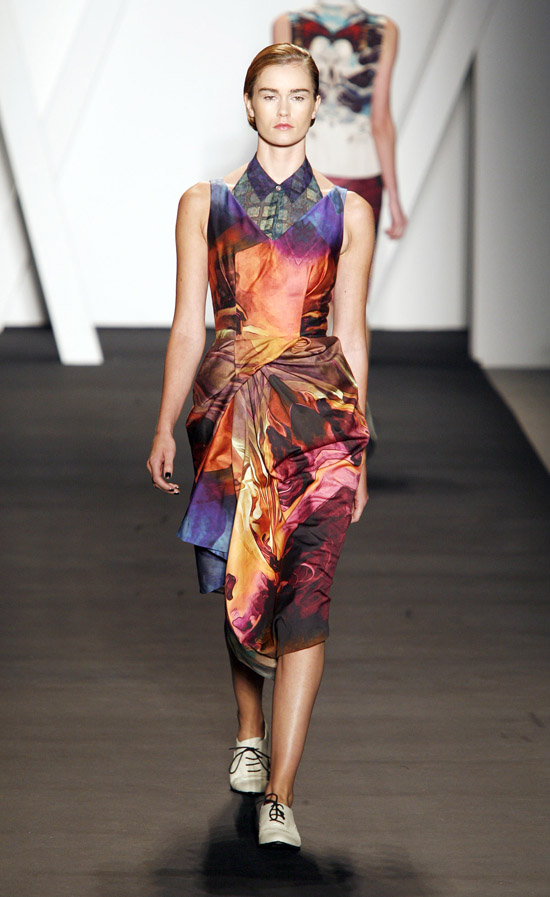 For his Spring 2011 collection, he mixed a number of interesting design elements to create a collection that felt distinct and unique, beginning by tweaking his print palette so that it reminded one of gems and minerals. He then further added a touch of asexuality with the use of tennis collars and short plackets that topped many of his looks. A mix of asymmetrical blouses, jackets, and skirts were yet another decidedly modern element. By far though, the greatest impact from the collection came by way of a commissioned custom translucent latex fabric that added a very cutting edge feel to the pieces in which it was employed.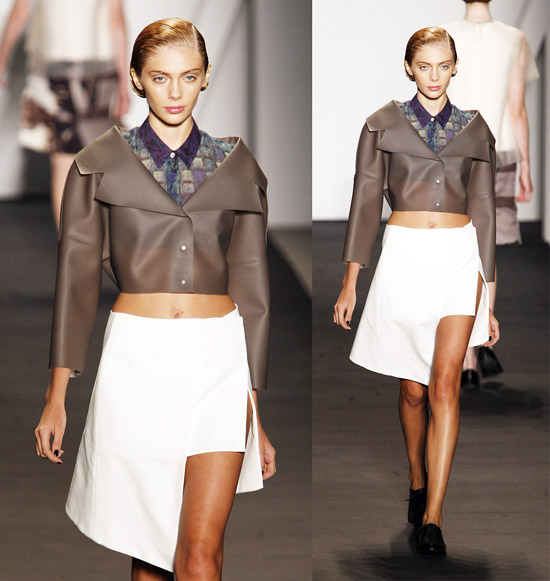 Mr. Angel has successfully married his personal art with the demands of the marketplace. There was not a single piece in this collection that was "unwearable" or "costumey". One of the stand-out pieces for me was a floor length dress that was topped with the white tennis collared cropped halter top. The dress was split diagonally across the front from hips to feet and emblazoned with a print which began with purple and deep red and slowly changed to a more floral pattern at the bottom.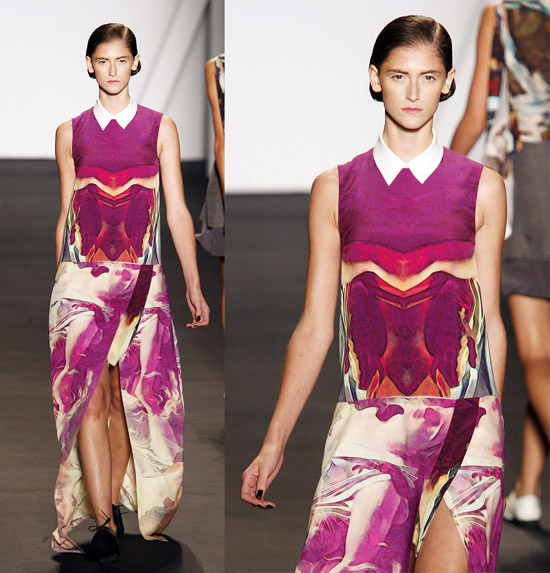 In fact, the dresses by and large were some of my favorite pieces of the collection. A printed drape dress was ruched and gathered in a way that made the dazzling print seem to swirl at the waist. A creme gown was given pop with the featured halter top again but this time with a small square print motif that popped up on a few other pieces as well. Of the latex pieces my two favorites were a deep and wide V cut two button jacket that was roughly the length of a bolero but had a wide notched collar. It created a very dramatic look that would pair well with an endless variety of separates. The other stand out for me was a knee length skirt that had a white strip at the waist and a three button snap at the side. The skirt perfectly showed off the intriguing pliability of the latex which was neither stiff nor soft but somewhere nicely in the middle.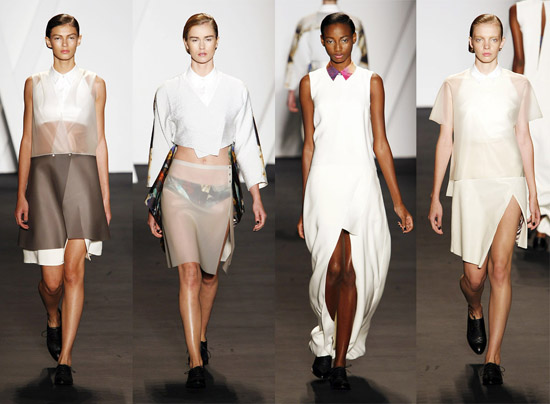 If there is any "problem" that Michael Angel has, it is that he is so very distinctive. However much like many similar designers who have had ten-year, twenty-year, or even longer careers, such as Hussein Chalayan, Anne Demeulemeester, or even Emilio Pucci, it would be best for him to ignore all of the foolish criticism and comments that occasionally surround his work. His collections have shown great creativity and evolution from season to season and he has become comfortable exploring the expanse that is his artistic expression. As you might hear in the Bronx, "Just do you, Michael Angel. Just do you."