story by Seth Friedermann
photos by Nico Iliev provided by the designer
Victor de Souza's third collection continued the development of the construction techniques and fabric choices that are quickly becoming recognizable as his personal signatures. His love of beautiful rich fabrics and pairing the freedom of long flowing cuts with very stiff shoulder pieces continued in this Spring 2011 collection. It is a very promising sign from this young talent that he even has signatures at this point, as often it takes young designers a few seasons to find those touchstones that they cleverly reinvent yet consistently revisit again and again. However, Mr. de Souza did not simply trot out a bunch of pieces from his past that he knew were winners. There were very definitive attempts to experiment and grow inside of his established aesthetic.
One of Mr. de Souza's strong suits has been his fabric choices. He has consistently displayed a keen eye on selecting the fabric that will move precisely how he wants it to. His Spring 2011 collection was all about fluidity. His garments moved like liquid as the models strode down the runway. On a number of pieces this graceful movement contrasted sharply with stiff satin organza faced shoulder shells which perfectly nailed his aquatic theme. Mr de Souza displayed a skilled touch in handling the pieces that employed asymmetrical cuts. The key with asymmetry often is to cut or create unbalanced sections on a garment and then rebalance them through visual manipulation. If that sounds difficult, it is, and Mr. de Souza did it very well.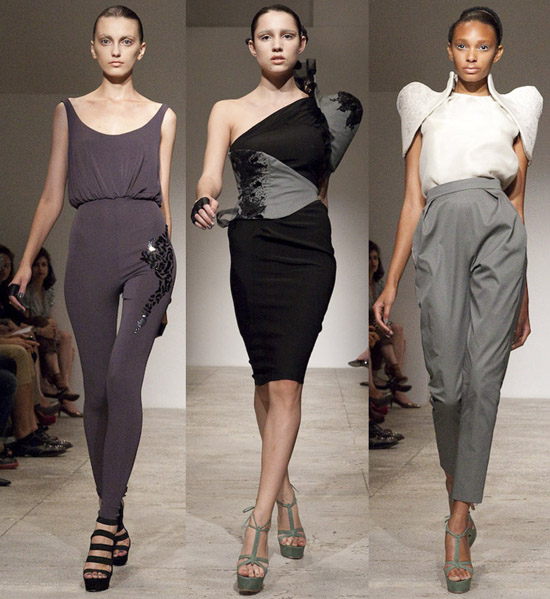 The only occasional minor weakness in the collection was also on some pieces a source of strength. Detailing. Some of his embellished details felt as is they were added on simply to express the theme of the collection rather than being integral to the design. That distracted from the overall strength of those garments, but really it was just a handful of pieces. On the other side of the detailing coin though, Mr. de Souza really put in the work on his cut outs, creating just a slight unexpected curve on some or a non traditional shape. This really drew the eye in that I don't know why I'm looking but that garment really makes me look twice manner that talented designers do so well. New York is awash in bright young talent right now, and Victor de Souza is swimming at the front of the school.