story by Michael Fragoso
portrait by Sandy Ramirez
lookbook photos provided by the designer
The John Bartlett presentation was held in a chic West Village townhouse filled with various tail wagging dogs to greet the masses at the door.  The collection revealed a presentation of bright colors for his Spring 2011 collection. Looks ranged from extreme beach wear, tight speedos in khaki and olive green, to shirts and shorts  of bright orange and pinks that screamed tropical. After the pool looks, Mr. Bartlett's collection took a dressy yet casual turn with light blazers of denim and cotton with cargo shorts that looked simple, elegant, and ready for the Hamptons. The standouts from the collection were the shirts and pants printed with a camouflage pattern that upon closer inspection was revealed to be shapes of Bartlett's own dog, Tiny Tim.
Bartlett himself explains the collection: "I looked to the late 1970's for this collection, really with my favorite models from that era like Rick Edwards and Jeff Aquilon. We have the whole khaki story going on with a hint of safari. It's a true throwback collection with a nod to today."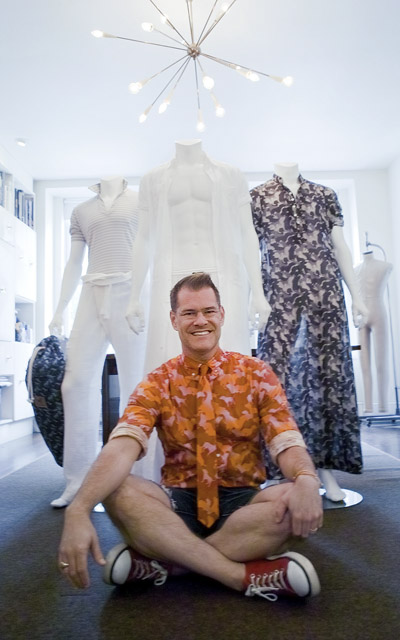 A notable feature of the collection was the use of ultrasuede, a leather alternative, once made famous by Halston, that is now Bartlett's material of choice after recently having gone vegan. The looks are strictly pre and post beachwear, for the type of man that jumps off his yacht into the cool blue followed by a dinner at the local crab shack back on the mainland. Barlett's ultra masculine looks, with their almost tongue-in-cheek nod to the buff and broad shouldered tanned beach babes of yesterday year is sure to be a crowd pleaser from Ibiza to Miami come the warmer months next year.