story by Rachel Gill
photos by Ned and Aya Rosen
Risto Bimbiloski is a designer who has earned extensive recognition for his excellent knitwear creations. However, this season the talented designer deviated from the expected, constructing a collection based more on flowing silk jacquard than knits. Mr. Bimbiloski cited his inspiration to be images from a telescope of the moon, and was influenced by its mystery and timeless beauty.
The collection featured gauzy, weightless dresses which seemed to float down the runway. A delightful and incredibly original print created from images of the moon's surface was sprinkled throughout. The effect of the print, made all the more dramatic by Mr. Bimbiloski's use of color combinations such as pink and green, made the gowns and printed trench coats unforgettable. The designer crafted the airy light trench coats from silk, which became positively ethereal in the lunar print. When questioned about what, in particular, made this collection special, the designer cited its coherency as his chief pride, "I love the way in which this collection came together," he explained.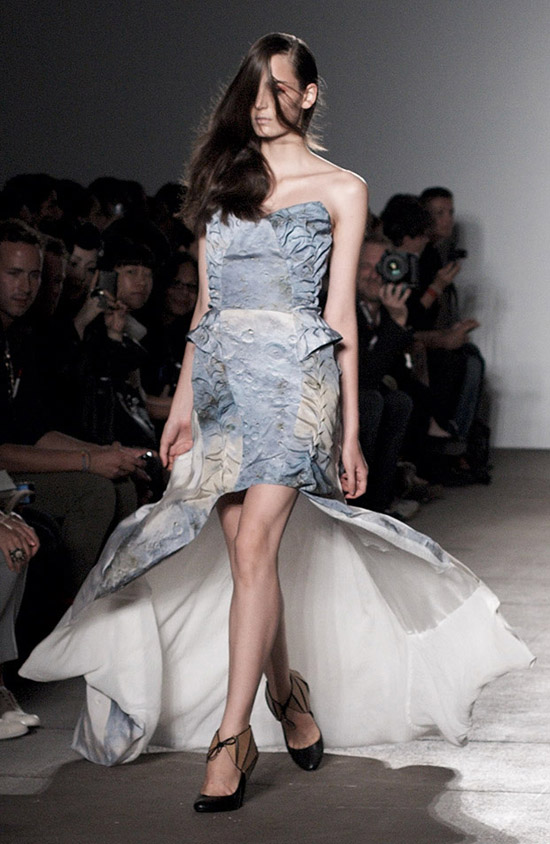 The collection used color to great effect. Mint green and peach headlined in a show featuring many other pastels. Some notable pieces included a gorgeous moon print gown with braided detail which featured a short hemline in the front and skirted the floor behind. Also memorable were trousers which were opaque above the knee and sheer below, and an utterly irresistible pair of neon knit hot pants. The collection featured geometric plexiglass necklaces and hand smocking which created an artisanal look, especially when mixed with the knits. The designer was very passionate about the hand-made smocking technique he used and added that we can expect more of this industrious detailing in the future. In addition, the rustic yet modern look of the plexiglass transparency was carried through to the shoes, making a statement which effectively tied together the otherworldly looks. Mr. Bimbiloski also placed knit and plexiglass inserts in many garments, which created a dark, intriguing element and established a certain edginess when mixed with the lighter pieces. The collection featured many open-back garments, which had a lovely loose fit, some were embellished with delicate slim chains, while others were shown with belts that did not complete in the back. On those pieces this simple touch further added to the flowing, weightless silhouette. When asked what is most important to him as a designer, Mr. Bimbiloski replied, "I love to really be able to enjoy my work. To me, it is so important to be coherent within my collections. It certainly takes time to create your own vision, but it is imperative to really be precise about who you are and what kind of look you want to achieve." Mr. Bimbiloski managed to find innovative ways to feature many contrasting elements, while still maintaining consistency within his collection. This  proved to be the magic element in one of the best collections of the season.