story by Rachel Gill
photos by Adrianna Favero
Rachel Antonoff once again gets the award for having the most original presentation within the New York Spring 2011 shows. Citing children and their dynamic energy as her inspiration, the designer created a setting of a child's dreamland in a charming townhouse in the West Village. Saturday morning rolled around and cue the entrance of the children, aka models dressed in whimsical, girlish frocks doing everything from drawing, to toasting marshmallows, to taking a bath.
Ms. Antonoff and her team demonstrated the kind of creativity we most want to see when viewing new collections, presenting a clear vision by selecting this setting and dressing it to showcase her collection in a proper expository context. "I dreamt these clothes up," Ms. Antonoff explained. I spend all day daydreaming and I always think about what I would want to wear in those daydreams." Faced with the question of who she envisioned wearing her clothes, the talented designer replied, "I truly believe that all women can wear my clothes, as long as they want to have fun in the garments and stay young at heart. Clothes are to be worn for adventures and fun and should make the wearer feel free to be silly. These looks are not meant to be taken too seriously," she said with a charming laugh.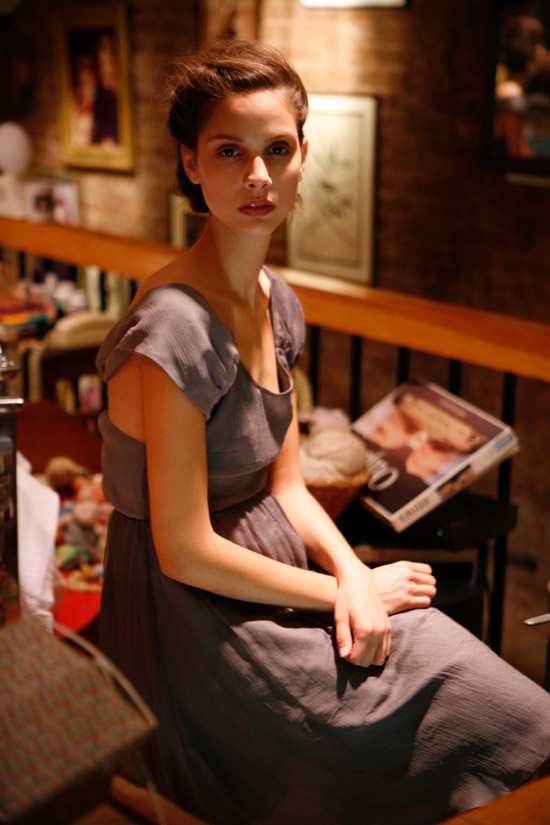 Some of the highlights from Ms. Antonoff Spring 2011 collection were; adorable shorts with heart-shaped pockets, sheer copped button-downs, a sheer blouse-like dress and a lovely, southern-looking ruddy linen dress with white trim collar detailing. Also memorable was a t-shirt featuring a horse head with a mane constructed from pieces of brightly colored ribbon.  The effect was a fresh, and youthful energy embodied in a classic t-shirt. One just simply cannot imagine not having fun in Ms. Antonoff's creations. The designer's use of colors and prints also added greatly to the youthful feel. Girlish silhouettes featured geometric arrow prints in beautiful pastel tones and vibrant checks. Pocket details were a key element of many garments and incredibly stylish saddle shoes added a somewhat quirky and masculine element to showcase a dramatic contrast to the juvenile influence of the clothes.  When questioned about certain elements of the collection, Ms. Antonoff expressed her love for the shoes featured in the presentation. "I'm wearing them right now," she said with a smile. "You know, all these clothes are something that I would love to wear, and can't wait to wear." Ms. Antonoff's creations certainly and without a doubt, conveyed a magical, childlike quality, while still remaining utterly wearable and ready for grown up fun.