story by Seth Friedermann
photos by Freda Henry
Quick, how did you feel when you put on your clothes this morning? Did you choose your outfit based on your mood? Did you reflect on how your mood might change based on what you chose? The subject of feelings and fashion are not often discussed together and it points out a hole in our thinking about clothing. Design evokes feeling. A designer often has specific feelings or ideas in mind while designing, and the garment can act as a communicator. Viewing the Spring 2011 collection of Diego Binetti it is crystal clear that he wants his clients to feel warm, special, bold, strong, beautiful, and perhaps even loved?
The collection that was presented in the "Box" space at Lincoln Center marks Mr. Binetti's first appearance on the Mercedes-Benz Fashion Week calendar, but his joyful and fantastical designs have appeared in New York before, and been presented internationally for over ten years. His art has grown, of course, but his signature playfulness and ornamentation has remained. However, for Mr. Binetti his style is ultimately about balance, "I believe pretty much in balance, balance is composition from two opposite poles. I use a good volume of colors, textures, and details when you achieve all of those points you can just create something that makes total sense."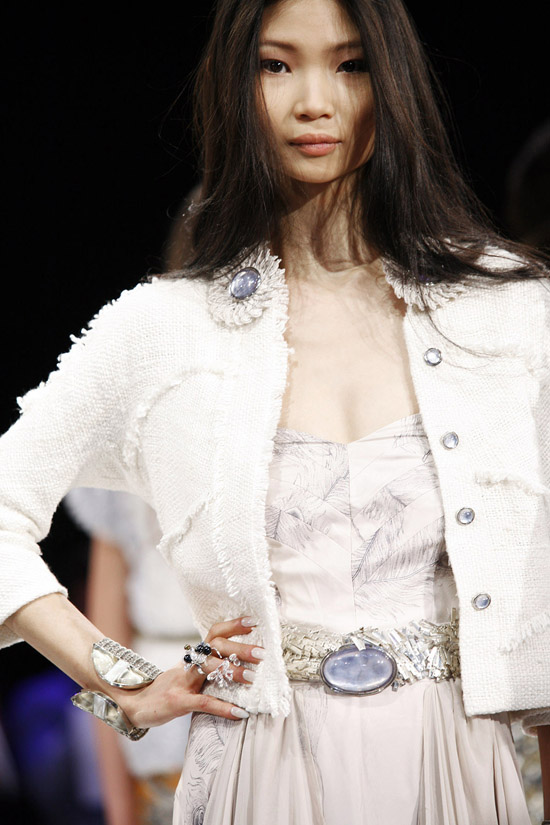 When a designer loves touches such as adornments and embroidery, editing can be a challenge, "When you are able to be like that [playing with many elements] you tend to push the string just to see where you can find the ends." Mr. Binetti's designs although abundant with gorgeous details such as gold embroidery, sequins, crystals and lace never feel garish. Ultimately it's because they aren't really details, with a Binetti creation you always get the sense that its all a singular expression of thought or feeling. The cohesiveness is built in from the start. Mr. Binetti doesn't so much add elements to his designs rather he manifests his vision till it is perfect. His designs are complete expressions and come purely from his view of the world and women.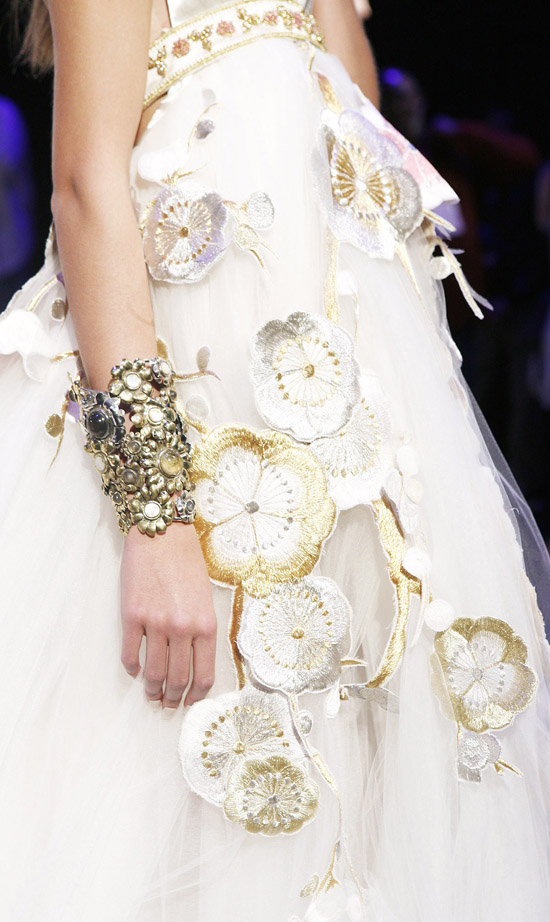 For Mr. Binetti his inspiration is always a mix of life as he finds it, or it finds him, and his client. He described his client to me as a "Goddess" a woman who "domains power, domains beauty inside and outside". But he later added that she is real and lives in the real world. One look at the dresses and separates from his Spring 2011 collection is all the convincing one needs that his muse although rare is very real. That recognition is critical because it keeps his designs grounded and practical in structure and ease. Yes, there is a lot going on in a Diego Binetti garment but although it is complex it is more engaging than confusing. His Spring 2011 collection is romantic, mythic, and intelligent, just like the woman whom he hopes will wear it.