story by Seth Friedermann
photos by Charles Beckwith
Jen Kao's Spring 2011 collection offered proof positive that the Midwestern native has the vision and skills to become an international star. With this, her fifth collection, there has been rapid growth and a definitive shift away from easy body-conscious designs towards more high volume flowing shapes.
There has also been an increase in the level of difficulty in what Ms. Kao is attempting to create. It is becoming more and more apparent, Jen Kao is a very skilled craftswoman, and her ability to manipulate movement and control fabric is developing at an impressive incline. Her designs are of the kind where an exciting execution of a vision is only possible because of mastery of technique. Ms. Kao seems to be pushing herself towards more and more complexity, and so far deftly handling the risk of her garments becoming busy or unwieldy. Her balanced mix of structures and flowing materials makes her clothing both beautiful to see and obviously wonderful to wear.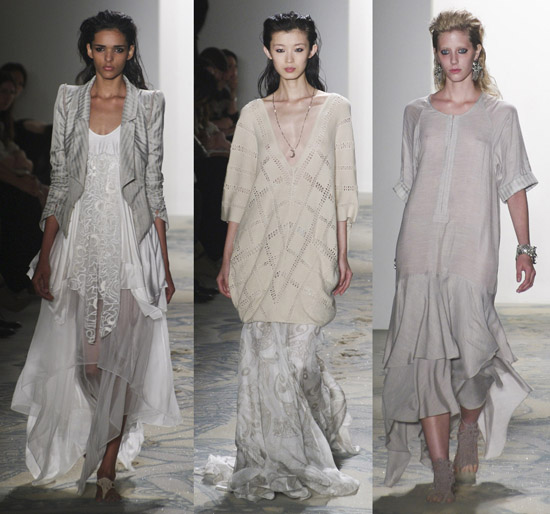 One of my favorite pieces from this collection, that I think exemplifies Jen Kao's skill level, was a green and brown floor-length cap-sleeved silk gown. The bust was adorned with curved sections of puffed silk that fell downward in the middle and created a line that continued all the way to the floor. The dress displayed the ability to use a fabric enhancement to create "wow" without making the gown look busy. If you look back over Ms. Kao's progression in this early stage of her career, her growth has been exceptional. Talented designers tend to be explosive in their early growth as artists. Access to more capital means better fabrics, hiring better talent, and an increase in personal comfort. As much as self-belief is the core of any and all success; strong sales, good coverage and reviews create a, "oh, thank God it's not just me that believes in me, I must really be talented and this really is my life.", feeling. That feeling frees a designer up to become more daring, expressive, and to take exploratory risks. Take for example her stunning asymmetrical cocktail dress, done in a print which used three shades of blue. The dress features a neckline treatment of dozens of strands of small blue balls of fabric. Putting such a high volume of small details with a fairly involved print risks creating a confused look, but Ms. Kao walked that razor's edge perfectly, and ended with a dress that was intriguing rather than confusing.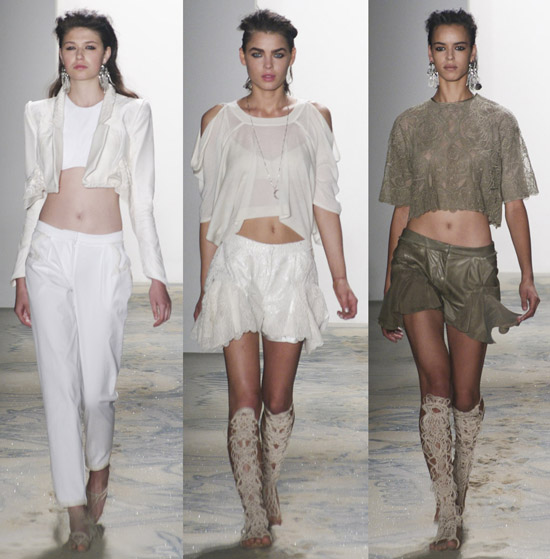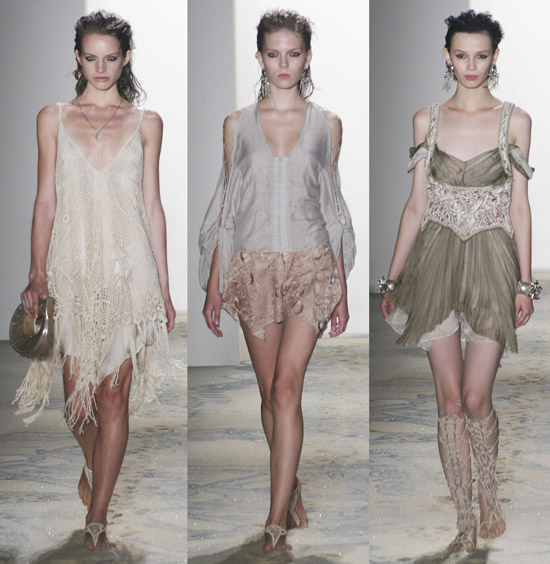 Much has been written in other media of Jen Kao's Spring 2011 collection's sand-painted runway and odd theme (zombie brides in the desert). This is unfortunate, as it was the 33 looks that Ms. Kao presented that are the actual fashion story. The collection, when seen in the context of the works of a rising star, is a major leap forward in aesthetic strength and personal expression. Her dynamic mix of flowing drapery and strong architectural structure displays a unique personal vision of fashion design and the obvious talent to create what she envisions. Ms. Kao's artistic style of soft mixed with hard, and structure mixed with flow, is the essence of cutting edge fashion. Jen Kao not only is on that edge, but she controls it, wielding her sword with old world precision.