story by Seth Friedermann
photos by Ned & Aya Rosen
It takes a defiant artist to embrace unbalanced and neurotic as a specific concept for inspiration. Mona Kowalska is not only defiant but exceptionally talented. It is the combination of her vision and skills that makes A Détacher one of the best labels in New York City. Her Spring 2011 collection was unique in its prints and fabrics, striking in its shapes and cuts, and most importantly bold in it's presentation of the beauty of being slightly off.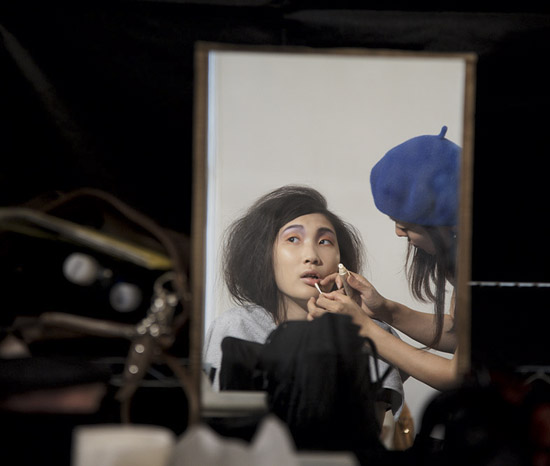 I am firm believer in the power of language to describe anything perfectly, but Ms. Kowalska and her art always challenge me. She finds the beautiful and positive in what most see as imperfect and negative. "I'm not sure I have so many rules." This simple expression which Ms. Kowalska said to me backstage both summarizes her approach and provides access into understanding why her garments have the impact that they do. An A Détacher piece often draws a lot of attention when worn because it creates a need to be "figured out". There is a long and vital tradition in the arts of artists whose work was powerfully compelling because yes it was different but more so because it was beautiful or strong in a way that is not "supposed" to work.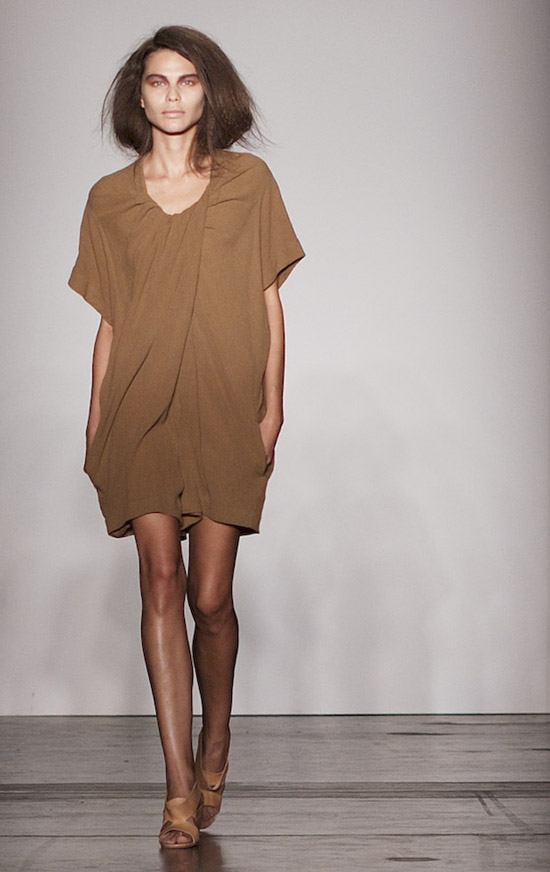 A Détacher is known for it's prints and the Spring 2011 collection should increase that reputation. The prints themselves are intriguing; dark and rich colors with patterns that play on the edge of randomness and geometry. Often with A Détacher though, it's how Ms. Kowalska cuts up and places the prints that fascinates. On one of her many exquisite jumpsuits a black and pale gold print creates a near hypnotic effect that makes one try to make sense of its potential randomness or structure. A short sleeve dress with a deep neckline is created in a faded checked pattern that looks worn in spots yet fresh in others, uneven and yet symmetrical. The three showstopping pieces were a pair of nude and black dresses that were colored to oppose each other and walked side by side and a compelling black sheath dress with two simple circles cut out between the neck and breasts. The decisions that Ms. Kowalska makes when creating a garment seem rooted in a deep understanding of what will draw the eye in a nontraditional way.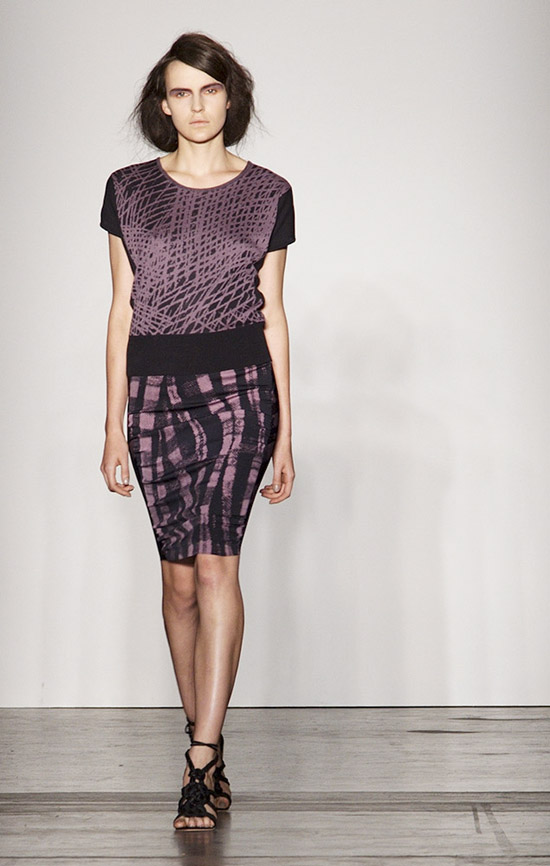 While A Détacher prints do garner much deserved attention, I've always loved Ms. Kowalska's knits. She told me her knits usually play a complimentary role, but each collection there are a few knits which she considers to be stand-alone. One of my favorite knitwear pieces from her Spring 2011 collection was a very open black dress which was frayed and mock tattered in a marvelous manner. Special mention must go as usual to A Détacher's shoes for the season, wooden cone heels and lots of straps, like the clothes certainly sexy but not in the usual way. A Détacher is an uncommon brand for an uncommon woman. You know her, the one you see occasionally who is sexy, intelligent, different, and possibly dangerous. You can't help but watch her and think about her. What is it about her? What is it about A Détacher? The word, the word is esoteric.