story by Rachel Gill
photos by Freda Henry
Jose Duran's Spring 2011 collection's public debut, held in the Time Warner Center, was highly anticipated. The talented Dominican designer has proven time and time again that he possesses an incredible amount of talent, yet seems to sometimes have trouble with retaining coherency in his collections. Mr. Duran refrained from setting a theme or stating an inspiration for the show, so the audience had little idea of what to expect beforehand. Unfortunately, the collection proved to do little to alleviate the ambiguity over the focus and theme.
While some of the designer's creations featured a rough, masculine and dramatic military edge, other pieces consisted of a light, sheer textile and flirty, draped dress silhouettes. Mr. Duran seemed to have more success with his more feminine, structured garments. Some of them, including a black, gathered, one-shoulder cocktail dress and a black and white basket-weave mini-dress, were absolutely stunning. Other garments which stood out as superb were a draped, purple tie-dyed dress with an asymmetrical hemline and a stunning red gown worn to perfection by a sassy Sessile Lopez. Garments with long pins through the shoulder material added a unique twist to the typical military detailing.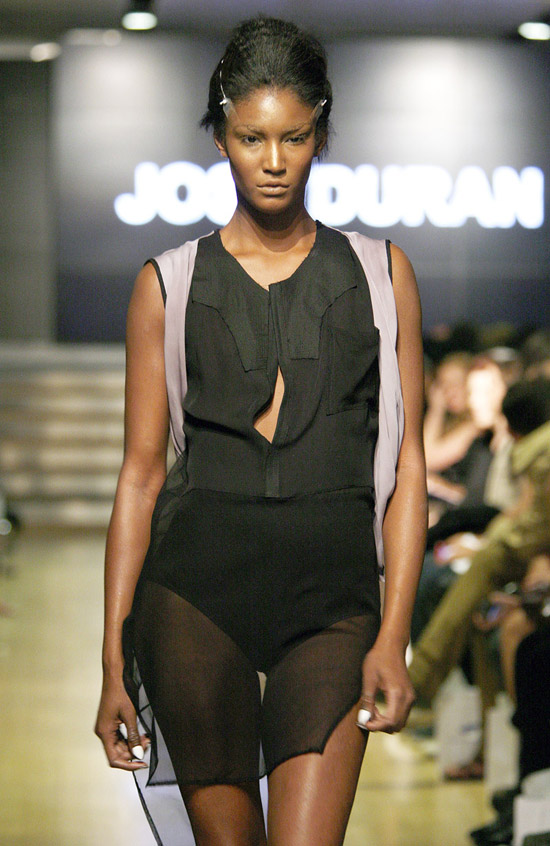 The fact that these pieces and a few others were so incredible evoked an even stronger confusion as to why so many of the pieces seem to lack that certain spark that Mr. Duran is so obviously capable of. Most of the garments seemed to hang off the models' frames, making for a very straight look. Mr. Duran featured extra long sleeves, and some possessed details that just really didn't seem to add positively to the collection. One yearns to see more of the innovative, structured shapes Duran created with hemlines, draping, and shoulder detailing in his more striking pieces. It is almost frustrating to view his collection. One is left wishing that the designer would have edited his looks down a bit, from the forty-four pieces he debuted this season. Men in heels added to the confusion of exactly what was attempted to be portrayed. Yes, it made a dramatic statement. However, was that statement a necessary and essential part of proving coherency within the collection?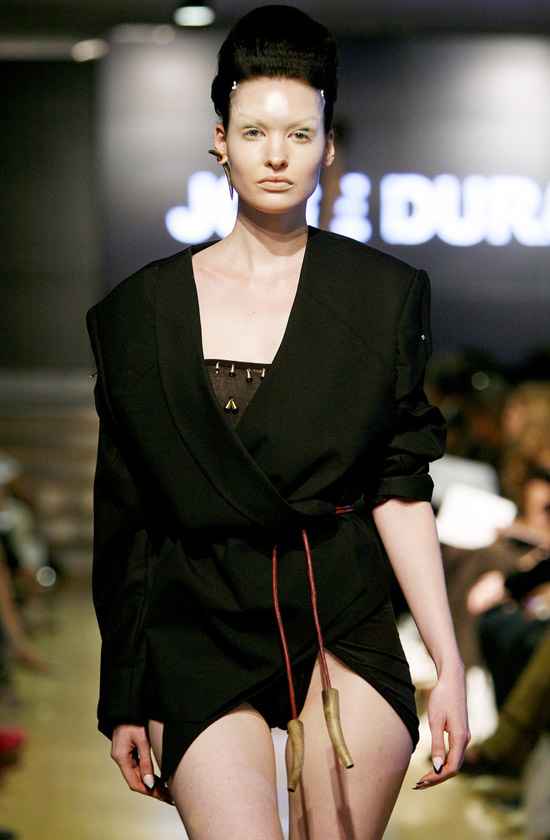 There is no denying that Jose Duran is a designer with an immense amount of talent. Some of his looks were fashion-forward, impeccably constructed and undeniably innovative. Here's hoping that we all can see much more of this side of Jose Duran's creations in his future collections.