story by Charles Beckwith
photos by Adrianna Favero
With their Spring 2011 collection, cousins Ben and Lee Copperwheat are continuing to push the envelope on the use of prints and refined tailoring for American menswear. This collection had a more militaristic feel, but not in any way you would expect if you weren't already aware of the brand, being far less dress blues than implying some sort of army reserve unit stationed in Amsterdam for a little too long. It's wearable but it's really out there.
Combining Lee's masterful design and tailoring skills with Ben's graphic/psychedelic prints, styled for the presentation in black half boots, there are strong cuts and spikes of fluorescent color everywhere, like graffiti fatigues. Taken together, it reminds of the documentary footage showing British soldiers trying to perform a military exercise after ingesting LSD…
Perhaps parts of this collection are something like what those soldiers might have seen of each others' uniforms during that exercise.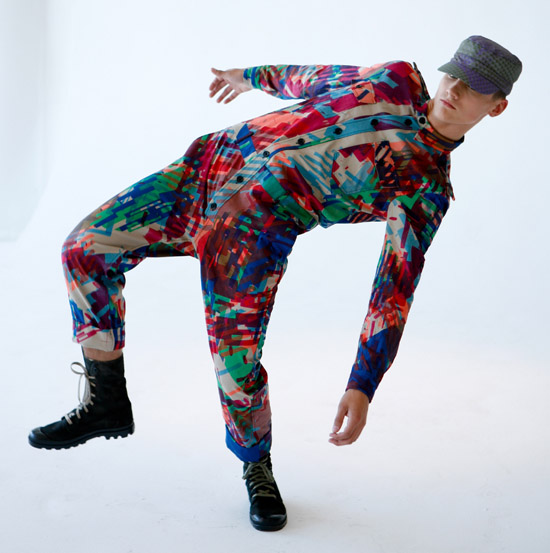 In a previous interview the designers indicated that the looks they show during fashion week are a nod to fantasy, but they believe the individual elements of the looks can work with less over the top ensembles to spice them up. Spicing up is definitely something American menswear needs, but it doesn't seem to be catching on, and perhaps the fantasy is a little too overindulgent when the goal is to move product in a down economy. The crotch on some of the pants was almost a foot and a half below the waistline, and several looks featured elastic cuffs at the wrists, ankles, and even the midsection. A lot of consumers will probably look at some of these pieces and wonder if they are pajamas. Maybe this is too much risk to be offering to buyers right now. The duo still have not made a solid connection with a major retailer. If not picked up soon, this wildly creative label may have to be shelved or shut down, like so many others struggling to find their niche in buyers' impressions of the temporarily tanked reality of current levels of consumer interest in exploration.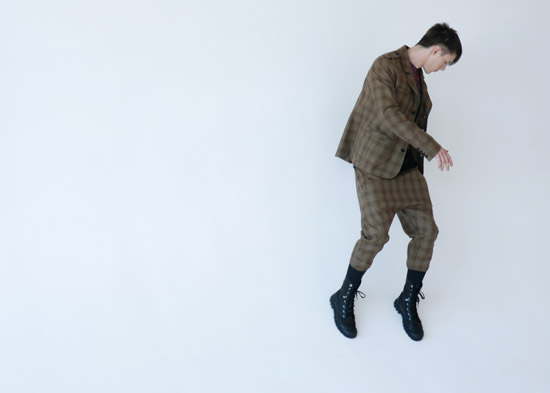 Outwardly conservative jackets are lined with some of the wildest prints employed in the entire collection.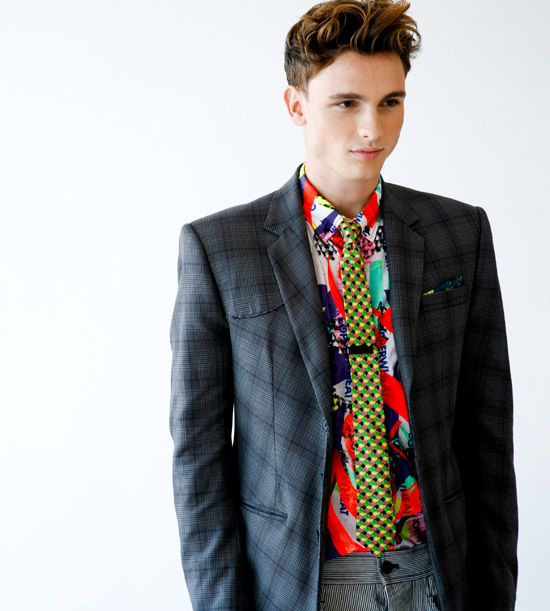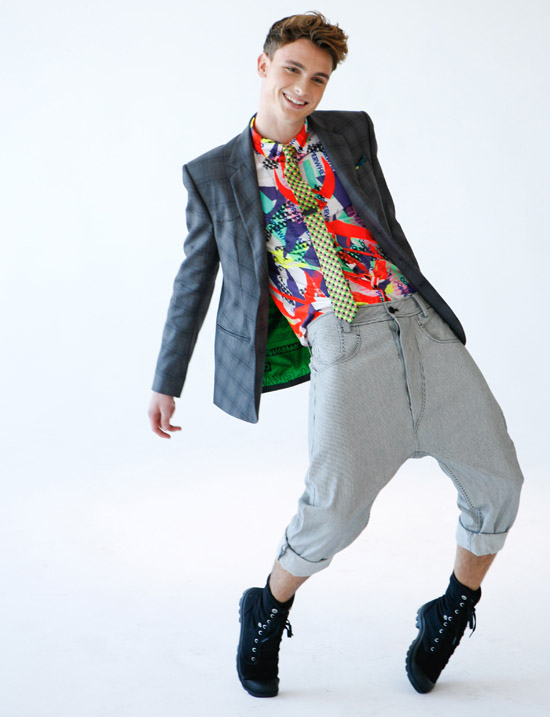 Overwhelmingly this collection is fun, but also inherently niche in the US market. Taking another kind of risk, pulling things like that back a bit, might allow the garments to sell on the merits of the tailoring more than the pop factor of the prints, and could help this label survive until the much needed lightning jolt of sudden popularity can strike. What does the future hold for Copperwheat? Stay tuned.