story by Seth Friedermann
photos by Sandy Ramirez
What do Denmark, Estonia, Finland, Germany, Latvia, Lithuania, Poland, Russia , and Sweden have in common? Have to grab your Google? You could just ask Alan Eckstein and Timo Weiland, they would tell you that all of those countries are lucky enough to border the beautiful Baltic Sea. Visions of summers in the Baltic are what inspired the Spring 2011 collection for the Timo Weiland label. The color palette of primarily reds, blues, grays, and blacks carried part of the feel home but it was a clever mixing of stripes and unique prints that really bore the message. Managing an inspiration can be difficult for designers. Too many references and the collection starts to feel forced and stale, too few and it will have no character. The proportion in this the label's third collection was perfect. Just the right amount of mild nautical touches and some spellbinding Scandinavian prints and you could almost smell the sea and taste the fiskepudding.
The collection had a boldness about it that was born of many elements and design choices that separately possessed a mild impact but together left you with no doubt that Mr's. Eckstein & Weiland have a definitive vision for their clients. The clothes that they create command attention but are far from loud or garish. Often it was in their ability to combine colors and fabrics or to alter a cut just a bit that made the piece catch the eye. "I think it's nice to have something that feels different, I do love plain fabrics but I love the contrast, matte vs textural", stated Mr. Eckstein. In using stripes they also employed one of my favorite tools in a designer's repertoire to great effect. In a season that was light on such a classic touch the striped pieces from Timo Weiland helped the collection chart even more of a different course. There was a great variety of lovely lines, from narrow to wide, on shirts and on pants. It really added just a touch of flash to the collection, a little kick that was very enjoyable.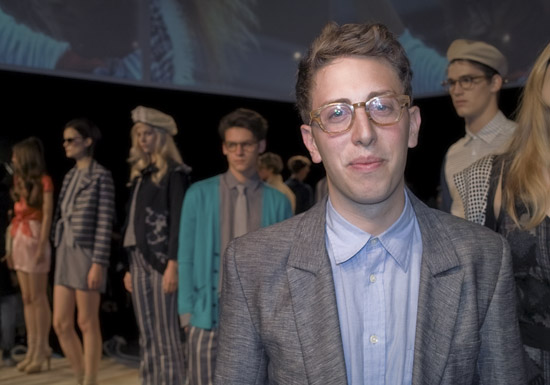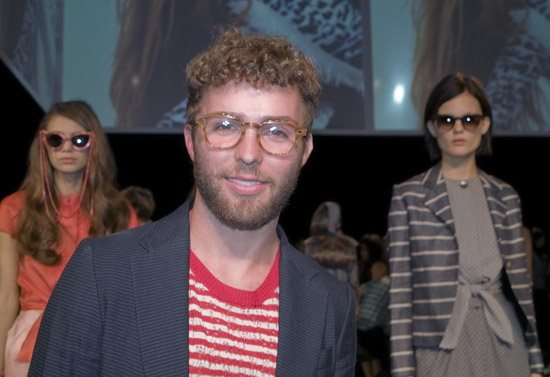 In my chat with the designers, Mr. Eckstein said that the one thing that is key in his creative process is music. "The feeling that you get from music, you can create from that feeling. Music affects the way you feel and that affects the way you design." The show stopper pieces contained a specific series of incredible colored inkblot prints. Mr. Weiland told me that print was inspired by wallpaper from a Swedish vacation home called a "summer haus". The prints were intricate and bursting with rich colors and left me wondering what beautiful music had inspired them. Whatever tunes Mr's Eckstein & Weiland listened to while cutting and planning the 21 looks of their Spring 2011 collection would make a play list that many would enjoy; as should their clothing.