story by Aya Rosen
photos by Ned Rosen
Two outfits on mannequins were displayed at the entry to The We the People Designer Collective, where Sunghee Bang was presenting her Spring 2011 collection. The garments adorning the mannequins clearly showed her source of inspiration as well as capturing the name of this collection, "Astronaut vs. Samurai." The clothes dressing the mannequins represented the tension between past and future, tradition and innovation, and East and West. Elements of this tension appeared in all the looks in this collection.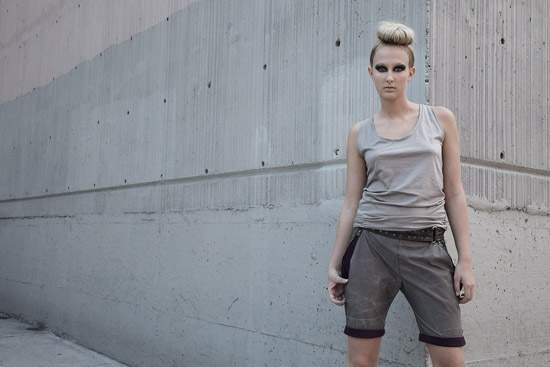 Both Samurai and Astronaut outfits are uniforms, and as such, utilitarian. The collection's main visual theme was its use of utilitarian details such as zippers, riveting, buckles, cargo pockets, snaps, and eyelets in original and unexpected decorative ways. Ms. Bang's chosen colors for this collection were narrow, focusing on mushroom, taupe and black with a couple of items in purple and copper leather. It ranged from natural soft materials such as jersey, bamboo mesh, distressed copper leather, and silk. To harsh digitally printed jersey, which the designer named "Plasma," and to stone washed nylons. Some of the collection's standouts were; a double lined mushroom colored jacket with zippers all around the lapels, which changed shape and colors when the zipper was pulled up or down. A modern and elegant black jersey dress with a cross shape back in sheer black mesh. And a long sleeve nude jersey dress with surprising cargo pockets and buckled straps along the sleeves.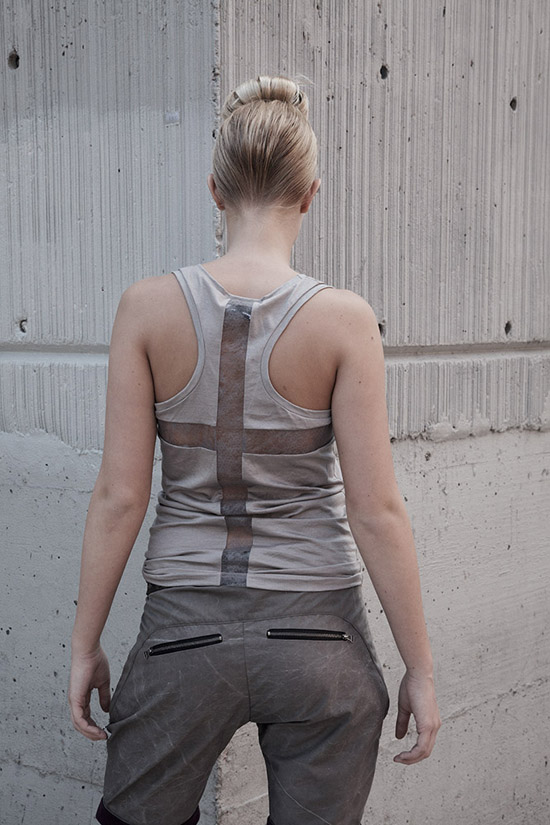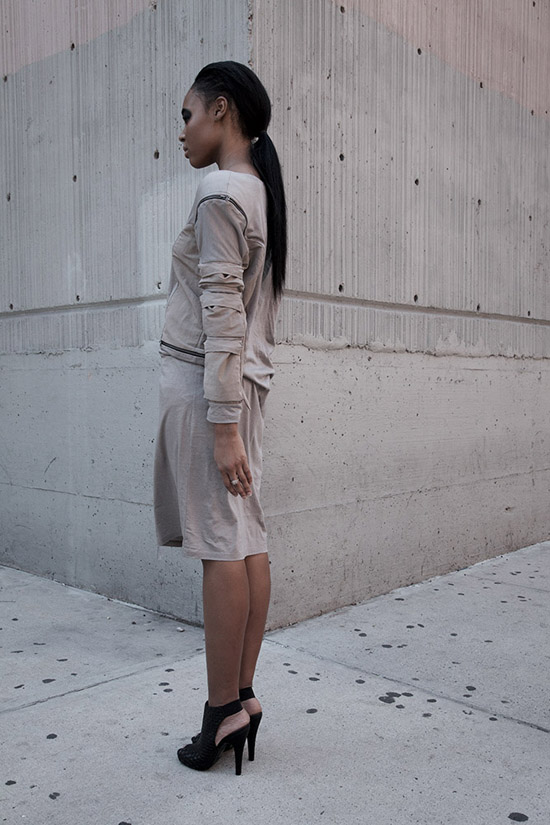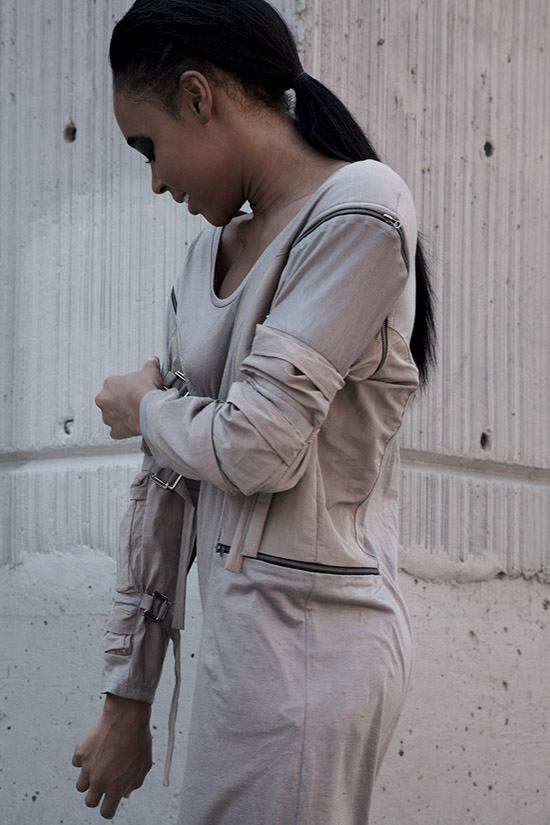 So often fashion and fashion shows are about access, huge events celebrating fashion being larger then life, luxurious, and very expensive. In a shrinking economy, young designers with no major financial backing need to find ways to take part in promotional opportunities like Fashion Week events without breaking the bank. By using a small storefront as an presentation space, allowing photographers to use good diffused natural light to record images of her garments, working with well-chosen independent models, and limiting herself to ten looks, Sunghee Bang managed to put on a good show, exposing her designs to the buyers and press while remaining focused on what's really important, which is her ability as a designer to produce quality garments and showcase her specific vision of style. A lot of other new designers should learn from her example.