story by Seth Friedermann
photos by Freda Henry
When an artist's inspiration is a bygone era or an exotic culture it will almost always result in a collection that feels dramatically different. To reach into the past or draw on a largely unfamiliar land is to guarantee initial interest in the fashions that are striding down the runway. Holding attention and drawing buyers, press, and fans deeper into the season's offerings is another matter entirely. Themes are a tricky business, being inspired and becoming passionate about antique or unknown artistic elements is a heady trip for a fashion designer. Knowing when to stop using or referencing a transfixing this or a hypnotizing that requires self discipline. For his Spring 2011 collection Vassilios Kostetsos mixed Greek history with the beauty of the colors and climate of Mediterranean life for an ensemble of fashions that when they were good were very good but when they were ordinary were too much.
It's important to say that Mr. Kostetsos has a couturier's skills. His diverse businesses include everything from sports wear to full bespoke couture. He is another of those rare fashion artists who is gifted with the ability to create anything and everything that comes to mind. His Spring 2011 was for the most part a very dramatic collection. The collection was inspired by antiquity but was distinctly modern. One of the touches that flowed throughout the show was the repeated use of materials cut like triangle scale mail. This gave the collection the bulk of its historical feel. Mr. Kostetsos also used Greek urn prints and the expected Greek keys. The colors for his season were drawn on an Aegean palette; brilliant blues, whites, oranges, silvers and just a touch of black for evening. For the most part the collection was given strong definition by very aggressive and sexy cuts and warrior touches such as the "mail" and shoulder crowns. Overall Mr. Kostetsos seems to be designing for a client who enjoys turning heads, this was a far from conservative effort, which made the best looks (about a dozen or so), when taken together fairly enjoyable.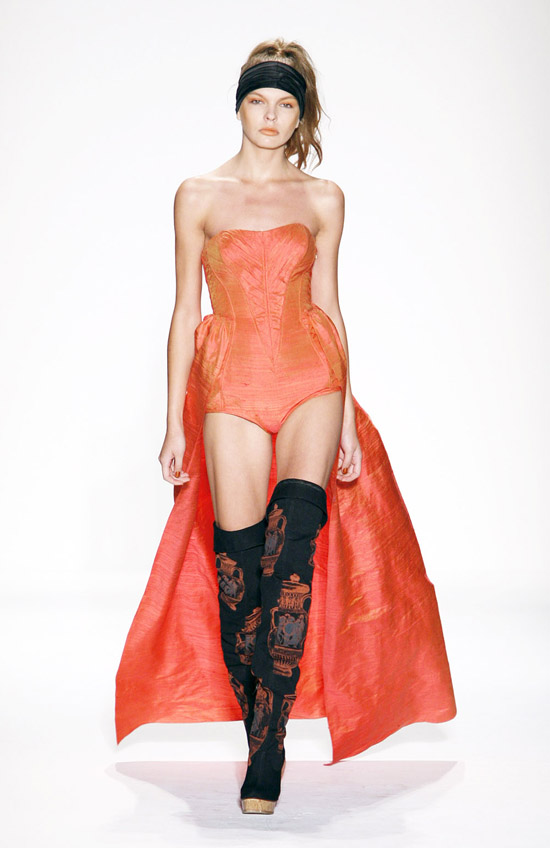 There were unfortunately a few dead spots where the clothing was not very inspired but could still be very commercially successful. There were fewer still some pieces were the "mail" treatment was gimmicky and pushed the clothes into costumes, and yet there were other times were it was astonishing. At the end of the day that particular element was probably used on about six to seven pieces too many. There was also a little bit too much similarity between pieces which caused the collection to drag. Vassilios Kostetsos Spring 2011 was in the main a solid effort. He's great when he's bold and dramatic and because of his tremendous skill level he can do virtually whatever physics allows. While I fully appreciate the fact that when designing a collection you have to try to create as broad an appeal as possible, it seemed to me that he really wanted to be freer to express his obvious love of glamor, sex appeal, and most of all passion. It is obvious that he can do whatever he wishes. I just left feeling a longing to see: what would happen if he did?