story by Seth Friedermann
photos by Adrianna Favero
What is American style? Are there cuts, shapes and techniques that make a garment feel American? Most would think of iconic brands such as Levi's or Ralph Lauren as being uniquely American, but in fact its much broader than that. Are not Betsey Johnson and Vans also representative of America? How about Anne Barge? For those who may not be familiar with Ms. Barge's work, she is an Atlanta-based legendary bridal designer who's been designing the most special of  gowns for thirty years. As I watched her Spring 2011 Collection sweep down the runway in the Grand Salon at the Essex House on the south end of Central Park, it struck me with great conviction that Anne Barge is unmistakably an American bridal designer. It was then left for me to figure out how I knew that.
There is a warm romanticism to an Anne Barge gown. Her designs have a cleanness of silhouette, and an uncomplicated feel emanates from even her most intricate and adorned works. That is part of what makes her unique and in my view is a piece to the puzzle of my reaction to her collection. Ultimately what makes Anne Barge's dresses  original is where and how she draws your attention. Her work can be as embellished or layered as any of the other wedding couture superstars, but the gentle touch she employs when working with those elements subdues them into being part of a glorious whole.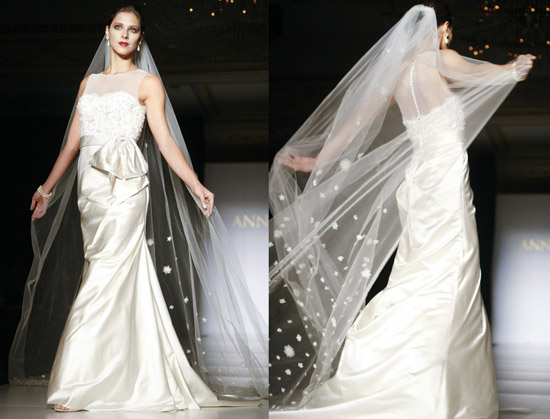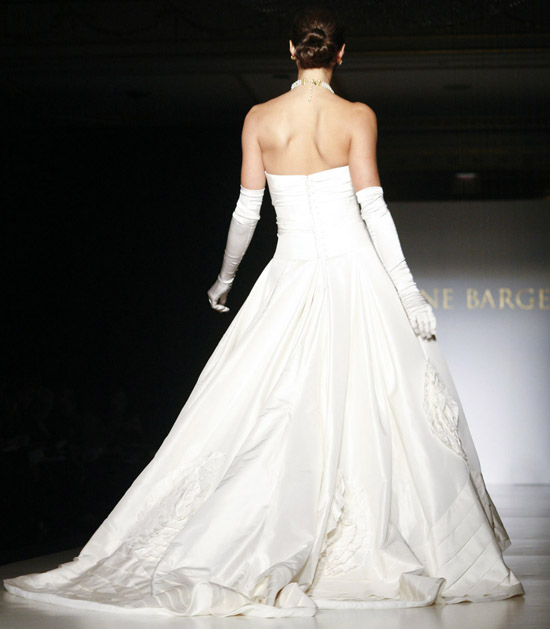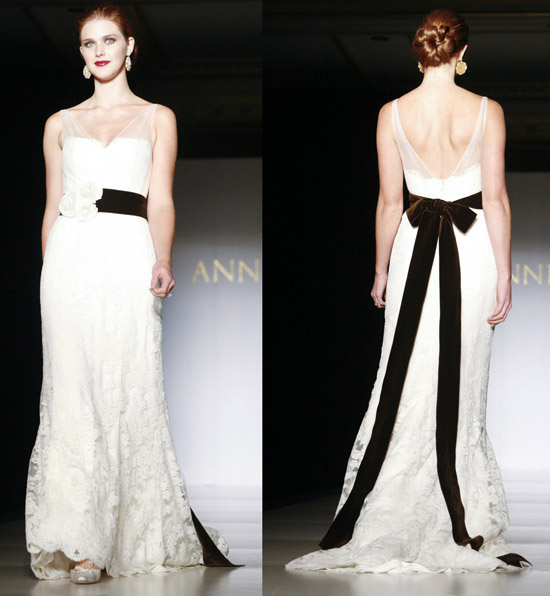 Ms. Barge has a more holistic approach to bridal couture than many. Her designs whisper demurely rather than shout with passion or announce with flair. There is a level of refinement and balance in her gowns, she does not draw attention to details or volume but lets them communicate as a part of a whole. Anne Barge's designs are uniquely American because she creates a sense of comfort and ease with them. It is not about technique, intricacy, or flair but rather is about effortlessness and delicacy. A bride wearing an Anne Barge wedding gown dons confidence and self assuredness that permits her to become the classic "blushing bride." An ideal American woman is strong and emotional, relaxed and driven. Anne Barge is all of those things as well and it is only natural then that so are her creations.