story by Seth Friedermann
photos by Sandy Ramirez
The day of a woman's wedding is to some minds the one day of her life that she can turn herself into a living creation of fantasy. By it's nature it is her fantasy, and every person's vision of the perfect embodiment of fantasy differs. However, there must be a group of common elements in those fantasies, otherwise fashion designers, whose livelihood depends on supplying that vision, would be the purest of couturiers providing one dress at a time to each client's specifications. This is obviously not the case as we have seasonal collections wherein each designer presents their ideals of that fantastical garment by the dozen. The individual interpretations of those deeply ingrained yet shared ideas are what makes one wedding designer's work different from another. Understand that, and you will appreciate the Canadian-based couture bridal label Ines Di Santo on a whole other level.
The mother and daughter design duo of Ines and Veronica Di Santo, both equally world renowned for their skills, is a collaboration of equals and not a case of a daughter riding the coat tails of her established mother. Both designers have salons in Toronto, both have their own styles and they marry, (I couldn't resist), them together to create the Ines Di Santo collections. Combined, their signature take on the bridal gown has a decidedly spirited nature. These are no designs for shrinking violets. Bold fabric treatments, strong embellishments, extravagant spiral treatments on the bottom of gowns, and absolutely luscious wide brim lace hats, lent an air of flamboyance and confidence to the Spring 2011 Di Santo dresses shown during the New York Bridal Market Week.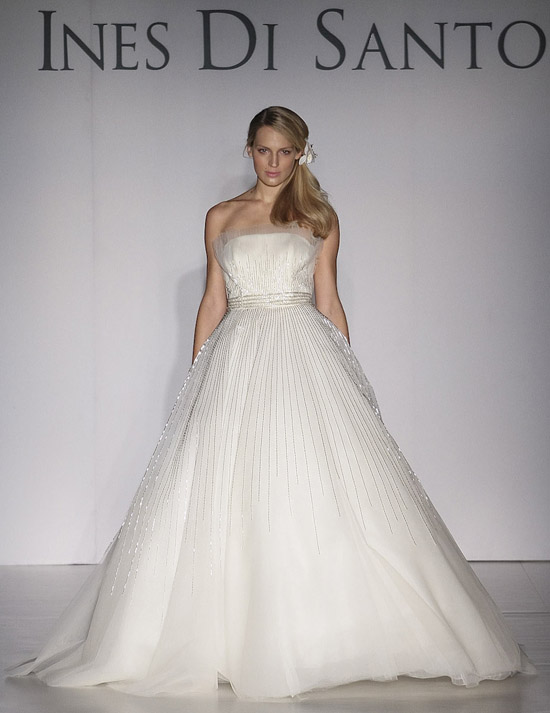 A balanced mix of trumpet cuts, slinkier dresses, classic high volume gowns, and just a hint of cocktail garments, were the order of the day. The Spring 2011 Ines Di Santo collection was absolutely one of my favorites of the season. If you know a woman who is bold, daring, and always cuts a swath through the crowd of the ordinary, and she's getting married. Tell her she must absolutely visit Toronto and view both of the Di Santo salons. Simply inform her that although she may not know them, they most certainly already know her.