story by Seth Friedermann
photos by Adrianna Favero
It was very refreshing to wander into the Griffin Restaurant in the Meatpacking District of downtown Manhattan and see that smart is still sexy. Jonathan Simkhai's Spring 2011 collection was laden with the lovely spirit of the intellectual femme fatale. Think eye glasses and leather skirts. A delicious thought, isn't it? In fact the collection was replete with contrasts that worked wonderfully together. Think of the girl building looks from both her sexy wardrobe and his college and work wardrobe, and the collection comes into much sharper focus. Mr. Simkhai's strong editing skills in using just the right amount of "masculine tailoring" kept the collection sexy instead of sloppy. The overall impact was the projection of a woman who is compelling; the type of woman that hijacks your thoughts for awhile. The individual pieces were all strong and imaginative, clever cuts abounded as did eye-catching touches. The leather pieces were particularly heady, sexy yet not overly vampy. And when they were mixed with the garments that echoed traditional "masculine" clothing the impact was undeniable.
It's fairly rare that you see a designer's runway look transported untouched to the street. First the buyers pick apart the designer's vision from the runway or presentation. Next the shoppers buy what they like, to incorporate it into their existing wardrobes. This is of course perfectly appropriate from both a business and personal viewpoint, however with Jonathan Simkhai's Spring 2011 collection I am compelled to recommend against it. He captured something powerful with the styling for his presentation. Styling is often like cooking or baking, it's success or failure depends heavily upon knowledge of volume, proportion, properties of ingredients, and most importantly the impact of those elements on the taste buds of consumers.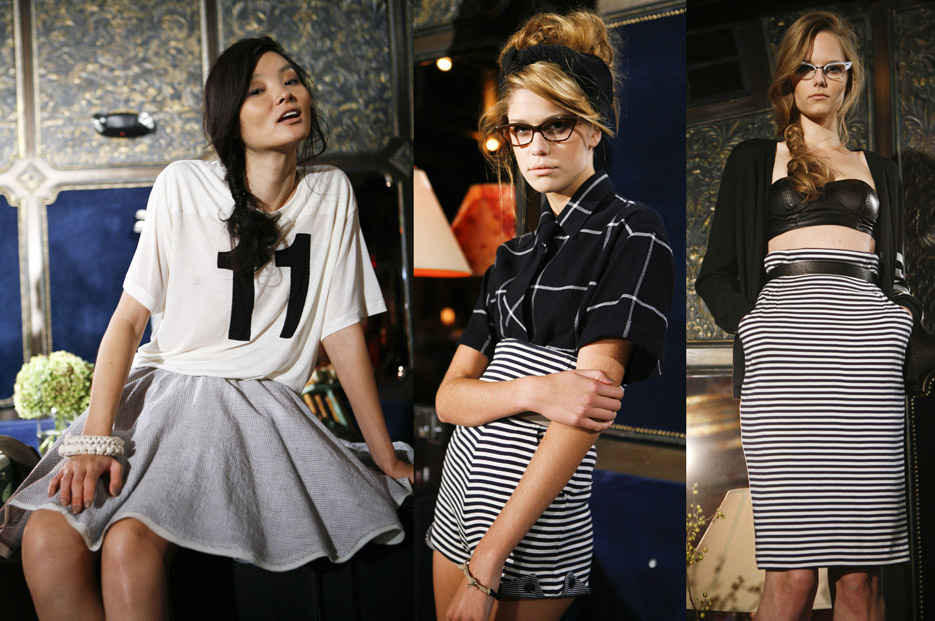 The combinations of clothes and accessories really nailed the spirit Mr. Simkhai was evoking, a woman who is intelligent, free spirited, and sexy. The kind of woman who can make a man's tee shirt and shorts look great, but would never settle for such pedestrian garments. Look at the photographs accompanying this review and see if you don't agree. The strength of the looks and the woman they create certainly deserve to be transported whole to the streets of the world. The proof of the pudding is in the tasting as they say, take a look from the show to the streets and see if you don't draw a full menu of compliments, stares, and attention.