story by Seth Friedermann
photos by Freda Henry
Once you are a commercially successful fashion designer a whole trunk full of rules invisibly drops into place around you. The stores who buy you give you sales reports and they very clearly show you what sells. The temptation to design to fill those slots must be terribly difficult to resist. Pulling against that ton of temptation is the restless nature of creative artists, the desire to be joyfully fresh and boldly innovative each new season. It is the ability to create a collection that both satisfies the designer as an artist and satiates the appetites of buyers that leads to long careers. It is always a joy to see a great designer deal with that "difficulty," the great ones escape from it as easily as squirrels defeat every bird-feeding countermeasure humans devise.
Carlos Miele's ability season after season to satisfy and enlarge his client base, and be creative enough to satisfy himself, has kept his collections vigorously fresh but identifiably consistent. His vivid colors and sweeping sheer dresses have made him a spirited and glamorous choice for women around the world. Although he did continue his foray into darker colors and separates from last year Mr. Miele in many ways returned to his roots with a Spring 2011 collection of bold prints and colors so rich that they threatened intoxication. However, it was his inventiveness with math, of all things, that really made the collection special.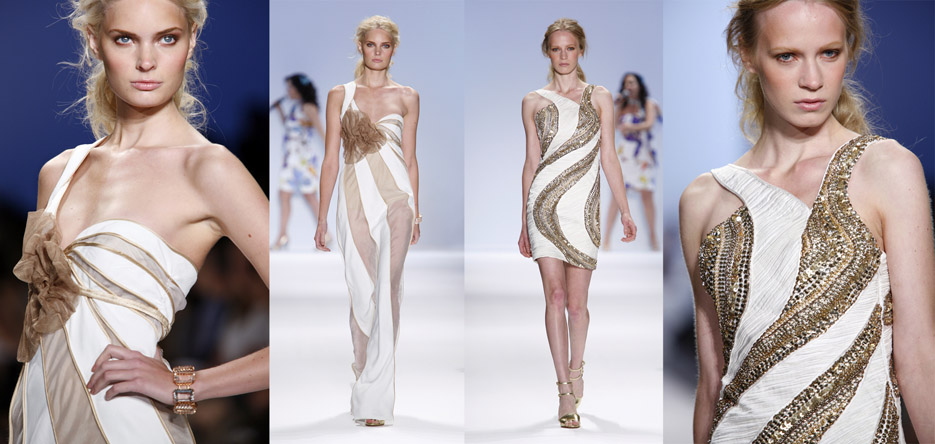 This season Mr. Miele nimbly defeated the false commerce versus art trap by playing very cleverly with the geometry of curving lines. This was the use of a motif at its finest. The lines that subtly and sometimes obviously curved on and around his garments were used to strategic perfection in their interaction with the human body. Rather than simply allowing the geometry of the curves to mimic each other in a dull parallel, Mr. Miele experimented with allowing the lines to narrow and separate in a precise manner. The result was at once powerful and beautiful. The placement of the curves and when and where on the garments they drew close or widened was calculated to accent the parts of a woman's body that people find attractive. Busts, hips, legs, and shoulders were all transformed in a most marvelous way. The mode in which the curving lines were worked with in this way also created a very soothing natural feel. This is the way that one encounters curves in nature, never perfect in measure but a harmonious perfection. The signature vibrant hues and the flow of his cuts and draping made the clothes unmistakably Carlos Miele but it was the deeply creative use of arcing lines that elevated this season's work to a higher plane.