story by Seth Friedermann
photos by Ned and Aya Rosen
What a designer sees and focuses on when they look at women defines quite a bit about the looks and silhouettes they create. Everybody has favorite bits of a person, the curves and crannies of the human body hold endless fascinations for people. For some designers it changes from season to season. For some it even changes from garment to garment. Nima Taherzadeh likes playing peek-a-boo with the loveliness that is a woman's body.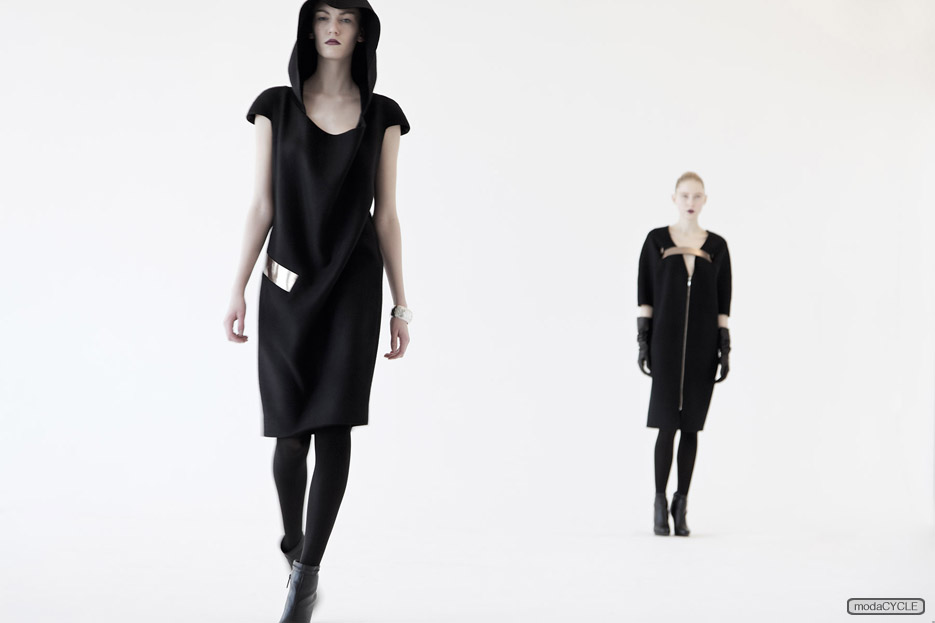 He's enjoyed using cutouts in his past collections and this season was no different. However, this season he used large off center and asymmetrical exposure that created dramatic and vastly different looks. His craftiness didn't stop there. For his Fall 2011 collection he hit upon the idea of moving the hips…but not in the way you might think. He had special metallic belts made and wrapped them around the body, attaching them to his dresses by means of passing them through slits he designed into the forms. They wrapped across collarbones in one dress and above the bust in another. This created unique structures throughout what was an overall strong and striking effort by this rising star which featured incredible fabrics, particularly exceptional cashmeres. Nima Taherzadeh is a young man to watch, he's hitting his stride, as so many often do after surviving a few seasons of competing in the intense global market that is luxury fashion. Do well enough to survive and you will start to thrive. Nima Taherzadeh is definitely thriving.