story by Carmella Bella McDonald
photos by Adrianna Favero
NAHM collaborating designers Nary Manivong and Ally Hilfiger (daughter of veteran designer Tommy Hilfiger) showed a morbidly sophisticated collection which arrived on black wings in a breath of coffin dust. Inspired by Gothic prince Edgar Allen Poe's poem, "The Raven," as Mr. Manivong serenely stated, "we took everything from this poem: the colors, the emotions, the feelings for our theme, collection today."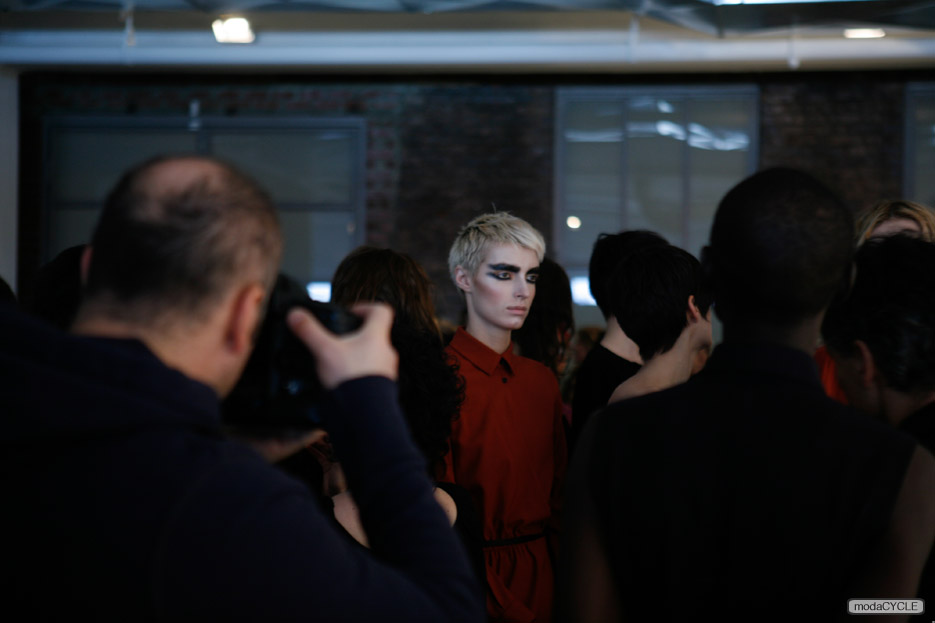 The collection is a delicious descent into fashion madness. "We're taking the attraction of energy of the shirt-dress, and transforming it into different forms," revealed Ally Hilfiger. The result is a narcotic blended of neo-punk and goth.
Simple shapes are redefined in asymmetrical lines; unique detailing in the collars, sleeves and cuffs with romantic fabrics of velvet, sheer silks, linen, wool, lace; soft and flowing overlays. In a photo studio came a tapping, models with white faces and long witchy dresses that swept the floor in velvet, and black sheer panels.
NAHM's shape shift of the shirt-dress is expressed in midnight blacks and shades of pumpkin and butterscotch. The collection is complex and intellectual, delightfully spooky and ultimately young and sexy! Indulge your inner Souxsie Sioux and flirt with the darkside of NAHM.