story by Boris Marberg and Charles Beckwith
photos by Boris Marberg
CoSTUME NATIONAL designer Ennio Capasa has said about his new collection, "I wanted to bring a symbolic jungle into a metropolis; a jungle made of emotions that would take us back to our deeper, more authentic side; recharging us with harmony and joy." We read the words, but we don't see the execution, unless that organic metropolis is supposed to be represented by the junior partners at a post-apocalyptic architectural firm.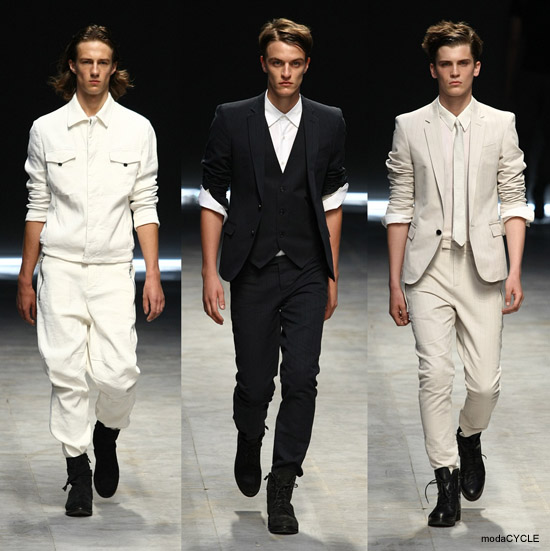 This is a designer whose work lives as shadows and cold expressions. In the new collection, beyond the presence of a pair of shorts, nothing says spring or summer in a traditional popular sense. You are given two choices on this runway, be soft and moody in extremely light effeminate fabrics, or be structured into stark gray classic cloths with static cuts and oddly-bunched materials. The drab salmon highlights of last spring are gone, but no color replaces them here, and the visual impact from the line of garments is an emotional drain. A jacket and one vest bare a palm tree detail, but they are cut hard and made from a dark material, so when you can see the design it is more an impression of wrought iron than a jungle.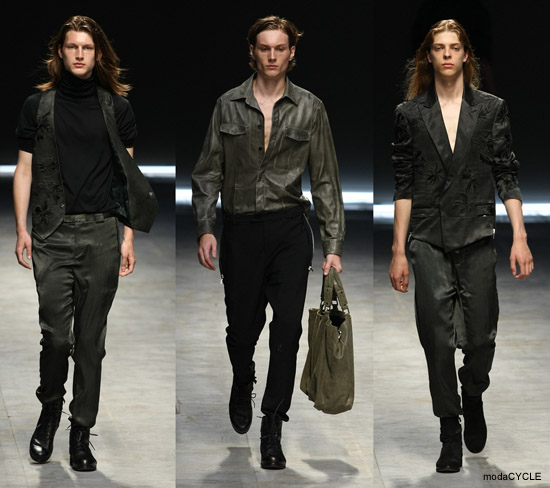 The venue was the same battleship-gray industrial space used to present the previous collection, but now even the polished runway has given way to base concrete. Why would one stage a show meant to be "recharging us with harmony and joy" in an aged and callous auditorium with a lineup of garments that seem intended to ease the wearers into a cold individualistic androgynous persona?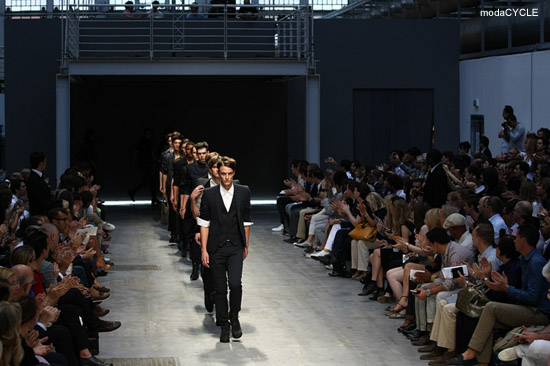 The contrasting buttons and the zip-away removable lapels are interesting, but the only real highlight is the designer's dedication to his individual taste. There are people in the world who reject the idea of color being a necessary part of joy, and this man designs for them.