reportage by Charles Beckwith
The International Center of Photography Gallery (ICP) is currently hosting an exhibition of Richard Avedon's fashion images.
I've found Avedon's images fascinating for some time, but the way they were presented at the ICP, where some are poster-sized so you can really see all the details, and some, the images of night life, are hung in a black room with no ambient light but just tapered spotlights framing the photos, it was revelatory and inspiring.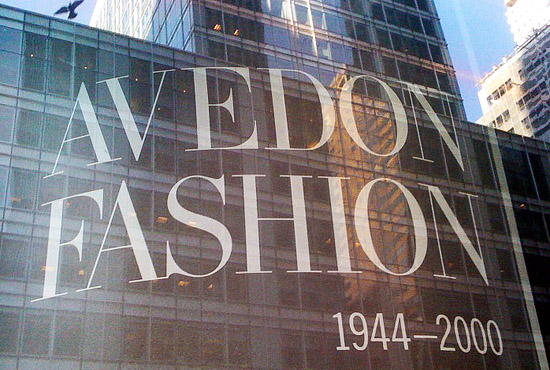 Here are some of the notes I scribbled down while walking through the exhibit:
When you first walk in there is a photo on the wall to the right that has a model's torso (Marella Agnelli, shot in New York 1953) composed so it is like an arrow pointing upward. Human bodies don't look like that naturally, so what you could see that he had done was to smudge away part of her trailing shoulder in the darkroom so it blended with the background. From 10 feet away you don't notice it, but up close it feels like such an experimental technique. Right here in front of me was cave art, this is how you manipulated images before Adobe Photoshop came along.
There is something about his use of perspectives and the arrangement of three-dimensional shapes and textures to make unrelated two-dimensional forms, which even after staring at them for an extended period, I still can't seem to wrap my brain around.
He never connected with color the way Bourdin did.
Avedon started working on fashion for Harper's Bazaar in the middle of the ashes and tears that were Paris after WWII, and managed to dig through the rubble and push past the scars to find the undamaged elegance of the old city. From this he produced a sort of fantasy world in his images where new fashions could live in the streets again.
The staged night life scenes, brought to life by inspired casting, have a feeling of gripping reality.
In his shots of someone alone, when they aren't connecting with the camera, they often seem so devastatingly alone, and then when you look at the group shots it seems there could be no more perfect and compelling environment in all the world at that moment they were taken.
His first work as a young photographer in the early 1940's was with the Merchant Marines. He shot the identification photos of sailors. This technical photography background echoes the notion stuck in the back of my mind that art and science are inseparable. When technique is rote enough to be second nature, we can start to unwrap the real mysteries of the world around us.
The ICP Gallery is on the corner of 43rd Street and 6th Avenue in New York, one block north of Bryant Park. The Avedon exhibition has been held over and will run until the 20th of September, so if you are in town for Mercedes-Benz Fashion Week and have an hour to spare, definitely something worth taking the time to see.
There is a fabulous new book of Avedon's works which are in the exhibition. It is $100 in the ICP Gallery's gift shop, but about 30% off if you order it from Amazon.com instead: