interview and lookbook shots by Sandy Ramirez
designer portrait by Darrah Leffler
Designer: Karen Patwa
Astrological sign: Leo
Hometown: Brooklyn, NY
Labels: mspatwa 2002-2005, Dangerous Mathematicians 2005-
Web Site: dangerousmathematicians.com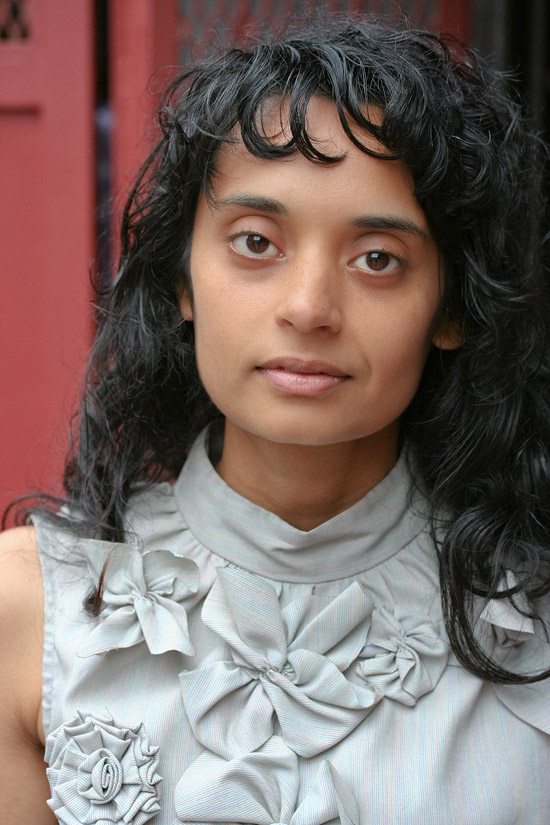 How many years have you been in the business?
I started the mspatwa label while I was a full-time teacher and really into the teacher-gone-wild look in soft PVC back in 2002. I put that label aside to cultivate the Dangerous Mathematicians label in 2005. This one focused more on fit, and the development of the left-brain-right-brain design aesthetic.
What is your fashion education?
Studied fashion design at FIT. After that, it was self-education (more initial mishaps for the opportunity to develop my own aesthetic in isolation).
Did you work for major designers before starting your own line?
No.
Where have you traveled?
All over the US, up and down the East Coast, through the Midwest from Illinois, to Wisconsin to Iowa to Nevada, up the west coast through California.

Outside of the States: Canada, Holland, England, France, Chile, India. Was born and raised in New York, but have also considered San Francisco, London, Amsterdam, and Mumbai home at different times in my life.
What are your major influences?
Women; the brainy, sexy, 'get out of my way' types. What these women need drives my design. I handle making them look professional and sexy, so they may handle the more important things that they do in life.
What are your favorite materials?
For my ready to wear, I prefer cottons with a little stretch and a little sheen. Cotton sateen is my favorite. I like its hand, and its subtle sheen. It's thick enough to hold you in, but flexible and soft enough to keep you mobile. For fancier custom work, I like silk taffetas, iridescent shantungs, jacquards and brocades. The jaquards and brocades give my shapes character. The iridescence and sheen of raw silk give my shapes brilliance. Colors and patterns can make a design beautiful. But they should never overtake the design, or the fit of a garment. Favorite top-off materials include buttons, hooks, and lacing.
What are your favorite guilty pleasures?
Using buttons in places where they are not absolutely necessary. Designing t-shirts. Taking the time to eat during my work day.
When did you start sewing?
Can't even remember.
What is the best way to start the day off right?
Never to wake up with an alarm clock.
What do you look for in a model?
I look for a brain. A fit figure is equally important. A curvy one with no pelvic bones jutting out is a plus. Non-conventional beauty is the icing on the cake.
Do or did you practice other arts?
Is mathematics an art? I like to turn the gears of my left brain to keep it in good shape! Drawing murals of graphs and curves on the chalkboard in the boutique, and helping kids figure out SAT problems keep me in touch with my mathematical side. Anyone and everyone who needs help in math at Dangerous Mathematicians, including interns, models, and friends will certainly get it.
What is the best way to relax in the city?
The last time I was ever truly relaxed in this city was when I rode my bike up and down the streets of Brooklyn as a kid. As far as my daily routine, I appreciate the calm of moments when I'm designing, and moments when I'm interacting with clients and friends at the boutique.
What is your favorite fashion era?
The Victorian Era. Love buttons, bustles, and things that lace up.
Do you have any pets? What kind?
I'm not into domesticated animals but I do have a cat by association.
Are you impressed by the work of any other new designers?
I'm always impressed by hard-working designers with a soul, specifically the ones who don't give a damn what colors and styles are going to be in or out at any particular time.
Which famous designer's career would you most like to have?
I don't study the lives of other designers. And I don't aspire to be a famous one. In fact, I hate the decadence of fashion and fame. I just want to make clothes that women really want and need. Women want to look sexy and need to look classy. I'm not creating art. I'm just being practical. And I always want my life to reflect that.