story and photo by Kate Young
In a fabulous, entirely vintage, Gianni Versace outfit, Bryan Abrams was arguably the best dressed man out on the town for New York's Fashion's Night Out. Mr. Abrams came into the city just for the festivities, hanging out at the tents and watching The September Issue to "get in the mood" for the first of, hopefully, many more years of the fashion world's new biggest party night.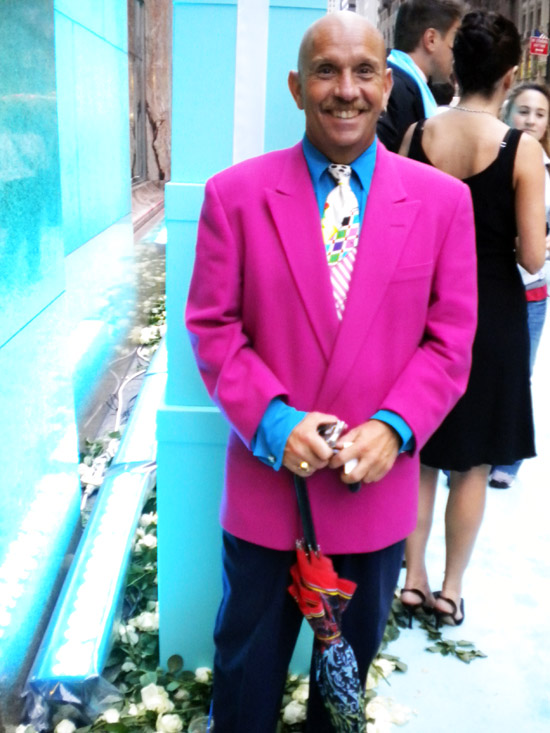 Mr. Abrams was starting his little pilgrimage at Tiffany's, where I spotted him, and said he would end his night at the store of Gianni Versace, his favorite designer. His outfit? Top to toe delicious vintage Versace, from the heyday of Gianni's designs. The fluorescent jacket he bought in Milan, the tie in Paris, and the rest from– where else? Fifth Avenue, New York City.
Mr. Abrams said he hopes New York's Spring-Summer 2010 Fashion Week will show, "something new and fresh, bright; to get us out of the mood fashion and the country has been in." He hopes it will, "spark an uptick in emotion."
The evening's events were a roaring success, with people all over the streets in the boutique districts, but behind the smiles, the fashion community waits with bated breath to see what will come of this season. Mr. Abrams left me personally with some very sage words: "When you look nice, you feel nice." And with New York's most sartorially blessed out in full force, having the time of their lives, Mr. Abrams couldn't be more right.