story and photos by Charles Beckwith
interview by Kate Young
Alisha Trimble's Blanche DuMois show, held in a dark nightclub on East Houston Street, about a block from the famous Katz's Deli, was plainly both good and bad.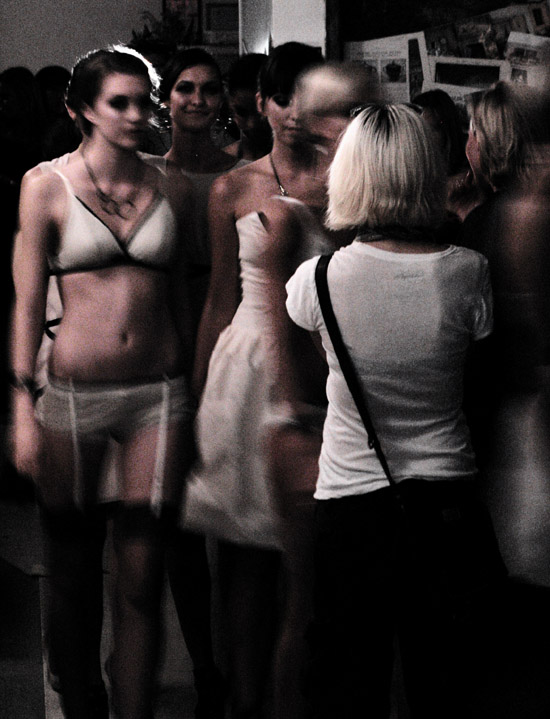 modaCYCLE – Tell me a little bit about your collection.

Alisha Trimble – The lingerie is really a side project, so I'm presenting it intermixed with the RTW that I normally do. I was really inspired by Tennesse Williams because he had these really complex women, female characters. I really felt like I wanted the show to be like that theatrical, have that theatrical quality to it and especially his use of the color white, and even the name blanche, being white, she's a fascinating character, she's like a fallen woman who sorts of creates an innocence for herself, and its false but even she believes it; and so I used a lot of white. But she does have this past that sort of haunts her, and so that's where I put all these black X's and things, to kind of show that. So there's that duality there.
modaCYCLE – Why are you holding this event in a nightclub?
Alisha Trimble – This was the most convenient place for me, I love Stay, it's a really cool place. I feel like the minimal design made it easier for me to make my own mood in it. So it's a combination of that, the look of the space, and I feel very at home in the lower east side, its one of my favorite neighborhoods.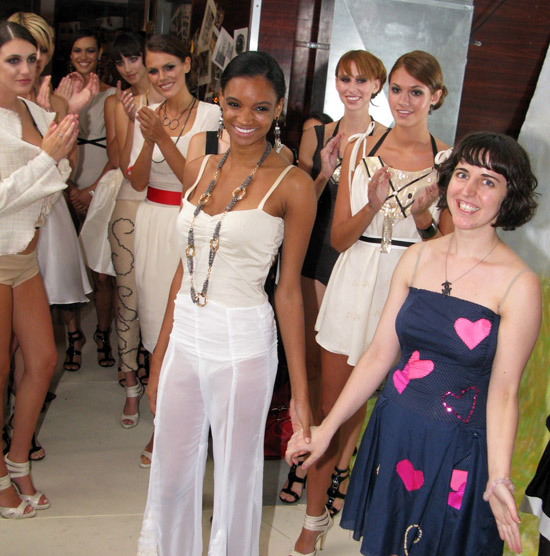 In theory, all that sounds great, but in practice not so much. I hate to slam a new designer, but this was a mess. Here is a rundown on the problem areas:
Good: Relaxed vibe where everyone is having a good time.
Bad: A runway show where candle light is important to helping the audience see the garments.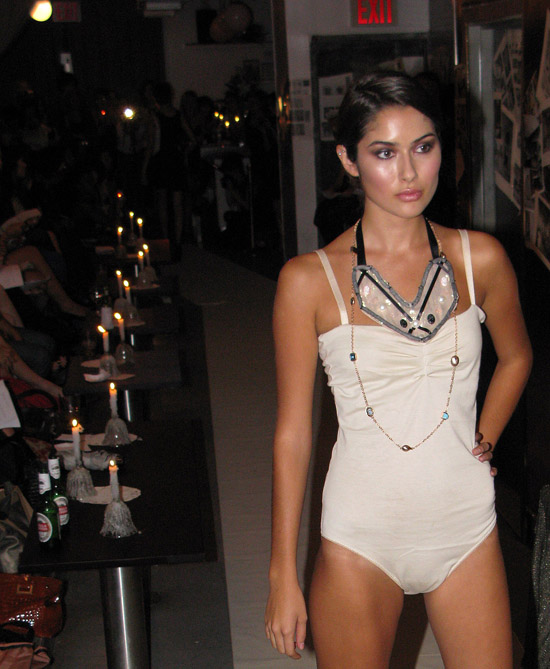 Good: sexy lingerie.
Bad: Poorly constructed macaroni art style accessories.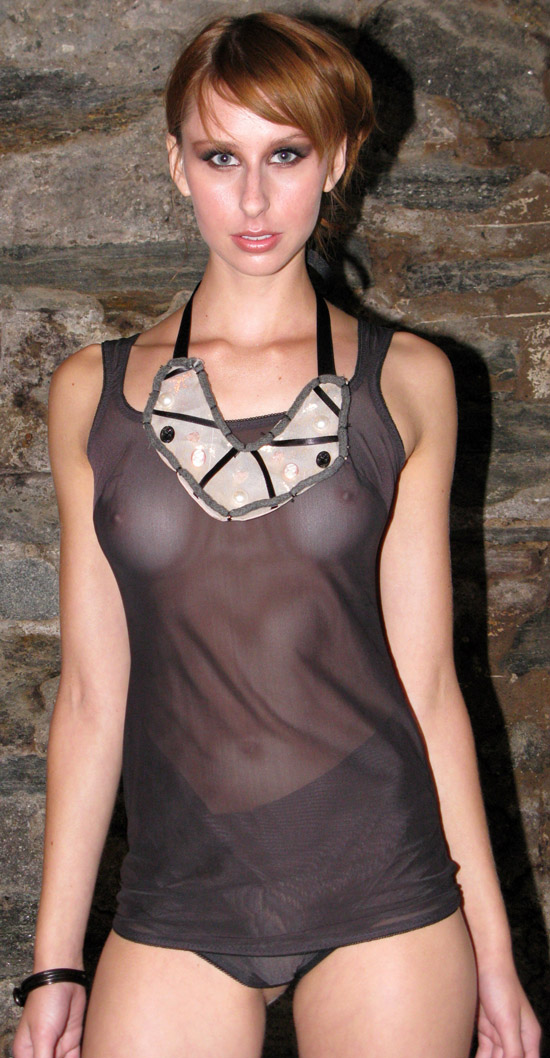 Good: Having inspiration from Tennessee Williams' Blanche DoBois in "A Streetcar Named Desire."
Bad: Relaying that inspiration and then showing garments so badly fitting and trashy that Blanche would have been arrested if she walked out of the French Quarter in them.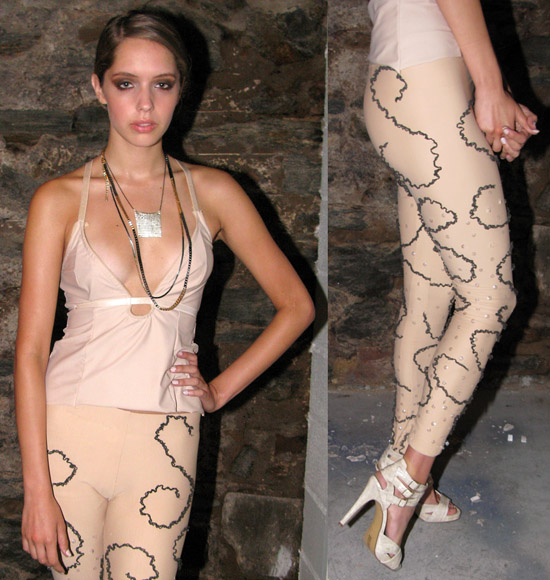 Good: Having a diverse collection.
Bad: Bunching fabric and unfinished hem lines.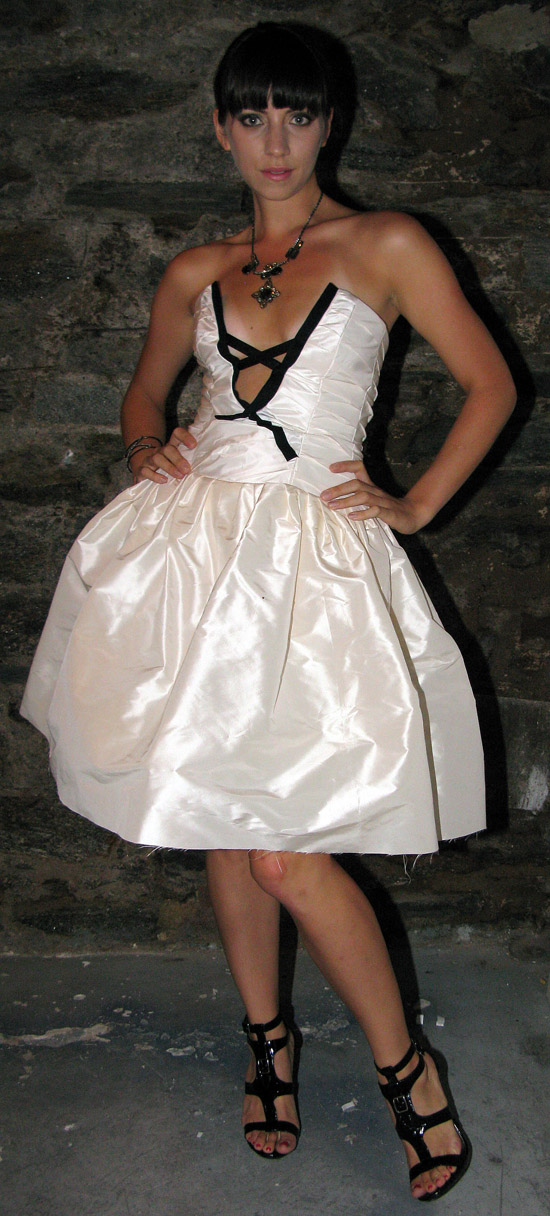 In the final analysis, it feels like Trimble was just reaching too far, trying to do too much at once without enough experience and professional support. She seems to have potential, but needs to focus on quality, fit, and editing what she shows. Only one look that was shown really should have come down her runway, and even on that piece the sewing technique  around the shoulders was not working for the material:
We look forward to seeing what Alisha Trimble does in the future. She's certainly tenacious and creative in how she approaches silhouettes, but perhaps some seasoning, examination of the construction of higher end garments, and reflection on the importance of attention to detail would be a good idea before she shows another collection.