Story by Charles Beckwith
Photos by Freda Henry and Charles Beckwith
I had the opportunity to speak with Mr. Melgoza backstage before the spring-summer 2010 collection runway show.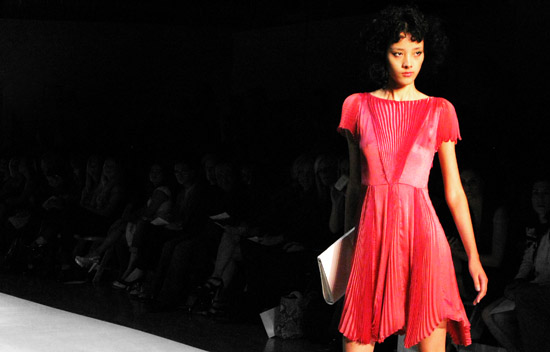 Three seasons ago, Raul Melgoza stepped into the shoes of veteran designer Luca Orlandi as the new designer and creative director for the Luca Luca label. His first collection as director for Spring 2009 was very different from the flowing colorful garments Orlandi had been showing. It was a severe shift to minimal color and architectural forms. For the next season the collection was dark and moody, with a few shots of color, but still mostly about shapes more than flow. Now, in this new Spring 2010 Collection, by embracing the architecture and engineering seen in nature rather than industry, Melgoza seems to found a balance between the heritage f the brand and his own style. We see architectural forms, but the swish of the gowns is back, and the color is striking. For out on the town and maybe even Oscar gowns, Luca Luca would seem to be back on the menu.
modaCYCLE – What are your goals wit this collection?
Raul Melgoza – My goal with this collection is to have the audience feel very happy and optimistic when they leave. It's a very happy collection of real clothes for real women. But it's fun, it's upbeat, it's flirty, and I think it's clothing for all women who want to look beautiful.
modaCYCLE – What are your inspirations and struggles in creating this one?
Raul Melgoza – Actually, it was very — my inspiration was really what I call impressions of blossoming in nature. And that is like anything that's nature, a leaf, flower, things that are of nature things that are very simple in shape and form, but within that simplicity is a lot of intricacy. And so what you'll see is a clean easy silhouette, but within that there is very intricate detail and seaming and techniques that make the garments look amazing but overall very clean simple shape with beautiful exhuberant colors.
modaCYCLE – Do you feel you challenged yourself in creating this?
Raul Melgoza – I did because I think innately I think that I'm more monochromatic, less color, by nature. It was a perfect collection of taking my aesthetic and the company's aesthetic and combining it to create the new look for the brand, the new feeling for the brand.
modaCYCLE – This is your third  season since taking over Luca Luca. Do you feel you are now the heart and soul of the brand?
Raul Melgoza -I feel like, yes, I really do. I feel like this collection now really personifies the new look of the brand. I feel like tis is really the perfect combination, and I think this is what we will build on for seasons to come.
modaCYCLE – What is your basic theory of editing garments and looks?
Raul Melgoza – You want to keep as many as you do, because you're in love with them all. But basically trying to get a range, trying to think of also the customer. Am I representing a beginning and end to her wardrobe? So it's really thinking about her wardrobe and making sure that I don't leave things that I know she needs. But at the same time present them in a way that they are appealing and become impulsive buys for them. It should be a combination of editorial and real life clothing, especially in this economy.
modaCYCLE – Are there specific architectural or engineering influences in this collection?
Raul Melgoza – I love architecture and strong construction, so I think that's where looking at nature allowed me to still tap into my more structured innate sensibility. But it was softer this way, so I was looking at nature and the construction and shapes of that.

modaCYCLE – Anything in particular that inspired specific pieces.
Raul Melgoza – I would say that it started really by looking at, you know, the flower and how they grow, so there is a lot of this tiering effect of organza laid over organza, but not in a literal sense. But I think you'll get a sense tat it's very airy, very feminine, very flow-y. So I would say that it's very organic.
modaCYCLE – What is your favorite look from this season? Which piece is your most loved?
Raul Melgoza – I would probably have to say the cobalt gown, which is the first of four gowns that come out [at the end of the show]. A lot of what you will see before, that's kind of the culmination of what you saw throughout the collection.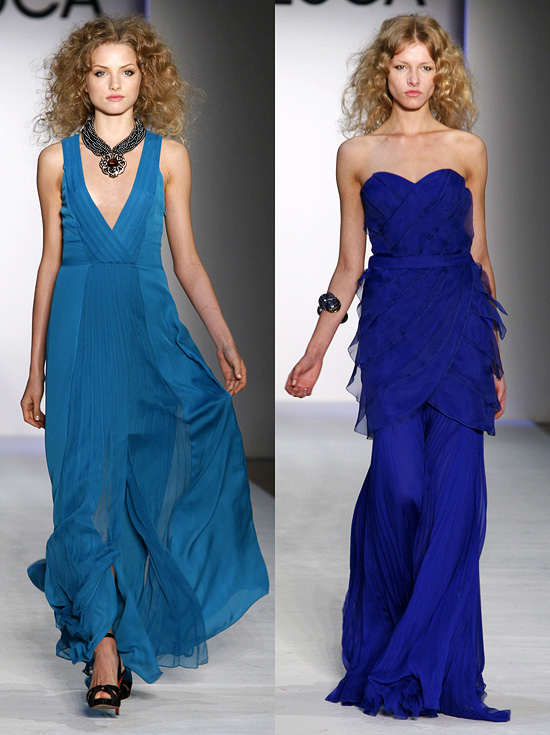 modaCYCLE – Who is your favorite menswear designer?
Raul Melgoza – John Varvatos