story by Tal Shpantzer and Stephen Dirkes
photography by Tal Shpantzer
Toni & Ben of Hayden-Harnett presented their spring-summer 2010 collection, titled "Lava Fields of Love," at the Carriage House Center for the Arts in New York. This collection draws inspiration from natural elements such as, lava fields, desert landscapes and modern nomads.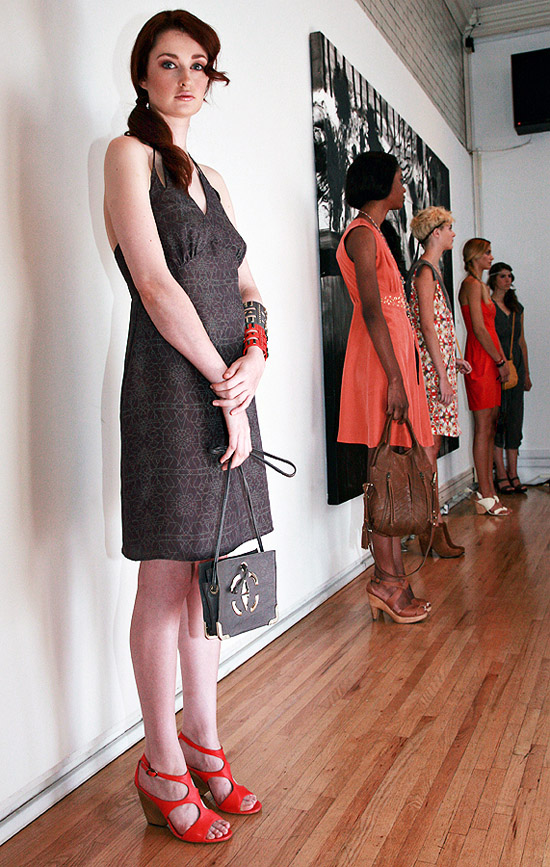 Set in a gallery environment at the Carriage House Centre for the Arts, the models stood statically in front of paintings by Amadeo Penalver. The music for the presentation was live singing by the group Opera Company of Brooklyn.
Hayden-Harnett continues their strong bathing suit line with the trademark retro silhouettes and pool-side coverups.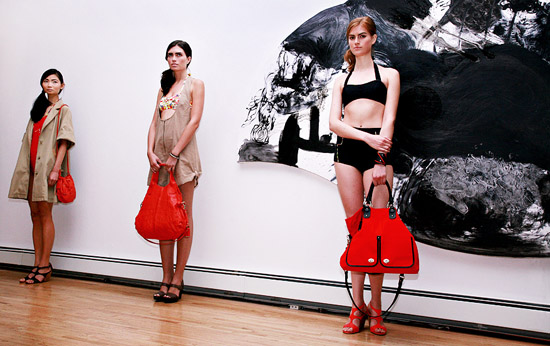 Bright red, coral and vermilion lava-inspired accents, paired with neutral tones, were to be found throughout the collection. Natural fabrics, linen, leather and sand-washed silks were classically tailored and ready for urban adventures.
Hair stylists from The Parlour Brooklyn, went with a classic casual side part and pony tail. The fresh natural faces seen were helped along by the Tarte Cosmetics makeup team.
Detailed geometric patterns provided accents in several pieces.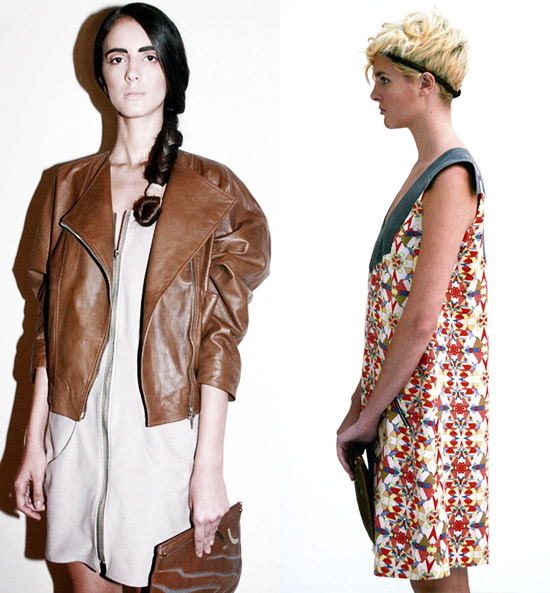 Bags and accessories were weathered and had a soft vintage feel.
Toni Harnett has a strong background in accessories design, which comes through in the striking cuffs and bags.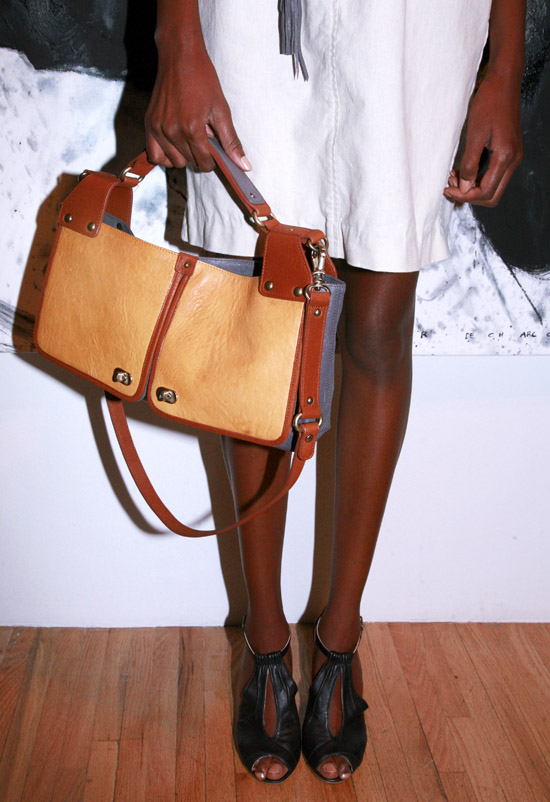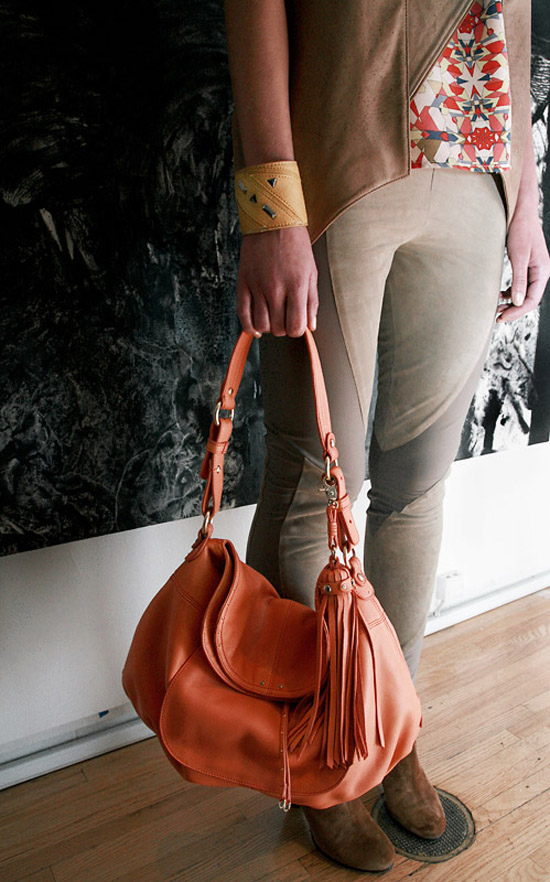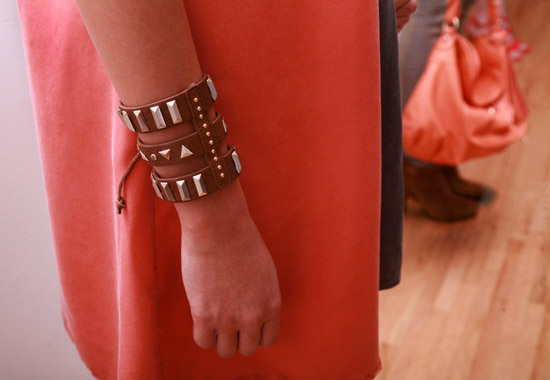 Designer Toni Harnett answered a few of our questins via email:
modaCYCLE – What was your original goal for the collection?
Toni Harnett – We wanted to create a collection inspired by desserts, lava, and modern nomads. Our focus was on modern cuts, unique prints, and colors and materials inspired by nature.
modaCYCLE – How were you inspired to approach it?
Toni Harnett -I wanted a nomadic feeling to the collection that  felt very inspired by images we had surrounded ourselves with of amazing natural wonders that are almost supernatural. Saturated color balanced by natural tones of earth, stone, and minerals. Also, lavaflows were very inspiring to us for our leather goods…the bright lava red peeking out from a black cracked ground.
modaCYCLE – What struggles have you faced in getting to the product shown this weekend?
Toni Harnett -The cuts on many of the dresses are very specific and fitted, so we had to really nail the fit and make all the dresses sexy but really wearable. Our sample rooms were so busy this season, so we were working against an amazing deadline…it all worked out in the end. Whew.
modaCYCLE – What has been the evolution from your first collection to the current season?
Toni Harnett – I feel we're showing a much more evolved collection for apparel and bags for spring 10. I feel we went from cute and poppy/mod, to much more modern and sleek for spring 10.
modaCYCLE – What is your tie to Target?
Toni Harnett – We have no direct relationship to Target except that we did a limited edition guest accessory designer collection for them for Spring 09 (in store from December 08 to March 09 only). It was fun working on the Target collection and we'd love to work with them again.
modaCYCLE – How has that collaboration affected the current collection?
Toni Harnett – I think the Target collaboration was great exposure for Hayden-Harnett. We're honored that they chose us for their guest accessory designer program.
modaCYCLE – How does the Hayden-Harnett brand fit into a larger global fashion context?
Toni Harnett – Hayden-Harnett offers a really unique, eclectic view of fashion…it's artful, creative, playful, and stylish. Women ages 16-60 of all cultures relate to our designs and it's great that we have sold to nearly every corner of the globe in five years!