story and photo editing by Faith Bowman
photos by Charles Beckwith
The Spring 2010 Collection show for Anna Molinari's lighthearted line, Blugirl, began with peachy- beige silks for day and explosions of color for dress- up evenings. Ruffles, animal prints, seashells and poppies added up to an unforgettable show.
Prancing to the strains of 'Physical', a parade of ladylike mannequins with swept back hair and innocently flirtatious red lipstick pace the catwalk in Milan, embodying Anna Molinari's vision for Blugirl spring/summer 2010. Beginning with a selection of neutral separates. Soft blouses are tucked into high-waisted trousers and skirts, as well as frilly blouses paired with rough looking casual shorts. Soft metallic leather clutches and handbags (not oversized) match thick heeled sandals with retro-feeling ankle straps. Wide cuffs and  bangles adorn their arms; sometimes singly, but often piled three at a time.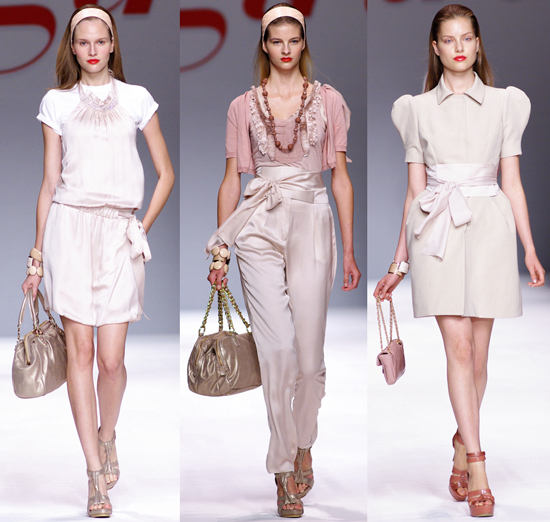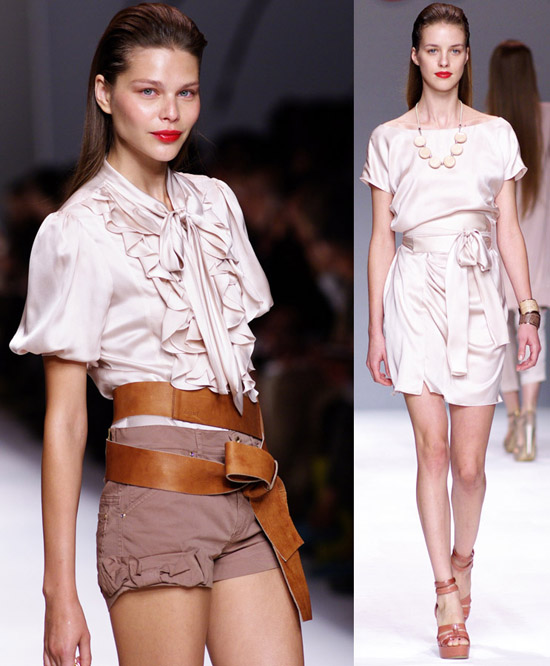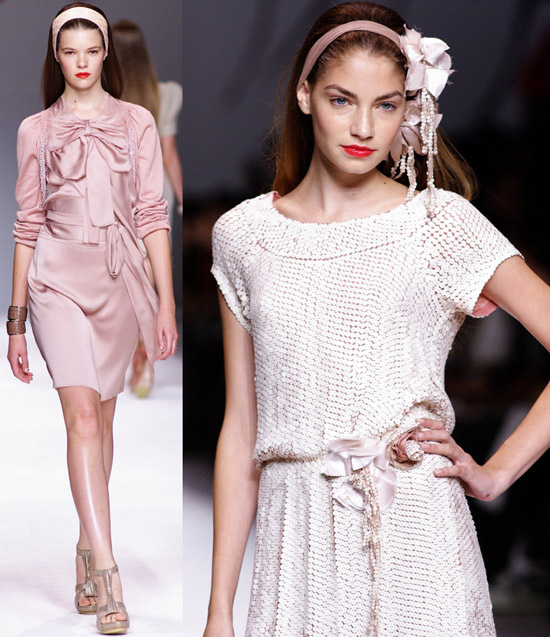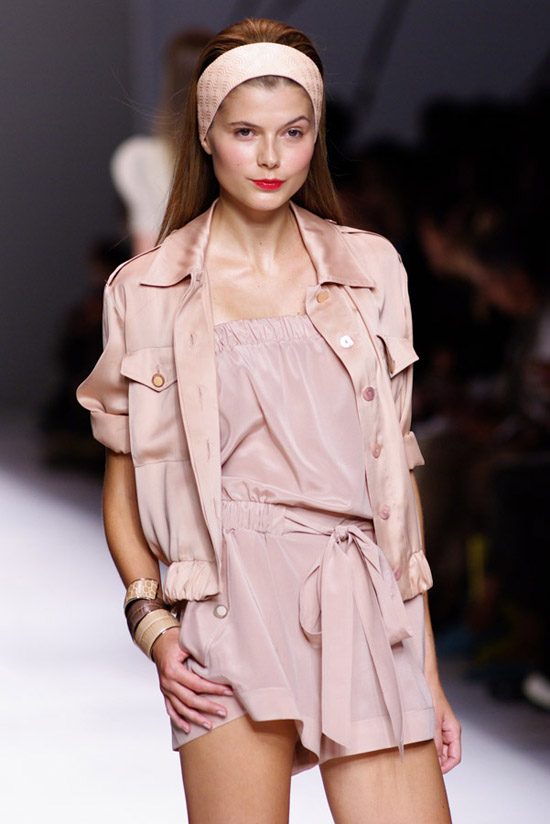 Beige segues into animal prints done up in olive, orange, fuschia, and acid green. Before things get too wild, we see standout (but reserved) pieces such as the sheer olive leopard print gown with puffed sleeves and a long slim skirt. Ornamented with a tiered necklace of chain and fringed leather, it's a romantic dress that brings to mind tropical evenings and champagne kisses.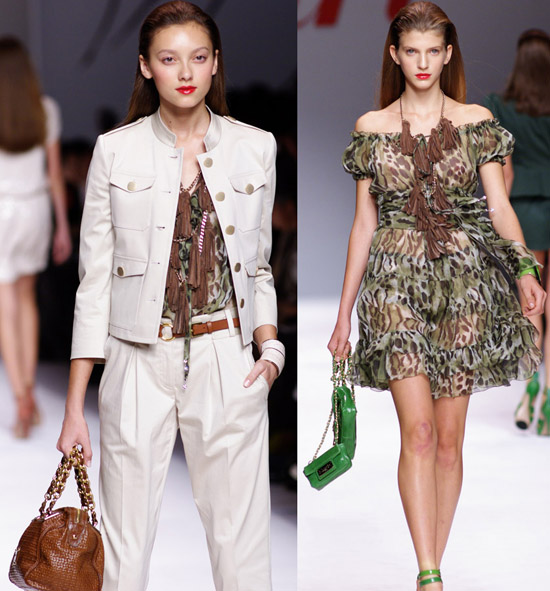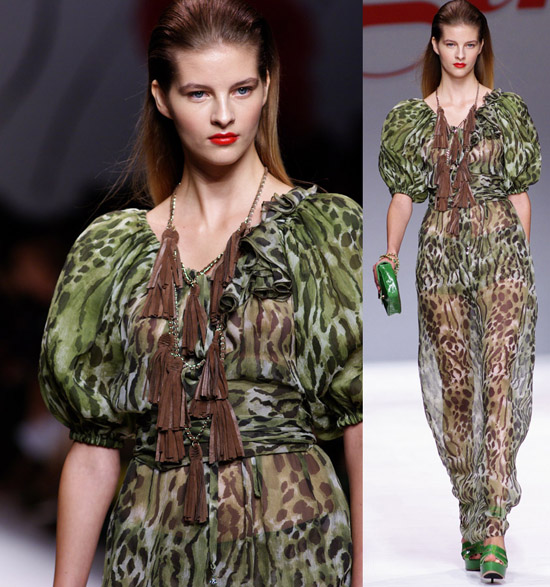 A lilting version of 'Girls Just Wanna Have Fun' introduced the color-soaked third act, and the animal prints got sassy, exemplified by a hot pink and white leopard print pattern splashed across a primly high-waisted pencil skirt. Mini -skirts with swirly fabric shapes show off legs lengthened by stiletto heeled sandals. Royal blue was the dominant color in a 'fruits de mer' inspired print that's used to create floaty maxi dresses and puffed sleeved rompers with adorable matching tote bags.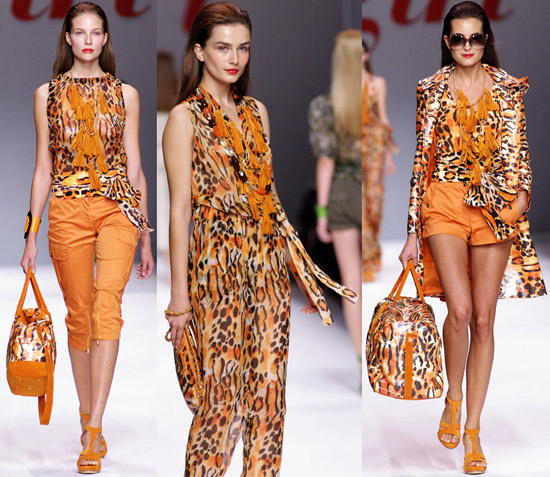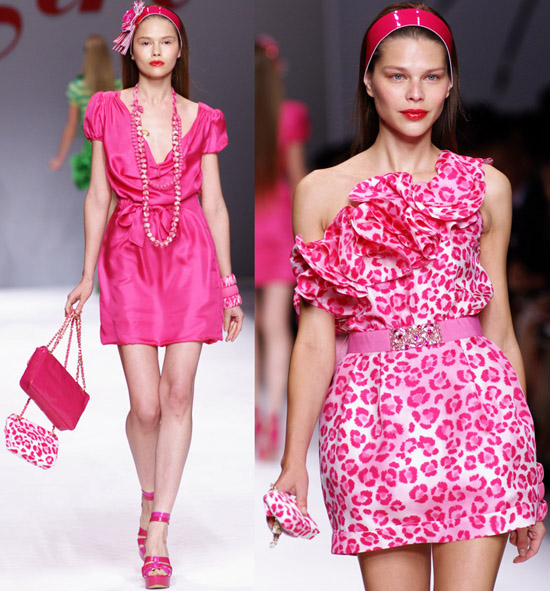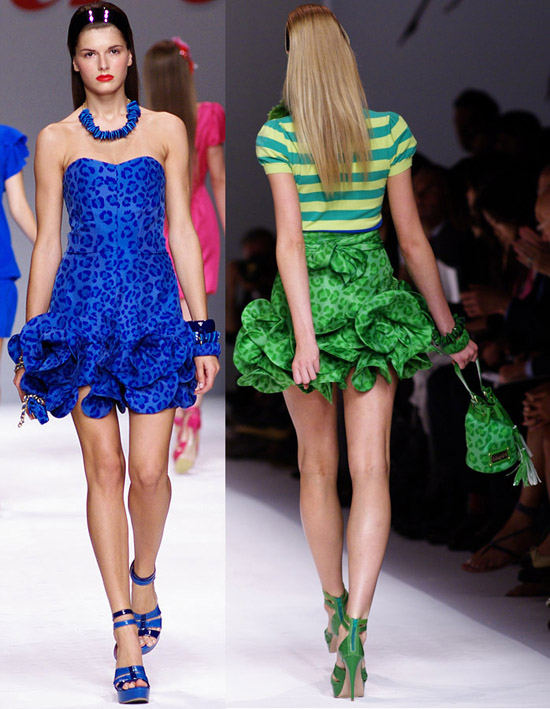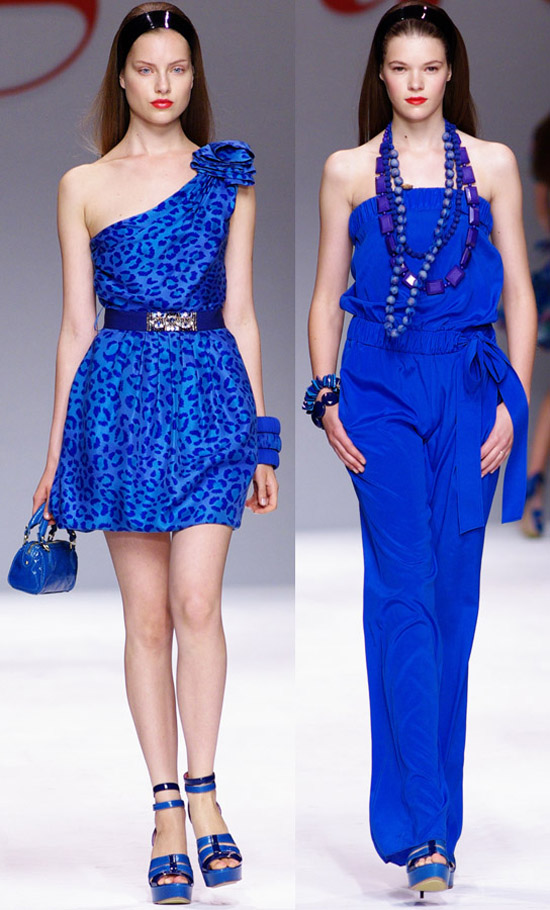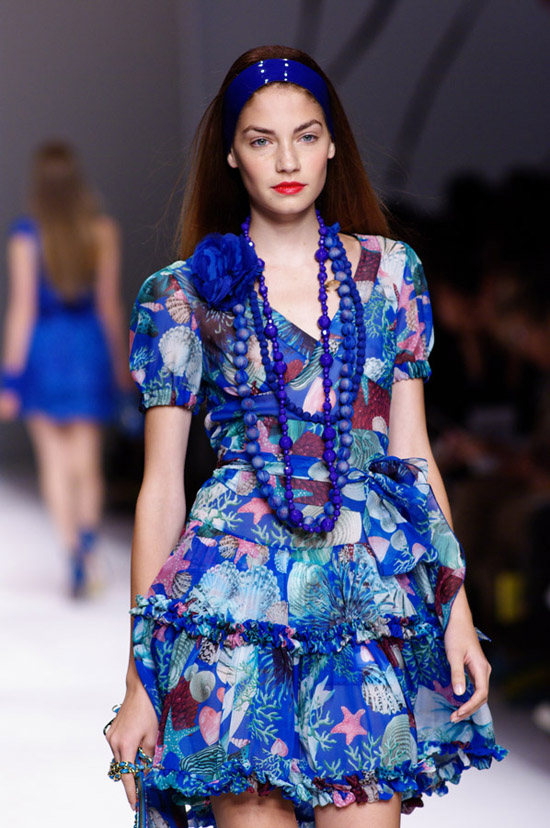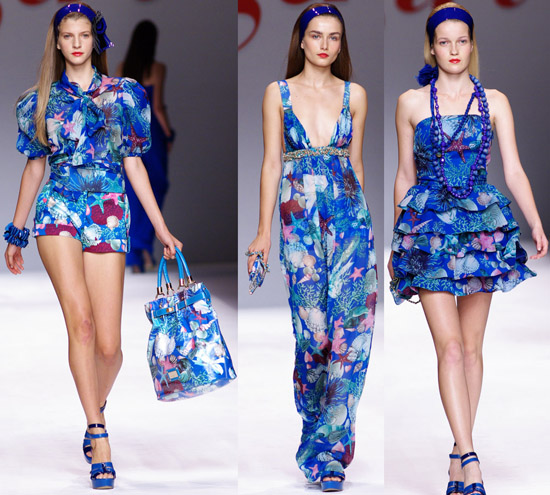 Following the strong blues, the 'Queen of Roses' brought out the poppies. Poppy red 'i love you!'s decorate a swimsuit, shorts,bikini, beach cover, and totebag. A white t-shirt was also embellished with the love riff. Dresses and skirts were even composed of fabric replicas of the flower. Poppies stand for pleasure and fantastic extravagance, both exemplified by the one sleeved cocktail dress of clustered  silken blooms, circled at the waist by a wide belt of poppy colored patent leather.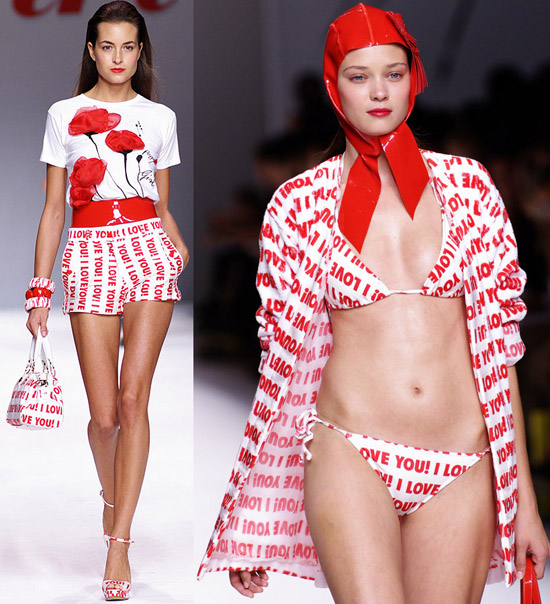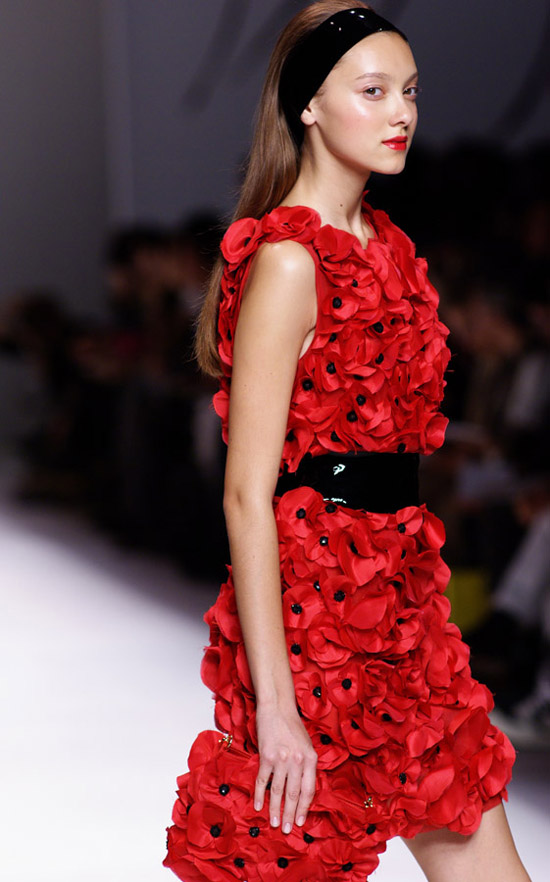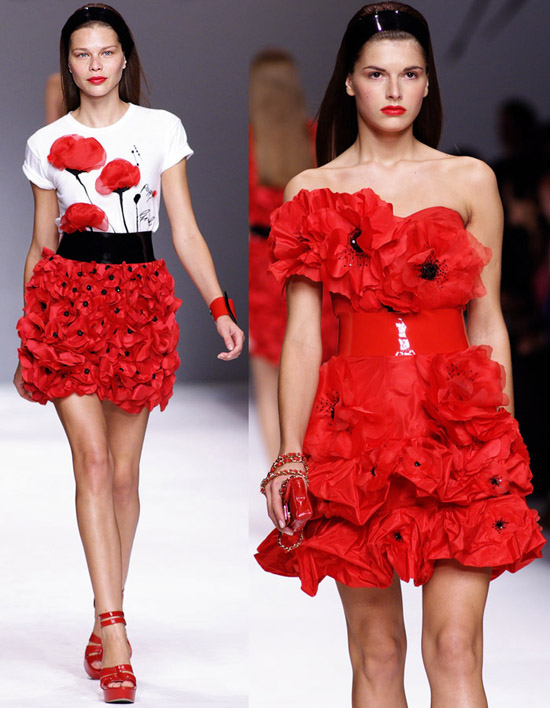 From the lovely sand- colored daydress with sculpted shoulders and wide ribbon sash, to the flower- strewn strapless mini-dresses that closed the show, Anna Molinari's vision of a 21st Century Blugirl is tightly a tightly edited bundle of a girl's many moods, and a prevailing sense of fun.