photos and interview by Charles Beckwith
photo editing by Faith Bowman
I recently had the opportunity to view the Spring 2010 Badgley Mischka Bride collection in the Badgley Mischka showroom during New York Bridal Market Week. After the show, I was able to ask designers Mark Badgley and James Mischka a few questions about their collection and recent shifts in the wedding fashion market. This show also included eight new bridal looks from their lower price point Mark & James line.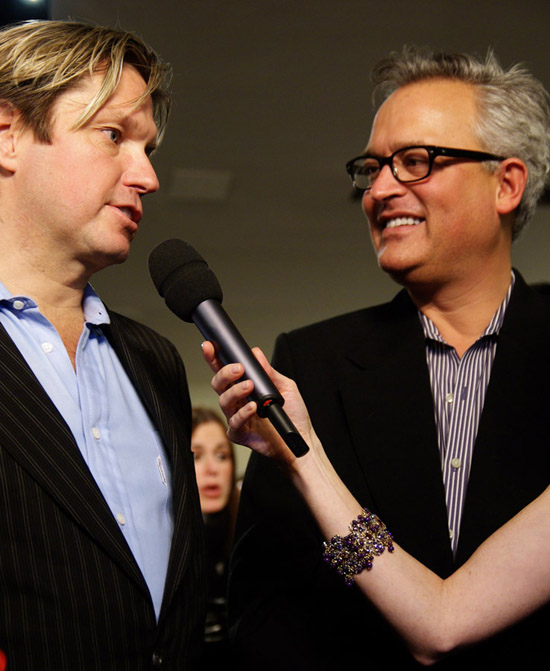 modaCYCLE – What are your specific inspirations for realizing this collection this season?
Mark Badgley: We were inspired by The Great Gatsby basically, about the parties that went on on the North Shore during the Golden Age, free flowing champagne, and everybody was having a fabulous time. Trying to make fun clothes for those girls.
modaCYCLE – What changes have you seen in the bridal market in the last two years? What has really changed how you operate?
James Mischka: You know there's a lot of destination weddings. They seem to get more and more popular. A girl packs a gown in her suitcase and wants to go somewhere fabulous. [And this is] usually a smaller wedding party. That's very popular? I would say that's the biggest trend that I've seen happening, don't you think?
modaCYCLE – Has anything changed your designs in the the market?
James Mischka: We do a little bit more toned down gowns now. We used to be just about the all over beaded and embroidered wedding gown, and now we do a lot more that just have touches of embroidery on them, little details and beading.
modaCYCLE – How do you approach innovation in a genre that is literally about tradition?
James Mischka: We've realized over the years that a bride doesn't really like a lot of change, just like you said. It's funny, sometimes we meet a woman who is so modern and so maybe over the top, but at the end of the day she picks the most traditional wedding dress that there is. Like you said it's a look that doesn't change. The looks are so subtle. Like, for example, we  offered a new satin, that we developed with our mill in Italy, today, that was actually a matte silver duchess satin. Usually gowns are white and ivory and that is like a big thing in bridal, because there's not that many options in color. That will be very important to us. So, it's subtle things like that.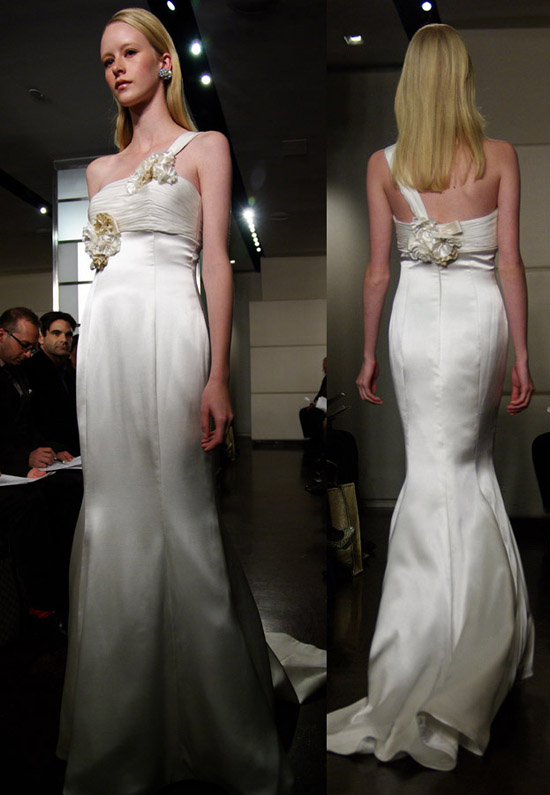 modaCYCLE – Tell me about the eight gowns from your new Mark and James line.
Mark Badgley: The first part of the show was the Mark and James gowns, besides the bridesmaids, of course. We are taking the [existing] Mark and James brand that is a sub-brand of Badgley Mischka, and just extending it into bridal. It's for a contemporary sort of real fashion forward customer. The prices are a little bit lower just because of the virtue of what goes into the gown, but it's definitely the price and the look.
modaCYCLE – Does that free you in how you design?
James Mischka: It does. I mean really it just takes ready wear influences and puts them into bridal, like, verbatim from the runway.