story and snapshot by Charles Beckwith
The evening of October 21st, I made the rare effort of journeying north of 23rd Street to attend a panel discussion hosted by Glamour Magazine at the 97th Street Y. Glamour editor in chief Cindi Leive served as moderator for the discussion, titled "The Future of Women's Fashion," and was joined on stage by veteran designer Isaac Mizrahi, new-ish designer Ashley Olsen, and Michelle Obama's Pulitzer Prize-winning wardrobe stalker, Robin Givhan.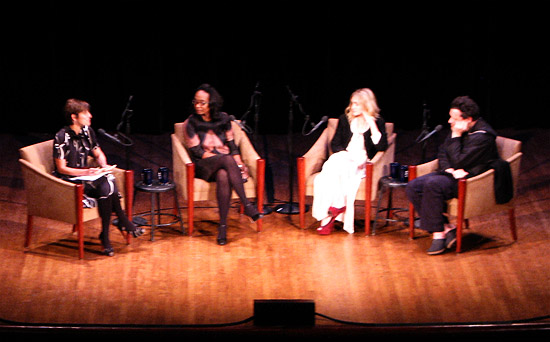 I didn't have a voice recorder with me, so I hope the quotations from my notes are accurate here.
I was surprised how articulate and on the ball Ashley Olsen seemed to be. As Bryan Boy noted previously, her luxury line, The Row, is really strong and defies some limits on what was previously available for young women to wear. She identified holes int he market and has targeted and seized them effectively. The price point is pretty high, but if you can afford it, these are really nice clothes she seems to be putting out, many of which seem to be missing links in young women's closets. There is a cool YouTube video featuring one of the collections.
The first issue on the table for the panel was the economic downturn and its impact. Isaac seemed hopeful and said, "clothes will have my story again," which we certainly saw during his Spring 2010 collection show at Mercedes- Benz Fashion Week in New York, back in September. Robin said she felt the industry was coasting on trends and sales, not value, and that everything has been skewed. She seems to think that the downturn has the potential to shake things up and bring quality back into consumers minds. Isaac followed that by saying that there are always people whose clothes don't sell, even in the boom times. Throughout the evening Robin went off several times on activist tangents. This time it was about the evils of clinging to the idealized 5'10" size 2 woman who is 21, but looks 16. No one really had a response to that, it is a point most people in the industry concede and ignore, and Cindi ushered the discussion onward.
The next topic was designers producing multiple lines at staggered price points. Ashley Olsen said that she started out doing Mary Kate and Ashley for WalMart, but when given the choice after design school, she decided to go for a luxury brand (The Row). Isaac's response was to say that a retail experience for clothes is like a produce department, where you have to keep pushing fresh products out, and fall/winter/spring/summer are no longer how the designers can think about their production lines, there are 12 potential delivery slots in the year now, and it's a lot more complicated than most people seem to think. Ashley added that "for The Row, because it is a small company, I only do three deliveries a year" and that she is trying to add two more. They talked briefly about online and TV sales, which are rising in importance, and then Isaac mentioned that someone once told him that if he ever did a line for Target they would stop buying his clothes. He said he doesn't think that person is a real customer, and the statement was "so totally undemocratic; that's not me."
The next topic was not very clear, something about fashion happens and design happens. The responses were a little scattershot. Robin said that people love to hate fashion because part of it is purely cultural; "people don't see it as art in the United States." She mentioned that it is also looked down upon "because it is a women's industry." She pointed out the hypocrisy of middle class families that spend tens of thousands of dollars on football season tickets, yet consider a $5,000 dress to be frivolous. Ashley responded to the topic by saying that her high-end line employs 9 people, and the lower priced Elizabeth and James contemporary sportswear line employs about 30 people, but Elizabeth and James is a licensed brand and she does not control manufacturing. Robin, continuing to have her own conversation, said that the rejection of fashion in the U.S. market may be self-loathing on the part of consumers because women are bigger than they used to be, yet as a culture we relish thin and people still buy the clothes. Isaac responded to Robin by saying fashion advertising is hateful, but they wouldn't do it unless it worked. Robin followed that my saying that Michelle Obama has sold the dress as the power uniform. It was not clear what that had to do with the topic at hand. At this point someone noticed Isaac's day-glow pumpkin toenails and this segued into the next topic.
The next prompt Cindi threw out was a complete-this-sentence line, "In the future fashion will be more (fill_in_the_blank)." Robin said, "deomocratic." Isaac said, "less obvious, less visual, more fetishistic, more tiny crazy trends that no one understands." Ashley said, "more exciting."
They then moved on to a question about manufacturing in the U.S. versus overseas. Ashely replied that The Row is 100% made in the USA. Isaac's reply was, "I don't care. Wherever they make it the best."
For the next question Cindi said that she had to refrain from commenting because of her business (though, it didn't seem that she had contributed any opinions in the prior discussions either) which was a shame because she would probably be the one with the best insight on "what are fashion magazines doing right and wrong?" Isaac immediately responded that they are too obsessed with movie stars. Robin went for what they're doing right, saying the magazines are helping people still indulge in the midst of the recession, and she thinks it is great that inside the pages there is still a celebration of fashion going on.
The discussion moved to street fashion. Robin said, "I can't think of a time when street fashion didn't affect designers." Cindi finally jumped in, adding, "it's just better documented now." Cindi also said that "women dress for other women." Isaac lamented that young women watching Sex and The City and Gossip Girls think you can never wear the same thing twice. Cindi (pinch hitting for Robin?) added that Michelle Obama wears things more than once. Ashley threw in a compliment for Opening Ceremony's new store in Japan, where high-end signature pieces are intentionally mixed with basics on the retail floor. Isaac mentioned that he consistently designs for people to all look like they're about 30.
The final question was about likes and dislikes in terms of trends. Isaac, wearing sandals himself, said he loves low-heel shoes, that they look real and fresh. Ashley said she really likes Toms. Toms are shoe line which gives a pair of shoes to a child in a developing nation for every pair sold in the industrialized world ("one for one"). Robin hates the 80's revival trend and harem pants.
Again, I was impressed by Ashley Olsen. Isaac was his usual color commentary self. Robin didn't add any new ideas to the discussion for me, and I would have rather heard from another designer or someone on the business end of the industry. I wish Cindi had participated a little more, it would have been nice to hear the editor's immediate responses to the other panelists' ideas.