story by Rachel Francois
photos by Sandy Ramirez
photo editing by Katie Piper
The delicate sheer and jeweled details in each of Kati Stern's Fall 2010 gowns are camera ready for the bright lights of the Golden Globe and Academy Award red carpets. Beautiful floor sweeping pieces with peeks of skin – low cut backs, exposed shoulders – added the feminine touch. It is apparent that Stern's modus operandi is outfitting a woman's body for elegance.
Fifty-four looks ranged from cocktail dresses to voluminous ball gowns. Traditional satin, silk chiffon and organza fabrics were used throughout for the evening pieces but Stern gave these staples a wow factor with extraordinary hand beading, sequining, and lamé details.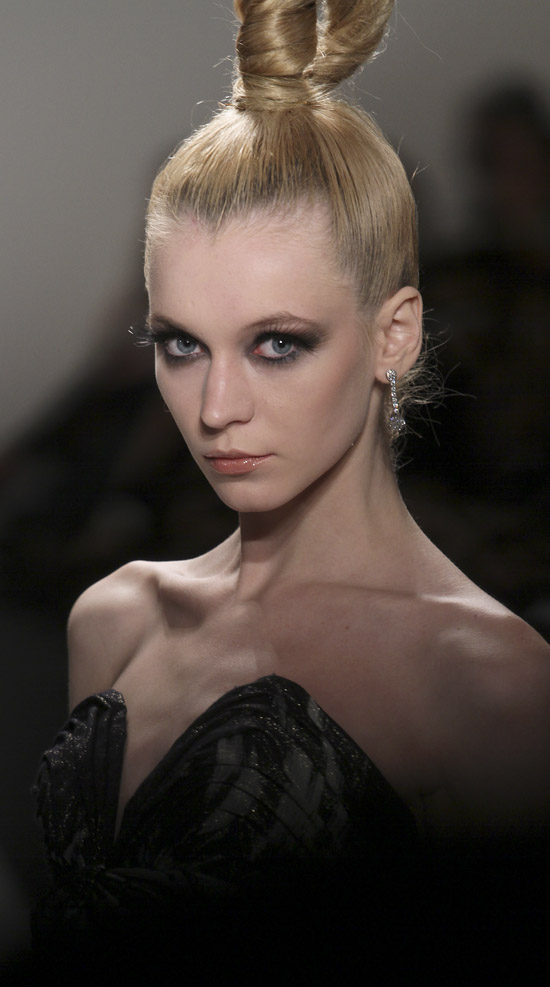 Omnipresent sequined bows played coyly with ideas about serious fashion. In addition to the plisse finishes seen on the bodices and skirts of the dresses, velvet was another notable fabric which made for rich texture. It wasn't all solid achromatic colors either. Colors such as sea foam green, lavendar, and gold metallic brightened the collection. Almost indistinguishable, fur coats with gauntlet sleeves were worn as dresses.